Estimated read time: 7-8 minutes
This archived news story is available only for your personal, non-commercial use. Information in the story may be outdated or superseded by additional information. Reading or replaying the story in its archived form does not constitute a republication of the story.
PROVO — Utah County sheriff's deputy Greg Sherwood lightly touched the scar along the right side of his skull.
He described delicate surgeries to remove bone fragments from his brain and ear. A year has passed since the shooting and Sherwood has returned to duty, but frustration tinges his voice as he talks about the limitations he now faces. He can only work a few hours at a time, and only "in a very limited capacity."
Sherwood described his injuries Thursday during the murder trial against Meagan Grunwald, who was 17 when she allegedly aided her older boyfriend as he shot Sherwood and shot and killed Utah County Sheriff's Sgt. Cory Wride on a run from the law last year. Grunwald, the suspected getaway driver, is charged with murder and attempted murder in connection with the shots her boyfriend fired.
Defense attorneys insist, however, that Grunwald was a victim herself who was threatened by the older man, 27-year-old Jose Angel Garcia-Juaregui, and forced to accompany him on the unplanned crime spree.
Decision to intercept
Sherwood testified Thursday that as he heard the search unfold for a truck connected to the fatal shooting of a fellow officer on Jan. 30, 2014, instinct told him one thing.
"The time frame fit. … My feeling was I knew this was the vehicle and it was coming toward me. I was in perfect position to intercept," an emotional Sherwood said as dashboard camera footage was played for the jury.
Radio traffic had only indicated that police were searching for a white pickup truck, and the people inside were suspected in an "officer down" situation in Eagle Mountain. A phone call, however, had told Sherwood more.
---
I was ready to hold these people accountable for their actions. I knew they weren't just going to put their hands up. They had killed a cop, and they weren't going to stop.
–Deputy Greg Sherwood
---
Someone in that truck was suspected of shooting and killing Wride, his friend.
Sherwood was near Santaquin, an area he was very familiar with where he knew there wouldn't be many other deputies at the time. Nearby was a crossroad of the town's Main Street and I-15.
"I thought that would be a key location since there's no law enforcement down there," he said. "I thought that was an escape route the vehicle could have taken from the Eagle Mountain area."
His instincts paid off. Sherwood pulled up behind a white pickup and realized the license plate matched. Full of adrenaline and anger, he began to follow the truck. But, intending to call for help, he didn't activate his lights and siren.
"I knew what these people were capable of. … I was ready to hold these people accountable for their actions," he testified. "I knew they weren't just going to put their hands up. They had killed a cop, and they weren't going to stop."
The truck's driver, later identified as Grunwald, sped off. Activating his siren, Sherwood followed. After speeding briefly down Main Street, Grunwald applied the brakes — "sucking me in," Sherwood said.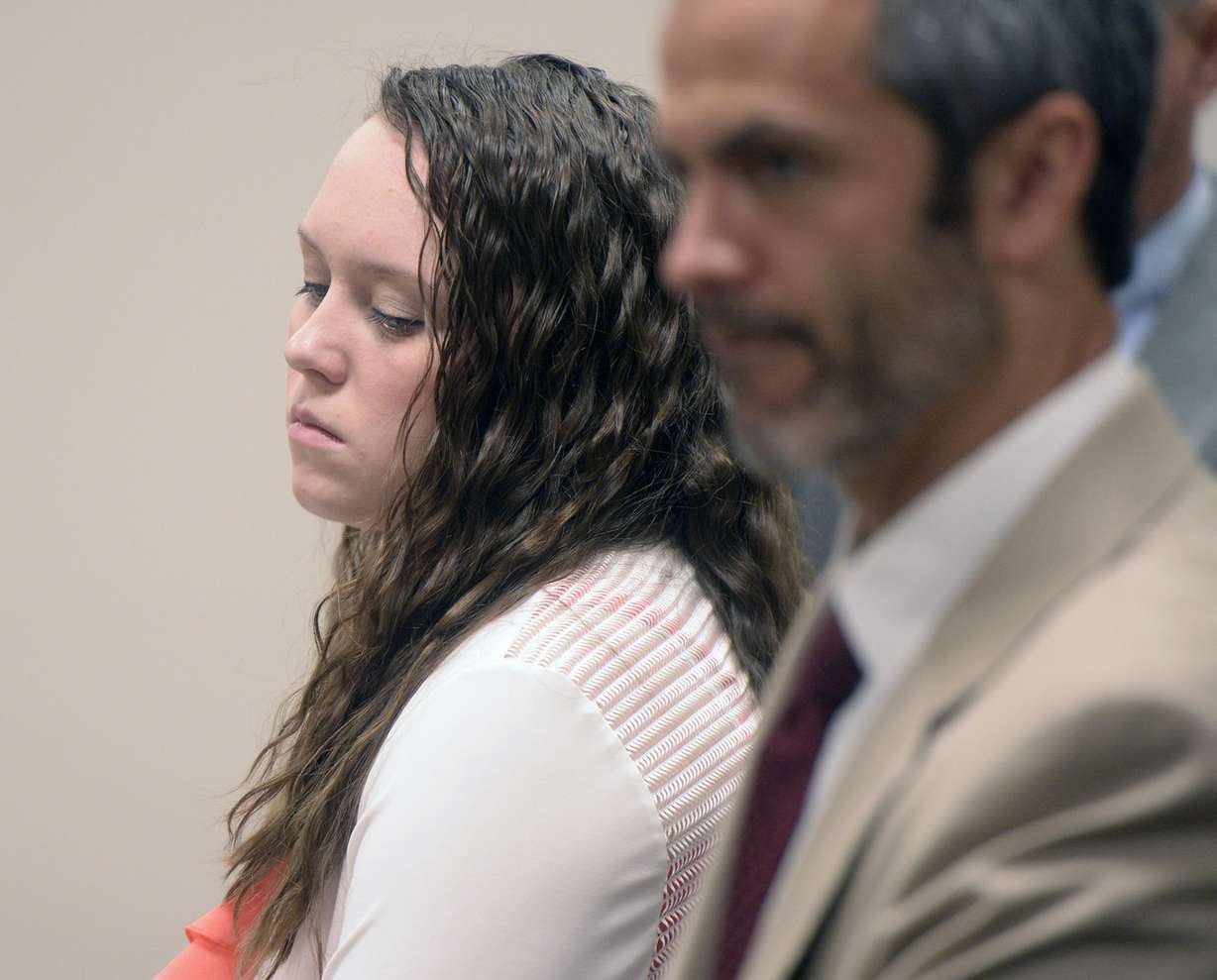 #grunwald_pic
As he pulled up behind the vehicle, Sherwood never saw Garcia-Juaregui fire two shots at him. One shot caught Sherwood in the head. He doesn't remember how, but he stopped the SUV and put it in park, passing out for 30 to 40 seconds. Sherwood didn't see it, but the footage shows the truck made a U-turn and headed back the same way it came.
As he has slowly recovered from his injuries, Sherwood said he has had difficulty speaking, problems with balance and fatigue.
Police say Garcia-Juaregui shot and killed Wride out the back of Grunwald's parked pickup truck when the officer pulled up behind them in Eagle Mountain. Garcia-Juaregui was shot and killed in a shootout with officers south of Nephi following a high-speed chase in a snowstorm.
Witness testimony: driving and firing
Three additional witnesses, a Utah Highway Patrol trooper and the driver of a semitrailer, also testified Thursday to being shot at by Garcia-Juaregui as Grunwald drove. The trooper's vehicle was not hit, but several tires on Alonso Van Tassell's semitrailer were intentionally shot out.
After hearing the first shot, which he initially thought was a mechanical problem on his truck, Van Tassell saw the pickup pull up along side his, and watched as the man hanging out the window began to fire.
Through tears, Van Tassell told that jury that the shooting prompted him to re-evaluate his career. Being away from his family became too difficult, and he sold his trucks.
"I don't drive anymore. I work in an office now," he said.
Juab County sheriff's deputy Al Taylor picked up the chase and followed the truck to where more shots were fired, though no one was injured, and Garcia-Juaregui and Grunwald allegedly carjacked an SUV.
Witness testimony: carjacking
Troy Pace, who was on his way from work, watched as Grunwald and Garcia-Juaregui ran to the SUV. Garcia-Juaregui's eyes were wide as he ran, a gun in his hand, he said. Grunwald was slower, but did not pause.
"She was running hard," Pace said.
Related:
The SUV belonged to Chetney Williams, who lived in Levan at the time. Williams saw Grunwald first, she testified Thursday. She was waving her arms, panicked, and Williams said she pulled over to help.
That's when Garcia-Juaregui approached, holding a gun, and screamed, "Get out! Get out!" Williams testified. She heard a door open on the car, but didn't take her eyes off the gun.
"Can I please get my baby?" Williams asked.
"You'd better hurry," Garcia-Juaregui responded.
The girl was in a car seat in the back on the driver's side, Williams recalled, crying. The buckle on the seat stuck and her daughter's heavy coat made it even more difficult for Williams, pregnant at the time, to get her out quickly.
"I just yanked as hard as I could," she said.
The buckle came free, and as soon as the girl was out, the vehicle drove away, leaving Williams and her daughter on the side of the snowy road. Out of concern for her pregnancy, Williams was later taken to a hospital.
Witness testimony: apprehension
Garcia-Juaregui drove the stolen SUV as the two continued south, pursued by a growing number of officers, including Taylor. When the SUV lost a tire and ran off the road, Taylor was among the officers who shot and killed Garcia-Juaregui. Grunwald, who had gotten out of the SUV and started to run after her boyfriend, dropped to her knees when the shooting began.
Through it all, Taylor said he believed Grunwald was willingly following her boyfriend, from the time he first saw her run with him to the SUV to the moment Garcia-Juaregui was shot and Grunwald shouted, "You shot him in the head!"
"I thought she was part of it. I thought she wanted to be with him. I thought she was part of the whole thing," Taylor said.
As he tended to the gunman's injuries, a gunshot wound that ran across the top of his skull, Taylor said the man asked him, "Let me kiss my girlfriend with my dying breath."
"That ain't gonna happen," Taylor responded.
Garcia-Juaregui died in a hospital the next day.
Defense attorney Dean Zabriskie pressed Taylor over whether Grunwald could have been under duress, whether she could have instead shouted, "He's shot in the head!" and the fact that Taylor was the only officer who reported hearing Garcia-Juaregui's request.
Though 17 at the time of the shootings, Grunwald is charged an adult with aggravated murder, two counts of attempted aggravated murder, aggravated robbery and felony discharge of a firearm with serious bodily injury, all first-degree felonies.
In addition, she is charged with criminal mischief, a second-degree felony; two counts of felony discharge of a firearm, possession or use of a controlled substance, and failure to respond to an officer's signal to stop, third-degree felonies; criminal mischief, a class A misdemeanor; and violation of operator duties for accident involving property damage, a class B misdemeanor.
Contributing: Sam Penrod
×
Photos
Related stories