This archived news story is available only for your personal, non-commercial use. Information in the story may be outdated or superseded by additional information. Reading or replaying the story in its archived form does not constitute a republication of the story.
JUAB COUNTY — It was just three months ago that a man and a woman allegedly gunned down two Utah County Sheriff's deputies, killing Sgt. Cory Wride and critically injuring Deputy Greg Sherwood. They then led officers on a chase through Utah and Juab counties.
In the midst of all the chaos, there was another victim.
Carjacked for trying to help
On the afternoon of Jan. 30, Chetney Williams and her 4-year-old daughter unknowingly came upon the dangerous scene in Nephi.
"She was waving her arms for me to stop," Williams said, referring to the girl she would later learn to be Meagan Grunwald, one of the suspects in Sgt. Wride's murder.
Williams said she stopped to help the 17-year-old, who jumped in the passenger seat while wanted fugitive Jose Garcia-Juaregui ran to the driver's side door, waving a gun.
"He was waving it at me to get out of the car, and he kept telling me, 'Get out! Get out!'" Williams said. "When he came to the car he was just so angry, so mad. When I saw the gun I really thought that he was going to shoot us and that I wouldn't be able to get my baby."
Williams will never forget the moment when Garcia pointed a gun at her chest, the moment she rushed to pull her daughter from the backseat, and the moment she fell to the side of the road and realized what could have been.
Related:
"If he would have shot me in front of her, or if he would have took off with her," said Williams. "it all just hit me all at once and I went into shock."
Williams was safe, the threat was gone and the furthest thing from her mind was her SUV, which was now at the center of a high-speed chase. Garcia was eventually shot and killed by police.
No state aid for this victim of crime
While Williams is grateful to be alive, she no longer has reliable transportation. Her SUV is being held as evidence in the ongoing murder investigation.
While she did have insurance on the vehicle, the money she received was barely enough to pay off a loan she had just taken out for a new engine.
It's a major problem when you live in rural Utah, are eight months pregnant and 60 miles from your doctor.
"I've been in and out of the emergency room," Williams said. "My blood pressure has been crazy ever since it happened, and being pregnant has not been easy."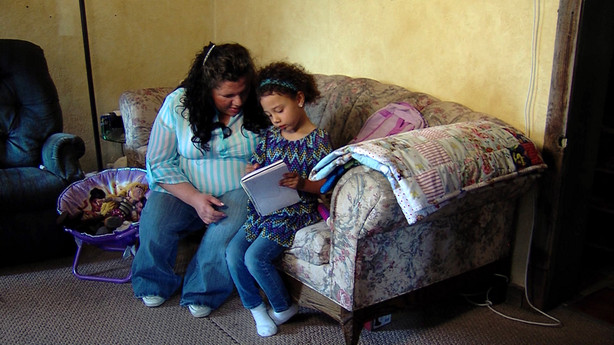 At first, it looked like a replacement car could be on the way. Williams said she was approached by a Juab County victims' advocate and told about the Utah Office for Victims of Crime (UOVC). The office helps with personal finances for victims who have suffered financial loss, physical injuries and emotional trauma as a result of a violent crime.
But after applying for aid, Williams said she began hearing a lot of "no's."
UOVC director Gary Scheller says this year alone the state agency will likely dish out $8 million to more than 5,000 violent crime victims.
That's a lot of people getting a lot of help for things like medical expenses, lost wages and counseling. But when it comes to personal property, the UOVC will not pay for the replacement unless it's essential to the health and safety of a victim's recovery.
Replacement cars, no matter the price, are not on that list.
"It's probably dicing words, but the real intent of this program is to help the person recover mind and body," Scheller said.
KSL Investigators looked into what qualifies as "essential to the health and safety of a crime victim."
---
Watching it drive away, it didn't matter. But then trying to recover and move forward, you can't.
–Chetney Williams
---
In 2013, the office paid out $42,000 for things like locks and windows, prosthetics and phones, home security systems, a wrist band, a shower head, a mattress, media wires, a mailbox and denture cream. A cheap, used car has never made the list.
"I just need something dependable to survive," said Williams.
If you ask this pregnant mother of a 4-year-old how essential her SUV was to the health and safety of her family, she believes living without it has proven her point.
"Watching it drive away, it didn't matter," said Williams. "But then trying to recover and move forward, you can't."
Even though the Office for Victims of Crime was not able to help Williams into a car, it did pay her about $350 towards lost wages, travel and a new phone.
Fortunately, an anonymous donor heard about Williams' situation, and donated a reliable vehicle to help her and her family.
"I'm just so grateful to be alive and to be able to see my daughter safe," said Williams, "and to have somebody come forward and give like this."
×
Photos
Related Links
Related Stories