This archived news story is available only for your personal, non-commercial use. Information in the story may be outdated or superseded by additional information. Reading or replaying the story in its archived form does not constitute a republication of the story.
PROVO — Was Meagan Grunwald a frightened teenager manipulated by an older man when he shot and killed a Utah County sheriff's sergeant, or was she a willing accomplice on a Bonnie-and-Clyde-style crime spree with a man she loved?
Grunwald didn't pull the trigger, but her aggravated murder trial begins Tuesday for the death of Sgt. Cory Wride, who was shot and killed as he sat in his police cruiser on Jan. 30, 2014. Wride had stopped for Grunwald and her boyfriend, 27-year-old Jose Angel Garcia-Juaregui, believing their car was stranded in the snow along state Route 73 in Eagle Mountain.
Shot in the head and neck, Wride died there along the side of the road. The couple sped off, a 17-year-old Grunwald at the wheel, on what would become a crime spree including police chases across two counties, the shooting of deputy Greg Sherwood, a carjacking, and a shootout just south of Nephi. Garcia-Juaregui was shot and Grunwald was arrested. Garcia-Juaregui died of his injuries the next day.
Now 18, Grunwald has been certified to stand trial as an adult and faces 12 felony charges, including aggravated murder and attempted aggravated murder for the shootings of the two officers. While her attorneys argue Grunwald was a victim herself, held at gunpoint and threatened by Garcia-Juaregui, prosecutors say she made no effort to escape or call for help and became distraught when her boyfriend was shot.
Grunwald faces the possibility of life in prison if found guilty.
Courtroom controversy
Nanette Wride has waited 15 months for the case of her husband's death to be heard in court. Her emotions on the eve of the trial were a mixture of determined anticipation to see the case tried and anxiety over remembering that tragic day.
"It's going to be really difficult to see all of that and relive what he went through," an emotional Wride said. "I've seen all of this stuff before, but it's been a while now. To make it all fresh again like that is going to be difficult."
But when the long-awaited trial is brought before 4th District Judge Darold McDade Tuesday, it will be held in one of the Provo courthouse's smallest courtrooms. Wride family members must divvy up just 20 passes in order to attend, with three seats for Grunwald's family and only 13 passes designated for the general public — including members of law enforcement.
It has not been uncommon in previous high-profile cases for Utah judges to temporarily switch to bigger courtrooms to accommodate family members, spectators and the media. But requests to move this trial have been declined.
"They have had 15 months to prepare. … They knew this was going to be pretty big," Wride said Monday. "He's a public servant. It's crazy to me that none of the other judges would open up their courtrooms and switch with McDade so that there could be more room."
---
It's going to be really difficult to see all of that and relive what he went through. I've seen all of this stuff before, but it's been a while now. To make it all fresh again like that is going to be difficult.
–Nanette Wride, wife of Sgt. Cory Wride
---
Utah State Courts spokeswoman Nancy Volmer said all nine courtrooms at the Provo courthouse are occupied, including some that are shared with rotating judges, meaning switching the trial would start a "domino effect" and disrupt a number of court calendars.
"To move one courtroom is not as simple as it might sound," she said. "They would have to move another judge out of his or her courtroom, and not only the judge, but the staff. … To try to move it at this point would be near to impossible."
Restrictions on the trial have made it impossible for some family members to attend, including the Wrides' oldest son. Officers who served alongside Wride and Sherwood, officers from other Utah agencies, and friends who have supported the families since the shootings can send only their thoughts and prayers, Wride said.
"In this state, that thin blue line is tight, and so there are officers from all over who would love to be able to attend and can't," the widow said. "It feels like we're going into the slaughterhouse alone, you know what I mean, without all of our community supporting us."
Wride added that she will remember this experience when the next election comes, and encourages other Utahns to do the same. McDade is up for a retention vote in 2016.
"Know what kinds of judges you have out there, and who will give and who won't," she said. "I know that I will think twice before I cast my ballot."
The evidence
Grunwald has rejected all efforts for a plea deal. Now, Grunwald's attorneys and Utah County prosecutors have grappled over what evidence can be presented during the next nine days.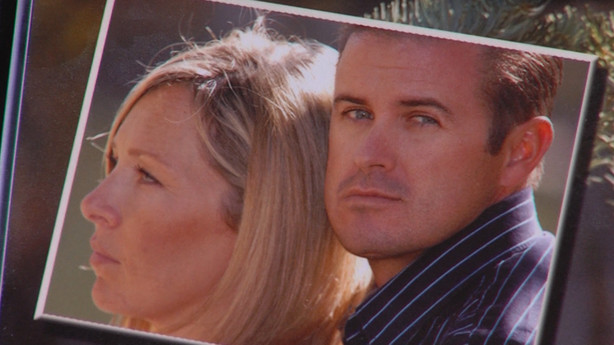 Grunwald's attorneys unsuccessfully argued against prosecutors using birthday cards, Facebook posts and other messages to illustrate the bond between the teenager and Garcia-Juaregui. Evidence will also be allowed outlining a violent argument between Grunwald's father and Garcia-Juaregui just two weeks before the shooting, which prosecutors say shows Grunwald's willingness to stay with her boyfriend despite his hostility toward her family.
However, reports of a phone call between Garcia-Juaregui and his uncle following Wride's shooting will not be allowed, McDade ruled in January.
Garcia-Juaregui reportedly told his uncle in Spanish, "I'm with my girlfriend's people, they are protecting me."
Grunwald's attorneys argued that not only did the statement lack foundation, but it was in Spanish, so because a translator was not present, it was hearsay on top of hearsay.
Prosecutors have submitted nearly 100 names — including Sherwood, Grunwald's parents, investigators from multiple police agencies, and bystanders who witnessed moments of the day's events — as potential witnesses to testify in the trial.
Grunwald is charged with aggravated murder, two counts of attempted aggravated murder, aggravated robbery and felony discharge of a firearm with serious bodily injury, all first-degree felonies. In addition, she is charged with criminal mischief, a second-degree felony; two counts of felony discharge of a firearm, possession or use of a controlled substance, and failure to respond to an officer's signal to stop, third-degree felonies; criminal mischief, a class A misdemeanor; and violation of operator duties for accident involving property damage, a class B misdemeanor.
Wride remembered
Since the shooting, Cory Wride has been memorialized across the state. Funeral services for Cory Wride were held at the UCCU Events Center in Orem to accommodate thousands wishing to pay their respects, and hundreds turned out earlier this year to honor the fallen officer on the first anniversary of his death. The section of road where he was killed has since been renamed in his honor.
Meanwhile, the families of both Wride and Sherwood have fronted a campaign for bulletproof police vehicles. Greater protections, they say, could have saved Wride's life and spared Sherwood a traumatic head injury, as well as protected two New York City police officers killed in an ambush-style shooting in December.
Contributing: Sandra Yi
×
Related Stories