Estimated read time: 3-4 minutes
This archived news story is available only for your personal, non-commercial use. Information in the story may be outdated or superseded by additional information. Reading or replaying the story in its archived form does not constitute a republication of the story.
SALT LAKE CITY — Two-thirds of Utah residents say farming and ranching are critical to the state, and they're increasingly worried about the future of farms and ranches as the population continues to grow.
A new poll by Envision Utah underscores the value residents place on locally grown food and shows that in just seven years, people are feeling increasingly vulnerable about having a safe, high-quality food supply.
"Utahns are telling us a loud message. They want agriculture to be treated with respect, and they want it to grow and they want it to be enhanced," said Robert Grow, Envision Utah's president.
In 2007, the organization's poll showed that almost one-third of Utah residents lacked a strong opinion on ranching and farming and its importance in the state.
Grow said the 2012 drought that plagued the Midwest and California's current drought — the most severe in its recorded history — have helped to reform values over a safe, locally produced food supply and have enhanced concerns over getting that food on the table.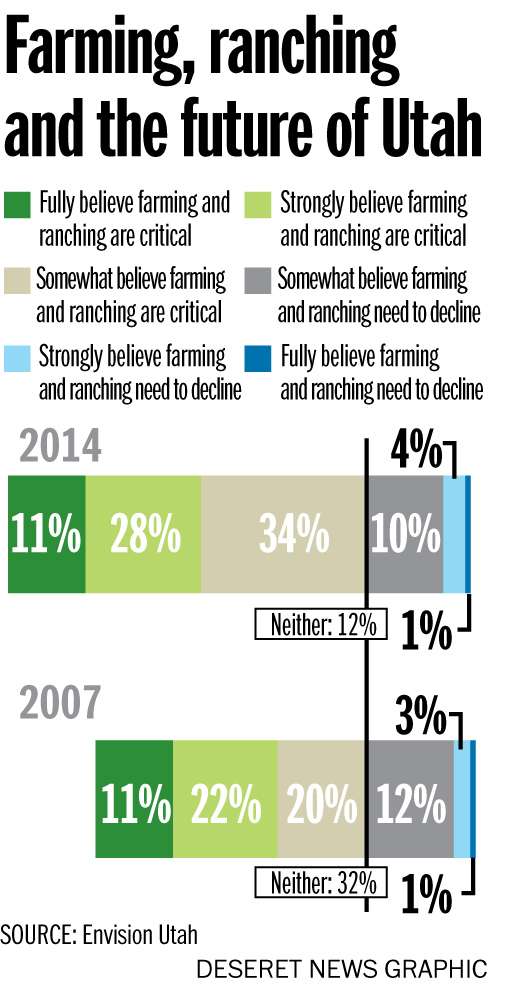 "People are considerably more concerned," he said. "And people are becoming more aware, with a strong concern that our food may not be as safe."
Stories of tainted food or salmonella outbreaks have led people to place greater value on locally produced food, Grow added.
"People trust the local farmers to do a better job," he said.
As a result, farmers markets and community-supported agriculture have taken off in the state.
Larry Lewis, spokesman for the Utah Department of Agriculture and Food, said a 2012 census of ranching and farming in Utah revealed a 60 percent increase in the dollars consumers spent on local agricultural products over 2007. Consumers shelled out nearly $16 million in 2012 on products direct from the farmer, Lewis said.
Grow said the poll showed the value residents place on locally produced food, but there is a huge disconnect when it comes to how much people know about the volume of food produced in Utah.
While Utah is stellar at producing protein such as turkey and pork — and would remain self-sufficient even with the same number of acres in production in 2050 — fruit and vegetable production rates are drastically low.
With fruit, for example, just 7 percent of what is consumed in the state is grown in Utah, and vegetables fare even worse, barely registering at 2 percent.
Grow said there are some challenges to what can be grown in Utah, but those challenges are eclipsed by prime agricultural land along the Wasatch Front being gobbled up by development.
"We are growing houses, not crops," he said.
"If Utahns care about their food supply, being resilient and self-sufficient, we have a lot of work left."
Lewis said he believes communities are beginning to respond by making zoning choices that help protect farms and ranches, and the public is voting with dollars.
Agriculture Commissioner LuAnn Adams said the Utah's Own website has enjoyed tremendous success in its efforts to pair consumers with local products.
"We are encouraged by this trend. I think more young people want to know where their food comes from, and they want to know that it is safe," Adams said. "People want to be self-sustaining."
The Envision Utah poll on agriculture is part of a larger planning outreach that taps multiple areas of interest, including air quality, water, education and energy.
At www.envisionutah.org, residents can engage in an interactive planning tool, Your Utah Your Future, and craft various scenarios depending on survey responses.
×
Photos
Most recent Utah stories