Estimated read time: 5-6 minutes
This archived news story is available only for your personal, non-commercial use. Information in the story may be outdated or superseded by additional information. Reading or replaying the story in its archived form does not constitute a republication of the story.
SALT LAKE CITY — Two additional sites for a new state prison were added to the Prison Relocation Commission's shortlist Wednesday, but lawmakers said they're still willing to consider other options.
The commission voted unanimously to approve sites in Salt Lake City, West Jordan and Saratoga Springs that have already been opposed by officials in those communities, as well as the added sites located in Tooele and Utah counties.
The new sites are more than 500 acres near state Route 112 adjacent to the Miller Motorsports Park in Tooele County and some 640 acres near Lake Mountain Road in Eagle Mountain.
The meeting, which did not include public testimony, marked the first time any sites for a new facility to replace the aging Utah State Prison at Point of the Mountain in Draper have been officially announced.
"There are a lot of criteria we'll have to work through. I think it's possible sites will fall off the list," said the commission's co-chairman, Sen. Jerry Stevenson, R-Layton. "We're still open to, maybe we don't have the best site yet."
Stevenson said if new sites are proposed for the $450 million project that appear promising, they will be evaluated. But for now, he said, "these are the six best sites that we have."
Nodding toward the dozens of Saratoga Springs and Eagle Mountain residents filling the committee room wearing T-shirts and carrying signs protesting a prison in their communities, Stevenson said further evaluation may eliminate some of the sites.
House Speaker-elect Greg Hughes, R-Draper, proposed new criteria for looking at the sites, including anticipated population growth in the area, economic development possibilities and community master plan, that were approved by the commission.
"We would love more sites to be proffered," Hughes said.
He said he did not want a new site to face the same issues with encroaching development as the once-remote Draper prison.
---
I think it's possible sites will fall off the list. We're still open to, maybe we don't have the best site yet." - Sen. Jerry Stevenson, R-Layton
---
"We are not looking to replicate the same problems or just shift the challenges that are going on right now with the Draper prison to just simply another political jurisdiction. That's not our interest."
But, the new House leader said, the prison "has to go somewhere."
No recommendation by January
After the meeting, co-chairman and House Majority Assistant Whip-elect Brad Wilson, R-Kaysville, said the commission likely won't be ready to recommend a site for the new prison to the 2015 Legislature, which begins meeting in January.
The commission, created as part of a package of legislation last session that included backing relocating the prison, had been expected to come back in January with both a site and a plan to pay for the project.
"The fact of the matter is there's going to be some due diligence on these sites that will take place over the next three to six months that is going to have to be done before we have a singular site we can recommend," Wilson said.
He said funds still need to be appropriated for the prison before the project can go forward, making it possible lawmakers could decide to reconsider their decision to move the Draper facility.
"Things can change," Wilson said. But, he said, "there's really been no discussion about whether we change direction in terms of whether we move the prison" among lawmakers.
Site concerns
The two sites were added to the commission's shortlist because of concerns about other locations that ranked high on the initial criteria used to judge the 26 proposals submitted to the state.
Those concerns include an economic development project in West Jordan that could be impacted by a prison there, Stevenson said. While the commission is "not privy to exactly what the project is," he said it's large and would bring a lot of jobs.
West Jordan sent out a news release stating it "strongly opposes inclusion on the prison relocation site list" even before the commission announced the locations on its list.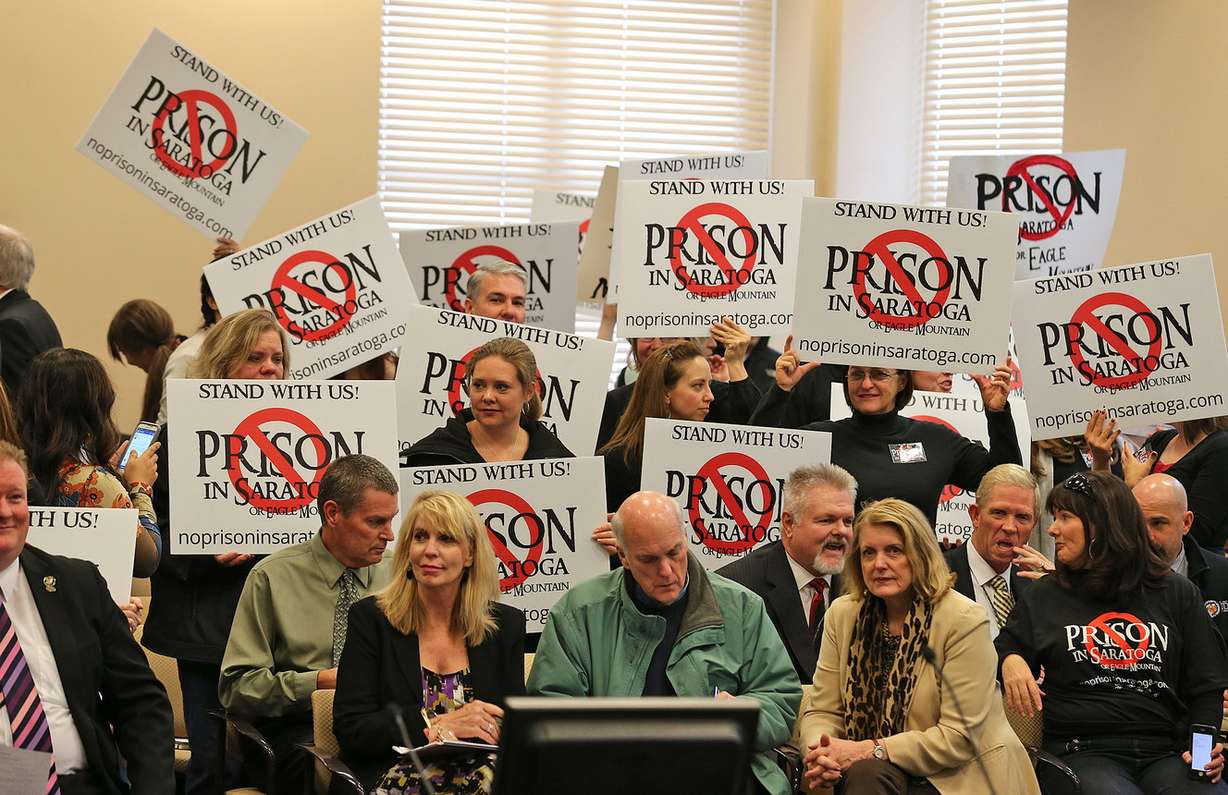 "I seriously hope the Prison Relocation Commission reconsiders its actions and the impact it will have on our city," West Jordan Mayor Kim Rolfe said in the release. "I will fight this with every resource at my disposal."
Salt Lake City Mayor Ralph Becker sent a hefty report on why the two sites in the city, one north of the airport and another northeast of I-80 and 7200 West were "wholly inappropriate" for a new prison.
Wilson told reporters he had yet to read through the Salt Lake City report but called it helpful.
"They'll probably bring to surface some issues we would or wouldn't have known about," he said.
New criteria
After the meeting, Saratoga Springs resident Jan Memmott said she was encouraged by the new criteria adopted by the commission
"I am not comfortable that the outcome will be what I want," Memmott said. But she said she appreciated hearing the commission would take into account the rapid growth of Saratoga Springs and Eagle Mountain.
"The (commission) just doesn't want to shift the problem, and that's exactly what would happen if they put it in our cities because we're up for another relocation in 30 years," Memmott said, with schools and homes already close to the proposed site.
The commission also approved coming up with a public engagement process, but Wilson said after the meeting that public comment on the proposed sites is "probably a few months away."
That bothered Jewel Allen, editor of the Tooele County Concerned Citizens Facebook page, who had hoped to speak at Wednesday's meeting. Tooele County residents and officials have spoken out against a prison there.
"There's been little opportunity to express any concerns in an organized fashion," Allen said, calling it unfair if residents are seen as less concerned because fewer turned up at the meeting. "When he said months away, my heart just sank."
×
Photos
Related stories
Most recent Utah stories