Estimated read time: 1-2 minutes
This archived news story is available only for your personal, non-commercial use. Information in the story may be outdated or superseded by additional information. Reading or replaying the story in its archived form does not constitute a republication of the story.
KARMATOWN — Have you ever heard of poetic justice? If not, here is the definition from Wikipedia, because if it's on Wikipedia it has to be true: "Poetic justice is a literary device in which virtue is ultimately rewarded or vice punished, often in modern literature by an ironic twist of fate intimately related to the character's own conduct."
Thanks to this video, we know poetic justice is alive and well in Portland, Ore.
The weather in Portland has been bizarre for the Northwest, with snow dumping on the city. KOIN news in Portland sent reporter Lisa Balick to give a live review of the weather outside — because TV people love torturing their employees — and she caught up with a couple who decided heavy snowfall was the perfect running weather.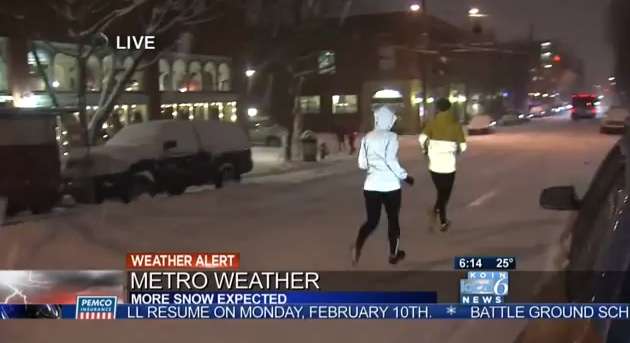 "It's the perfect texture for running," said one of the snowy joggers. "Very low impact. And it's dry snow so your feet don't get wet."
Is anyone else with any experience with snow also confused?
If that wasn't enough to set up what happened, the male runner in the duo decided to put the nail in the coffin by adding a comment about sliding through stop signs at the last minute.
Well, the universe got fed up with the complete lack of snowy knowledge from these two and decided to lay down a whole lot of poetic justice right in front of a stop sign.
Just avoid tempting fate, because it too often results in a bruised tailbone and a wounded ego.
×
Related links
Most recent Have You Seen This? stories