SALT LAKE CITY — Hot dogs were once a cuisine relegated, for the most part, to baseball fields, greasy drive-ins and metropolitan push-carts.
Nowadays, hot dogs are becoming somewhat of a gourmet delicacy — a thing to try and compare from local purveyors of meat in tube-form. Sometime near the beginning of the 2000s, hot dogs went from being greasy vendor food to gourmet restaurant food. Utah itself is home to a plethora of hip and tasty dog joints, each boasting something unique and original.
That Hot Dog place is an homage to Big, with a definitive capital "B". The dogs sold there are not for small stomachs. For those looking for a mouthful though, That Hot Dog Place will not disappoint.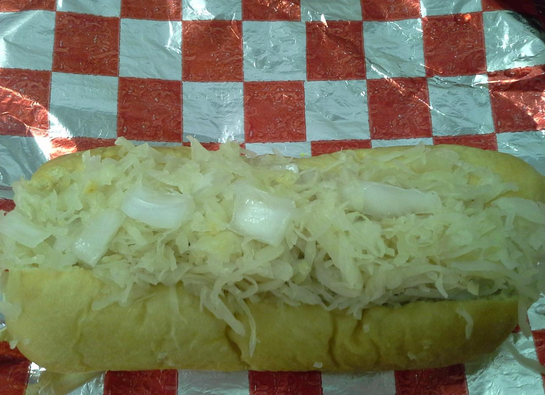 Try out the "Carolina Slaw Dog", an all beef dog heaped with chili and coleslaw. For foodies who like a little more bite in their bite, the "Baltimore Polish", laden with horseradish, onions and sauerkraut, fits the bill and then some.
If a lighter fare is what you seek, That Hot Dog Place offers a veggie dog with polish spices and all the fresh vegetables a healthy heart can take.
1821 W. 4000 South #500
Red Hot, a downtown gourmet hot dog joint, is recommended by both self-acclaimed "food snobs" and food laymen alike. It opened its doors in the summer of 2013 and has enjoyed growing popularity since.
This Main Street eatery features a unique menu of kobe beef dogs with names like "Little Tokyo" (a hot dog topped with wasabi mayo, teriyaki and shredded seaweed) and "Bahn Mi Dog" (featuring jalapenos, cilantro, pickled daikon and carrots, cucumbers and chipotle aioli).
A budget savvy choice, no item on Red Hot's menu comes in at over $6. They also offer a veggie dog substitution for any regular hot dog for any non-meat eaters who may want to give the selection a try.
165 S. Main Street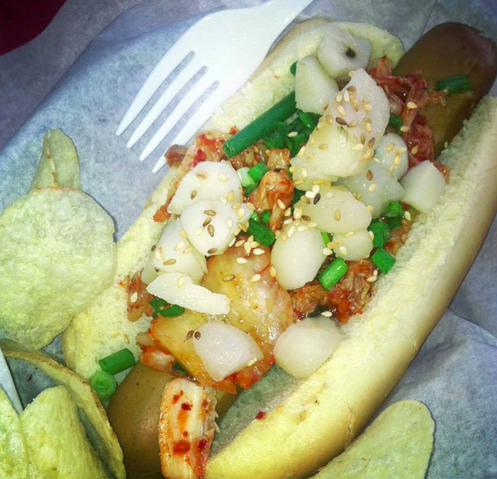 Good Dog opened up in January of 2013 and refers to itself as a "gourmet hot dog emporium." Good Dog is known for its family-friendly atmosphere and comprehensive and creative menu.
Order a "Chicago" and you'll be eating a dog topped with house man n' cheese, bacon and sriracha sauce. A "Montana" is a not for the faint of heart-burned and comes heaped with baked beans, bacon, grilled onions and crushed potato chips.
Good Dog also offers bratwurst and sausage options for more european tastes and also allows patrons to make up their own combinations from any of the items listed on the menu.
30 E. Broadway
J Dawgs (Flagship location in Provo)
J Dawgs started as a small hot dog stand just south of Brigham Young University. The small dog shack soon became a Provo standard and just about every BYU student in the valley had experienced at least one "J Dawg" by 2010.
Since its humble beginnings in 2004, J Dawgs now has three locations in Utah County and has served thousands of dogs to happy customers. Many cite simplicity as a major win when it comes to J Dawgs.
They offer 2 types of dogs; spicy polish and 100 percent beef. That's it. A small bar of condiments is available to customers, with staples like pickles, onions, sauerkraut, and of course, mustard and ketchup.
What really brings in the crowds, according to most who visit J Dawgs, is the abundance of what the eatery calls a "special sauce". Special sauce is sort of a mixture of tangy and sweet tastes, a bit akin to BBQ sauce, but just a little better.
Provo: 858 N. 700 EastAmerican Fork: 80 NW State StreetOrem: 287 E. University Parkway
×
Related Stories