This archived news story is available only for your personal, non-commercial use. Information in the story may be outdated or superseded by additional information. Reading or replaying the story in its archived form does not constitute a republication of the story.
SALT LAKE CITY — With the Sundance Film Festival hitting Utah this weekend, many locals are in the mood for movies.
Utah has long boasted a rich culture of filmmaking and cinematic exploration. Our state has hosted some world renown filmmakers like Robert Redford, but is also home to a few movie creators who may not always make the national headlines, but are are nonetheless prolific and talented.
Instead of heading to the theaters (where tickets are most likely sold out anyway), stay home and check out work from local Utah filmmakers.
If you have not yet availed yourself of the wonderful world of Stephen Groo, you are missing out. Groo has been around as a staple in the Utah film world for decades.
His work, while notoriously low budget, has drawn the eyes of a few Hollywood big-wigs. It's been said that funny-man Jack Black and Utah film mogul Jared Hess have been greatly influenced by Groo's off-kilter youtube videos and amazingly (if not unwittingly) funny movie shorts.
Groo's bread and butter is his production of extended movie "trailers". While most of these shorts have never been made into full-length features, they are worth a viewing in and of themselves. With titles like "She-Hulk" and "Tale of Mermaids", you can't go wrong.
Christensen made a name for himself with the 1980 film "Joseph Smith: The Man". Since then he has worked on numerous films and projects in and around Utah including "Rigoletto", "The Testaments" and "Forever Strong."
Christensen grew up in Layton and served a mission for The Church of Jesus Christ of Latter Day Saints to Ohio and West Virginia. Most of his films are based on aspects of LDS history and have been favorably received in Utah. His 2011 film "17 Miracles" was released across the country and received positive reviews from critics in and out of Utah.
While not Utah natives per se (Jared was born in Arizona and Jerusha hails from Nebraska) the two met at Brigham Young University and currently reside in Salt Lake City.
After their marriage, the couple co-wrote the hit "Napoleon Dynamite" in 2004. The quirky comedy about a misfit teen became an instant classic. The movie-making duo went on to write "Nacho Libre," another comedy success featuring Jack Black, and the less acclaimed "Gentleman Broncos."
Jerusha wrote "Austenland" in 2011 and directed the film in 2013. Jared announced in early 2013 he had been slated to direct an upcoming film titled "Loomis Fargo."
Devin Graham (AKA Devin Supertramp)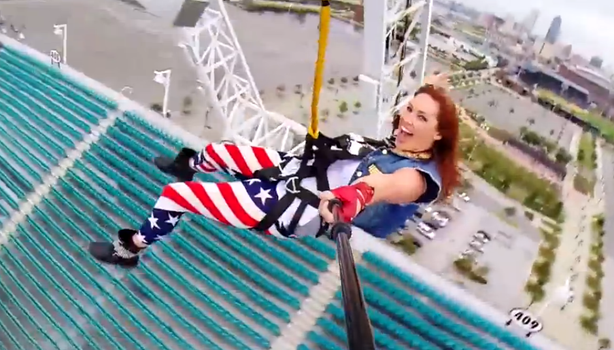 Devin Graham, who goes by the pseudonym Devin Supertramp, rose to fame by releasing a series of YouTube videos featuring outdoor stunts and incredible cinematography. His most popular video features adventurers swinging off Corona Arch in southern Utah.
Even though Graham has yet to make a full-length film, his work has been heralded as the next big thing in movie making. While most short videos that go viral are filmed with low-resolution cameras and with minimal attention to detail, Graham's videos are shot with incredible skill and planning.
His most recent film features football fans zip-lining off a high platform above Everbank Field in Jacksonville, Fl. Filmed partially with the use of point-of-view helmet cameras, the footage puts the viewer in the front and center of the action.
×
Related Links
Related Stories