This archived news story is available only for your personal, non-commercial use. Information in the story may be outdated or superseded by additional information. Reading or replaying the story in its archived form does not constitute a republication of the story.
SALT LAKE CITY — Every so often, we come across a story that's quirky enough that we want to explore it further. This is one of those.
It's about a music video that's circulating on the internet right now, made by a Utah filmmaker.
Why is this one so popular? First of all, it's funny. It's totally about Utah, so if you've lived here for a while, you'll really appreciate it. The thing is, the video is about a year old. So why is it catching on now?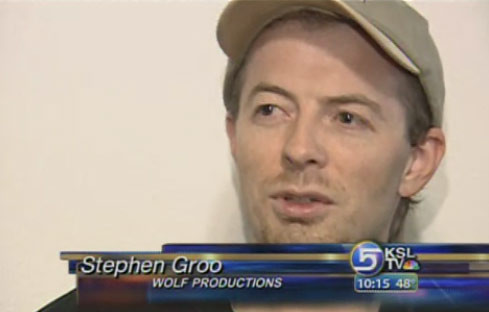 If you've seen it, the town names are already stuck in your head: "Koosharem, Washakie, Toquerville and Keetley, Ioka, Neola, Oasis, Paragonah."
The tune is certainly recognizable: "Kokomo" by the Beach Boys. Salt Lake songwriter Robert Lund did a parody of it about 10 years ago, highlighting many of Utah's cities and towns.
Last year, independent filmmaker Stephen Groo of Wolf Productions in Provo decided to make it into a video. That meant traveling to all those locations.
"After 11 road trips, 4,659 miles of Utah, we finally finished the tribute and it took us a little over six months to get everything done," said Groo.
Stephen, wife Sherry, their son, his mom and her brother all appear in the 3-minute 20-second video, titled: "Tribute to Utah, 2005."
When it was finished last fall, Stephen put it on his website and didn't think much more about it.
A few days ago the video showed up on another popular website, and it's being seen and forwarded by the thousands. Groo doesn't know who got the ball rolling, but he certainly doesn't mind the attention.
"You know us independent film makers here in Utah, you know, we're always trying to figure out ways that we can get seen," said Groo. "So if it was through my music videos, great!"
Groo has been in the film and video business for nine years. He's made 98 films, but none has gotten the attention that this one has. Who knows, it may be his big break.
"Hopefully there will be a producer out there that thinks that I'm creative enough to let me do the big stuff," said Groo.
Ahh... one state down, 49 to go.
Stephen says the tough part was trying to locate all the places that Robert Lund mentioned in the song — some don't show up on maps anymore.
×
Related Links