Estimated read time: 6-7 minutes
This archived news story is available only for your personal, non-commercial use. Information in the story may be outdated or superseded by additional information. Reading or replaying the story in its archived form does not constitute a republication of the story.
SALT LAKE CITY — John Swallow did not want voters to see him as the payday loan candidate, so his campaign devised a strategy to hide hundreds of thousands of dollars in contributions he received from the industry.
At the same time, Swallow told payday lenders he would go to bat for them with federal consumer protection regulators if elected attorney general.
"I am ready and willing to help lead out on that," he wrote in a June 29, 2011, email to Kip Cashmore, a payday loan industry leader in Utah.
Chief investigator Jim Mintz told the Utah House Special Investigative Committee on Friday that Swallow's 2012 run for attorney general had three aspects — transparent, obscured and hidden.
"That kind of flow of benefits back and forth with elected officials is pay-to-play," Mintz said. "If it isn't dirty, why is it kept so secret?"
Swallow had relationships with several businessmen that benefited him personally, professionally and politically, said committee lawyer Steve Ross.
Ross, Mintz and lead attorney Steve Reich described in detail the complex dealings Swallow had with each of them, leaving Rep. Lynn Hemingway, D-Salt Lake City, to say, "John Grisham couldn't dream this stuff up, could he?"
Ross said investigators uncovered facts that show state laws were skirted if not broken.
The findings outraged committee members just as they did Thursday when investigators described intentionally deleted data and fabricated documents to cover any appearance of wrongdoing.
"This is serious," said Rep. Mike McKell, R-Spanish Fork. "There's a strong, strong, strong likelihood that somebody should go to jail."
The committee intended the two-day report — including the eight-hour presentation Friday — as a wrap on its four-month investigation, but lawmakers say they intend to seek more money to continue and expand the nearly $3 million inquiry.
"I don't think we're done yet," said House Majority Leader Brad Dee, R-Ogden. "We are appalled by some of the information we received today."
Dee said the committee could find a "treasure trove" of information about how campaigns are run in Utah if it presses on. One of the committee's duties is to recommend election law reform.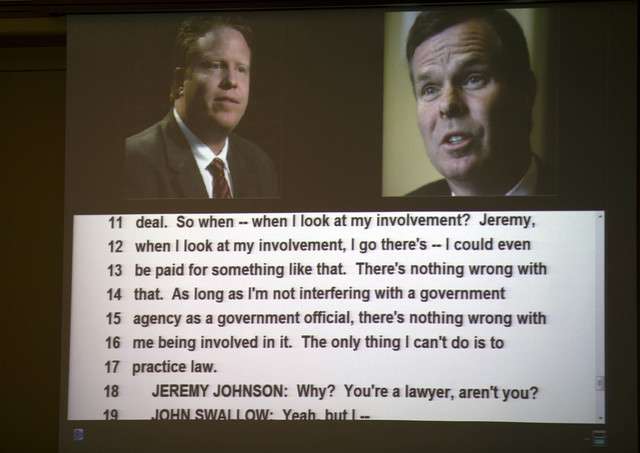 "We cannot stop here," said Rep. Lee Perry, R-Perry. "We need to clean our house in the state of Utah."
Swallow's campaign consultant Jason Powers ran the payday loan money through a convoluted network of political action committees and nonprofit entities to hide its sources, Mintz said. He ultimately used the cash to run attack ads against Swallow's GOP primary election opponent Sean Reyes and former GOP lawmaker Brad Daw, who ran a bill to more closely regulate payday lending.
"This whole thing was one structure," Mintz said. "It makes the point that somebody thought this whole thing through."
Mintz said a substantial amount of the money came from the payday loan industry, including Swallow's friend and mentor, the late Richard M. Rawle. Swallow worked as lawyer for Rawle's company Softwise Inc., the parent firm for the Check City chain.
Softwise attorney Sam Alba sat through both days of committee hearings.
"There are two sides to the story, and you are only getting one," he said afterward.
Alba, a former federal judge, said he intends to file a written response to the committee's report but had nothing more to say.
In the email to Cashmore, Swallow said he wanted to raise $100,000 from the payday loan industry in 2011. He asked that payday money go to then-Attorney General Mark Shurtleff's political action committee Utah's Prosperity Foundation and that non-payday money go to his PAC.
Swallow ends the message, "Please do not forward this email."
On Thursday, lawyer Steve Reich reported that Swallow intentionally deleted electronic data and fabricated documents to hide any appearance of wrongdoing.
---
That kind of flow of benefits back and forth with elected officials is pay-to-play. If it isn't dirty, why is it secret?
–Chief investigator Jim Mintz
---
Ross said Friday he would walk the committee through "more serious issues" investigators uncovered. He said there was a "for sale" sign at the attorney general's office and an "abdication of the role of the state's top law enforcer."
Swallow used his relationships with businessmen in the payday loan and online marketing industries for personal, professional and political gain, Ross said. He said benefits flowed freely between Swallow and the businessmen, including Rawle.
Swallow, while serving as chief deputy attorney general and running for the top spot, received substantial money from Rawle that helped fund personal attacks on political opponents. The campaign made sure that Rawle's name didn't appear on any campaign finance disclosures, Mintz said.
"Secretly, Rawle gave Swallow much more than nothing," he said.
Benefits also flowed between Swallow and St. George businessman Jeremy Johnson, Mintz said. They became friends when Swallow was Shurtleff's chief fundraiser.
In 2010, Johnson was pushing Swallow, then chief deputy attorney general, for a legal opinion from him and Shurtleff on the legality of banks processing online poker receipts. Johnson had an interest in SunFirst in St. George bank.
At the same time, Swallow used Johnson's Lake Powell houseboat — not once as Swallow previously acknowledged but as many three times, Mintz said. Swallow also flew on Johnson's plane and stayed at properties he owned, he said.
Reich said a "non-Jeremy Johnson" would not have had the same access to Swallow and Shurtleff. "That's not the way it worked because of Jeremy Johnson," he said.
Mintz also described how Swallow arranged to settle a lawsuit for campaign donors Tim and Jennifer Bell whose house Bank of America had foreclosed on. It came at the same time that the attorney general's office was involved in litigation with Bank of America to obtain settlements for Utahns who had lost their homes in the mortgage crisis.
Shurtleff pulled the state out of the case as one of his last acts in office in December 2012. Investigators said that left 5,000 Utah homeowners without a settlement, all in an effort to protect a Swallow campaign donor.
The decision blindsided assistant attorneys general handling the case. When one of them asked for an explanation in an email, Shurtleff responded, "This was becoming a very complicated issue for John given Bell hosted a fundraiser for him in the subject home, and Bell is also a person of interest in a fraud matter we are investigating."
In Thursday's hearing, Reich outlined a pattern of Swallow intentionally deleting electronic data and giving contradictory statements about how the information went missing.
Investigators say they also found that Swallow's office laptop and desktop computers weren't wiped clean when he switched them out for new ones after he won election last year.
Reich said Swallow asked attorney general's office IT staffer Chris Earl to wipe them in July 2012 because he was no longer serving as an LDS Church bishop and wanted to remove confidential information he received from ward members. In a declaration to the committee, Earl said Swallow appeared "nervous and anxious."
The day before Swallow announced his resignation in November, his attorney asked for a copy of Earl's declaration. Reich said he wanted to assist Swallow in making a decision. He didn't say what the decision was about.
Swallow resigned this month, citing the toll the investigation was taking on him and his family. Perry said it's now clear to him that Swallow stepped down because of what the investigation was uncovering.
×
Photos
Related stories
Most recent Utah stories