Estimated read time: 2-3 minutes
This archived news story is available only for your personal, non-commercial use. Information in the story may be outdated or superseded by additional information. Reading or replaying the story in its archived form does not constitute a republication of the story.
HOLLADAY — The recent cold front may have inconvenienced some, but for at least one family an early winter means more fun.
The Davis family has been making an ice rink in their backyard for 15 years. 2013 is one of the earliest years they have been able to complete the 60 foot by 28 foot hockey rink. Typically it can take two or three weeks to make the ice thick enough to skate on, but this time they could host a hockey game within 48 hours.
"When you have this awful, cold weather, an ice rink sure makes winter a lot more fun," said father Glen Davis. "In some ways you even hope the bone-chilling cold sticks around a little longer."
The ice rink has become a neighborhood fixture, with family, neighbors and church groups playing hockey games on it almost every night. Glen Davis estimated they could outfit around 20 people on any given night with skates, hockey sticks, helmets and other gear he has purchased from secondhand stores.
"Every night is a great memory," he said. "You can have temperatures down into the mid-teens and they're out playing with their t-shirts on because it's great exercise; they're out getting a sweat and having a great time. Lots of family members or neighbors will sit at the kitchen window watching it all happen."
Preparation for the ice rink starts on a warm day in fall, when the family puts down a sheet of plastic. Once snow falls the family has a stomping party to flatten the snow and then saturates it with water to make the base of the rink. Then they build up the ice layer by layer.
The ice rink has improved over the years — when they first started playing hockey on the rink they used plastic buckets as goals and had short walls made out of snow, but now they have wood walls with goals built in. They also leveled their lawn for a smoother surface during the summer of 2013.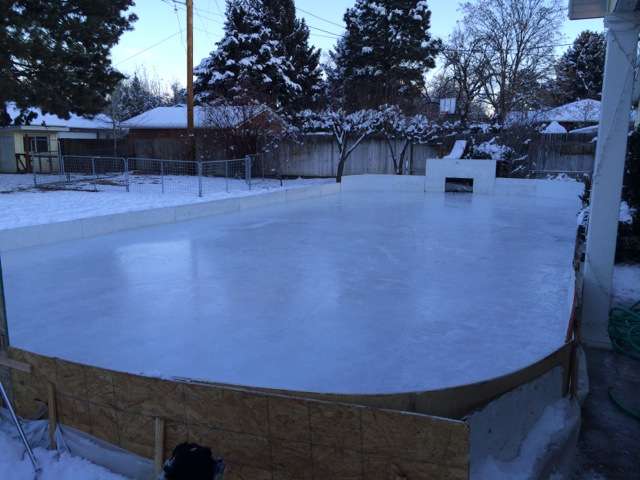 The family estimated they use around 7,000 gallons of water a year to maintain the rink. Son Thayne Davis said it hits the water bill a bit for the winter months, but it is definitely worth it.
"It's just kind of a fun hobby," Thayne Davis said. "You go out and water the rink every day and night. It's almost just as fun to maintain as to skate on it."
Of the seven children in the Davis family, four have married and started families of their own, but they come back home to help construct the ice rink and play on it.
The ice rink usually holds until February or the beginning of March before the ice quality worsens and the family loses interest, Glen Davis said.
×
Photos
Related stories
Most recent Utah stories