This archived news story is available only for your personal, non-commercial use. Information in the story may be outdated or superseded by additional information. Reading or replaying the story in its archived form does not constitute a republication of the story.
SOUTH JORDAN — A local man known by family and friends for his elaborate paper costumes is breathing life into an imposing paper version of Igor from "Iron Man 3."
With the final product designed to stand at 7 feet 2 inches, Mario Murga said he wanted to go big for this year's project. He even researched how to build stilts online for the costume since he is 5 foot 5 inches tall.
Previous costumes were made out of paper mache, but he said his latest creation is a little more sophisticated because it uses a technique called "pepakura," which involves folding and taping paper together to make it into the desired shape. It's like a 3-D puzzle, he said.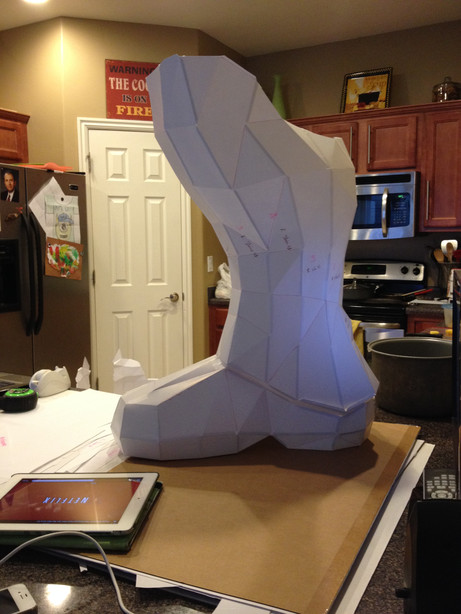 "There's a lot riding on this one," Murga said. "I'd say this one is taking at least five or six hours a night, just because I've got to fold every little piece and tape it."
In some ways, it is similar to fixing a car because the costume requires fiberglass resin, he said. It also needs to be plastered, primed and painted and he has soldered LED lights for the chest and hands.
The project has taken him almost two months so far, and he is pushing to finish before the Halloween deadline; after helping put his children to bed, he will work on it five days a week until as late as 3 a.m.
"I usually come to work and I still smell like fresh paint," he said.
Murga started building his elaborate costumes in 2005. His original theme of bobblehead-style costumes soon became a fixture, and photo-op, at his annual neighborhood chili and chocolate Halloween party. He was also given the job of greeting trick or treaters at his work this year.

Tune in for KSL's exclusive interview with the man behind the suit and an update on its construction Friday.
"I skipped a couple of years, and I never heard the end of that," Murga said.
His bobblehead designs were based on pictures he found online, and when he made a Yoda costume he used toilet paper to sculpt eyebrows and wrinkles. His favorite costume so far is between Marvin the Martian and a minion from "Despicable Me," because the eyes make him crack up, but he said favorites could change depending on how Igor turns out.
The inspiration for his Halloween costumes are smiles, he said. He has three sons, all born seven years apart, ages 16, 9 and 2.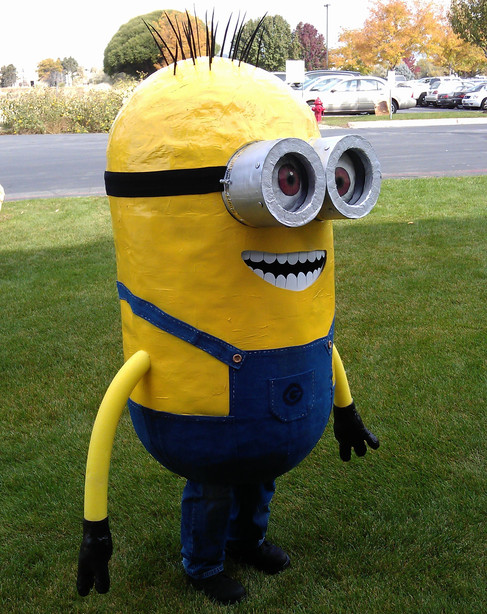 "I've always wanted to do something creative, something that would get a smile especially out of the kids," Murga said. "The first time they saw it, they were just in awe."
Creating costumes has run in the family since he was kid. When his cousins and sister were in school plays growing up, his uncles and aunts would make costumes like flowers and butterflies out of transparent cellophane paper and wire hangers.
He honed some of his paper mache skills while making piñatas for family members as a child and eventually decided to take a stab at costumes. He said he had always been playing with paper as a kid and now he does it as a profession, working in packaging design.
Murga said he hopes his costumes spark an interest in working with paper; he doesn't see paper mache very often and wants to keep it alive. It's something he tries to use as much as he can; a couple of dragons heads he created are on display at his son's school.
This might be the last year he builds a paper costume for himself, though. Starting next year he is planning on making smaller scale versions for his sons.
Video Contributing: Keith McCord
×
Photos
Related Stories