This archived news story is available only for your personal, non-commercial use. Information in the story may be outdated or superseded by additional information. Reading or replaying the story in its archived form does not constitute a republication of the story.
SALT LAKE CITY — Popular culture is always a go-to destination for Halloween costume ideas. In 2011, it was Occupy Wall Street, Rebecca Black or Steve Jobs. In 2012, with the help of election season and reality TV, costumes have taken a turn for the weirder. Here, some of the biggest pop culture hits-turned-costume:
Big Bird
Big Bird costumes have flown off the shelves since the first presidential debate earlier this month, when GOP candidate Mitt Romney told Jim Lehrer he would defund PBS if he were to win the presidency.
"I'm going to stop the subsidy to PBS," Romney said. "I'm going to stop other things. I like PBS, I love Big Bird. Actually, [I] like you, too. But I'm not going to keep on spending money on things to borrow money from China to pay for."
Psy
Less political is Korean K-pop artist Psy, who became an international sensation over the summer with his hit "Gangnam Style," a parody of the affluent lifestyle associated with the Gangnam district in South Korea.
Chances are you know the dance (or is that just me?), so just grab a powder blue tuxedo, a bow tie and a life jacket and you'll be good to go.
NFL Replacement Referee
Remember this? During the NFL referee lockout earlier this year, "ref rage" peaked thanks to a blown call during the final play of the Seahawks-Packers game.
Despite obvious disagreement between referees, a touchdown call for the Seahawks after a pass that may or may not have been picked off by Packers safety M.D. Jennings stood. The episode led to widespread outrage and ensured the "blind ref" meme would live to see another Halloween.
#poll
This costume is simple: wear a black-and-white striped shirt and a blindfold, and pretend you have no idea what's going on.
Ruined Spanish Fresco
Celia Gimenez, 80, made headlines in August after a work of restoration had disastrous results. Gimenez said she had been directed by her church to restore a fresco, titled "Ecco Homo," and that she had not had the chance to finish the painting before it caught the attention of local media, and later the world.
The ruined fresco soon became a work of art in its own right, its image used on candles, clothing, and a costume that was first noticed when Reddit user Spinjump posted a picture of his costume to the link sharing site.
Honey Boo Boo
Honey Boo Boo — almost never known by her name, Alana Thompson — got her start on the TLC reality TV show "Toddlers and Tiaras," which follows the lives of child beauty pageant contestants.
The 6-year-old is known for her wacky behavior and for drinking "Go-Go Juice," a mixture of Red Bull and Mountain Dew. Interest in the toddler and her "no apologies" family led to the announcement of a spin-off series on TLC: Here Comes Honey Boo Boo.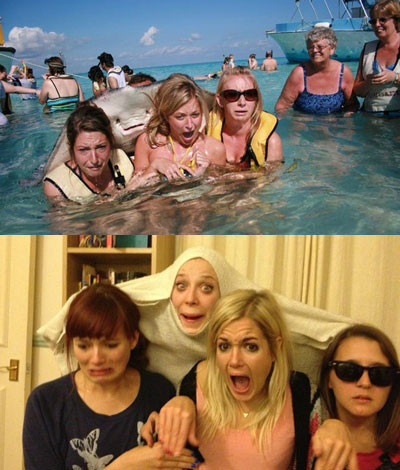 Blonde, curly hair, a pageant dress and a lot of makeup will make this costume work — just make sure to throw around phrases like "a dollar make me holler."
Bonus: Stingray Photobomb
A hilarious vacation photo of a stingray photo bombing a group of vacationing women went viral at the end of the summer, but the stingray wasn't acting alone.
Sarah Bourland, the woman on the left in the photo, told the Huffington Post the photographer had asked to take a photo with the stingray in front of the girls.
"Afterward as a joke he put it on our backs without us knowing!" she said. "Our reactions are genuine, and the photographer snapped the photo at the perfect time!"
The costume would be a group effort, of course, but a couple of towels and a few friends would probably do the trick.
×
Photos
Related Links
Related Stories