Estimated read time: 4-5 minutes
This archived news story is available only for your personal, non-commercial use. Information in the story may be outdated or superseded by additional information. Reading or replaying the story in its archived form does not constitute a republication of the story.
OGDEN — When a former student contacted Kaye Collet, formerly Johnson, she knew who was speaking before the student introduced herself.
It couldn't be anybody else, Kaye said of Shannon Shuman's phone call.
"It doesn't surprise me. Immediately, she said 'I was a student of yours,' and I said, 'Yeah, and I bet I know who this is.' She had come back specifically and visited me," Kaye said. "I have received letters from other students and quick visits when they were in junior high, but not as adults."
Two weeks ago, Shannon — now a teacher herself — reached out to KSL to find information about her fourth-grade teacher, Mrs. Kaye Johnson, and reconnect with her or her family. Shannon wanted to express gratitude for the kindness the teacher had extended to her in 1978.
As a child, Shannon had lived in a home of filth and was given little direction from a mother coping with mental illness. As the girl's teacher at West Kearns Elementary, Kaye had reached out to the student, teaching her how to bathe, wash her clothes and, most importantly, Shannon said, she taught her about the influence of a present and loving adult. When Shannon contacted KSL, she didn't even know if the teacher would still be alive.
After sorting through dozens of emails and Facebook messages, Shannon learned the woman she had been searching for had remarried in 1994, changing her last name to Collet.
Related:
Tuesday, over bowls of noodles and beef at Lee's Mongolian Barbeque in Ogden, the two reminisced about teaching and Kaye's eyes brightened.
"It was lovely to reconnect with Shannon. It was lovely because I had some things I wanted to say to Shannon," Kaye said. "I was delighted to find out the results of her life and how wonderful it was. The fact that she had become a teacher was especially sweet for me."
Kaye, a no-nonsense, kind and adventurous woman (she still travels in an RV equipped with a collapsible boat), said Shannon reminds her of herself as a teacher.
"Just the way she attacks her class and education, I thought 'She's of my day.' I was a maverick," Kaye said. Directing her comments to Shannon, she said, "You don't break the rules but you sure bend the hell out of them."
When Kaye was still teaching, she said another teacher observed her class. Afterward, he told her he hadn't seen anyone self-correct and act on their feet like she did. She said she has always been observant of other people — a useful skill for lecturing and finding creative solutions to classroom problems.
"For me, when I was teaching, it allowed me to be creative. I think I enjoy a certain amount of stage and it allowed me a stage," Kaye said. "At the first of August I would start to get all excited. I'd take all the classes the district had to offer just to wind me up and give me some new ideas."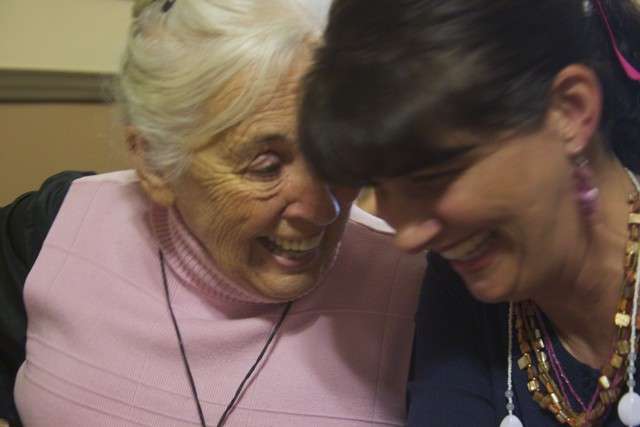 That skill of acute observation helped her notice Shannon and address her pupil's problem, she said. She noticed other situations in her classrooms and was able to solve them with creative solutions. Kaye shared a story of another struggling child in her class when she was a young teacher. She told the girl's parents she felt the student just needed an "ego boost" to improve her studying and confidence. Kaye generously graded the girl's performance that week — just enough to make a difference.
"She quit falling over her feet when she crossed the floor. She quit talking in this high, squeaky 'don't-kick-me' voice," Kaye said. "It proved to be the right thing to do."
While she has long since retired, Kaye still feels strongly about the role of teachers and of her responsibility to not just teach but to help kids. Speaking of Shannon's experience touching so many, she chalks up the response to the influence of teachers.
"I'm amazed at the response back to you," Kaye said. "All these people must be thinking of the teachers in their lives."
Since becoming a teacher, Shannon has come to appreciate Kaye's observations and kindness.
"I just wanted her to know that she was the start of a chain of people who were put in my life," Shannon said. "Just guiding steps. But I think that day outside the classroom when you said, 'I'm going to tell you something. It's going to hurt your feelings.' When you said that to me, it was that moment I realized that everything was not normal. That my life at home was not normal. That there was something else. I don't know how to repay that. How do you repay that?"
For Kaye, the repayment has already been made.
"I think the sweetness of (Shannon's) effort and what's transpired from it is certainly enough."
×
Photos
Related links
Most recent Utah stories