SALT LAKE CITY — As spring graces the city with intermittent showers and sunshine, food carts and trucks are taking advantage of the warmer weather, popping up after a long winter respite.
Though Salt Lake is no New York or Portland, food carts and trucks are gaining popularity in the city. Below, we've listed a few places you can find local vendors who cook up authentic cuisine in cramped spaces.
Chow Truck Varying locations and timeschowtruck.com
Serving up Asian Cuisine, the Chow Truck takes advantage of its mobility by coming to customers around the city. Reviewers recommend its calamari and tacos, which only resemble its Mexican namesake by way of the corn tortilla.
Tips for eating at a food cart or truck
Bring cash: Many carts and trucks don't accept credit cards, so be sure to bring enough cash to cover your meal.
Decide before you get in line: When you've got people waiting in line behind you, and the person cooking is also taking your order, do them all a favor and decide what you want beforehand. If you need to ask a question, do it and then decide quickly.
Tip: These carts and trucks are often manned by one person, and they are often the owner. Help them out and encourage better service and food by leaving them a tip.
Get out of the way: Once you've placed your order, step off to the side, within earshot, of the cart. And once you've gotten your food, find a place out of the way of the cart and condiments to eat.
Check the schedule online to see when it will be near you — they set up shop from Downtown and Sugar House to Millcreek.
The Curryer 300 South Main St, Salt Lake City Weekdays, 11:30 a.m.-2 p.m. (closed in wet weather)
Millcreek Market Thursdays through October 4, 5 p.m.- Duskthecurryerslc.com
Owned by a husband-wife duo, the Curryer offers Indian curries with a menu that changes daily. The cart has been modified to house a Tandoor oven, in which naan is freshly baked for customers. They recently added whole grain naan to their menu, and accommodate to vegans and vegetarians.
City Dogs 300 South 200 East, Salt Lake City Monday, Wednesday, Friday 11:30 a.m. -3:30 p.m.saltcitydogs.com
No food cart list would be complete without the iconic hot dog stand. City Dogs are 100 percent vegetarian and vegan, but when hot dogs are involved, who is going to know what's in it anyway? Their dogs vary from ballpark-style and you pick the fixings, or choose from a chili cheese dog, City Dog, or beer brat dog, among others.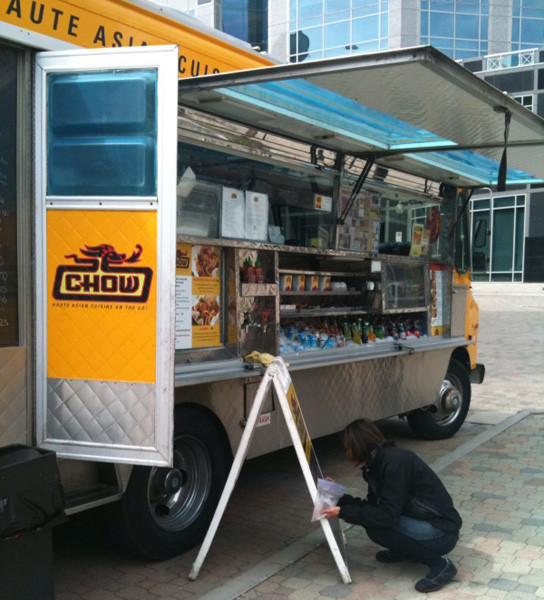 For those who would rather not venture to the cart itself, Stick Dogs — their bicycle delivery service — will bring you your meal for a nice tip.
Bento Truck University of Utah campus - Marriott Library Plaza Weekdays, 12 p.m. - 3 p.m. bentotruck.com
If you need a fix for your Japanese food craving, head up to the U. and visit the Bento Truck. Their meals are all served over rice, and vary from potstickers and tempura to beef curry and Japanese beef barbeque. The truck also puts out a seasonal menu, so be sure to check for those specials.
Taco Hidalgos 300 West South Temple Weekdays, lunch hours
Salt Lake has several Mexican food carts around the city, and for good reason. Like its counterparts, Taco Hidalgos cooks us delicious street-style tacos and you get to pick your toppings (including an impressive number of salsas).
The cart has daily specials that are affordable and portioned generously. Their $1 tacos, however, are a great option for anyone looking to set their own portions.
Be sure to head to the right location, as the cart moved from 400 West to 300 West last year during TRAX construction.
More taco carts can be found on the map below.
Food Truck Thursdays Gallivan Avenue Thursdays, 11:30 a.m. - 2 p.m
A temporary version of Portland's food cart and truck parks, Salt Lake City vendors come out of the woodwork and set up along Gallivan Ave. to offer diners a variety of cuisines. Stop by during your lunch break and try something new.
Top image: The Curryer cart
---
×
Related Links
Related Stories