SALT LAKE CITY — As a kid, Ryan Fisher pored over National Geographic magazines, captivated by the photographs. He knew then he wanted to be the man behind the photos.
Fisher, a Utahn who now freelances for the National Geographic and Discovery channels, is shaping his family and sharing his faith by traveling and photographing all over the world.
At 8-years-old, Fisher knew he wanted to be a photographer. And, like many children, set the bar extremely high: He was going to photograph for internationally renowned National Geographic.
Later, while he served a mission in Poland for The Church of Jesus Christ of Latter-day Saints, he took his camera everywhere, documenting the remains of the Holocaust. His intention? To get a job with the magazine telling the stories of the world.
Several years of working later, his dream came true. He got an assignment with National Geographic.
"It feels good to accomplish that goal I set for myself when I was eight or so," Fisher said.
Fisher, who specializes in aerial filming, frequently brings his wife (who he has taught to operate a camera) and four children along with him for assignment. His projects have taken him to document a bush community in Kaktovik, Alaska to South America.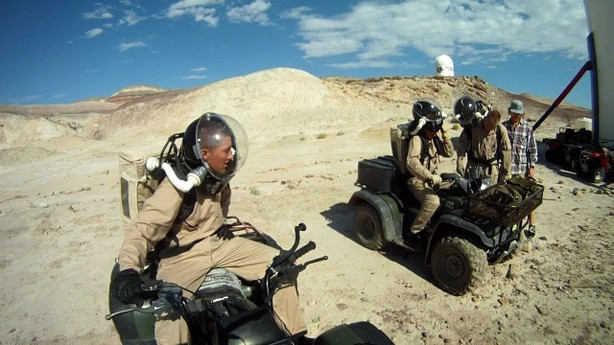 Currently, Fisher is working on a project close to his heart called "Nephite Explorer." The series explores the locations mentioned in the Book of Mormon.
He has worked as a program developer — recently on "Alien Deep" — and said the idea for the series came to him after an assignment in Israel and meeting a researcher interested in the same thing.
"I came across some researchers that were making some pretty amazing archaeological finds regarding Book of Mormon geography and I became fascinated with it," Fisher said.
Those researchers in Israel took him to a fort from 600 B.C., then led him to another who took him through the jungle. All along the way, without any end in mind for the footage and photographs, he filmed.
"I just started amassing all this content that was really fascinating to me," he said. "As fascinating as (other projects) are, I always come back to my own spirituality and my own belief in the scriptures. I keep asking questions: Where did these events take place and what can we learn from these events today?"
For him, distributing the project is about presenting religion in an interesting and up-to-date way for teens who would just as soon look at their phones than pick up a book.
"I'm hoping to gather all this content and really present it in a way that is interesting to younger generations," Fisher said. "They're on their phone, on the Internet. They're just not reading scripture at all. We need to translate these really amazing messages into a language they'll understand."
"As our society moves into cyberspace, I feel like those of us that have something good to share with younger generations also need to move into cyberspace and be a guide for youth who have questions."
One could say he is teaching his children in the same, guiding manner. On assignments that allow it, Fisher enjoys traveling with his family. He took his 5-year-old twins with him to a local dinosaur dig, where they were able to unearth a real dinosaur bone.
---
As our society moves into cyberspace, I feel like those of us that have something good to share with younger generations also need to move into cyberspace and be a guide for youth who have questions.
–Ryan Fisher
---
"They watch the cartoons about dinosaurs on PBS and they now talk about, 'Hey, we found that bone. Didn't we find that bone?' They think they unearthed the whole skeleton. And with their little minds, it starts off they just excavated bones, but over the last couple years, it's evolved into they discovered the dinosaur, they've excavated the bones," Fisher said.
He jokes that taking them along is partly self-serving.
"Now, I'm just waiting for my kids to get a bit older so they can carry my tripod for me anywhere I go," he said.
His career is not all exotic locations and exploring ancient ruins, though. On a recent trip to Kaktovik, Alaska, he worked alongside the Alaska National Guard to help a bush community without heat in -40 degree weather. As they headed home, they learned that the cargo plane he and his wife Amber were on had a broken heater. For five hours of their travel, they shivered in the plane.
Sometimes, the travel or area is dangerous, and he leaves his family safe at home.
Still, he's grateful for the people he meets and the experiences he's had.
"As a freelance journalist, I never know what I'm going to be doing tomorrow, and I love that," Fisher said. "Things come across my desk that could take me to any part of the world. I get to have access to parts of society that other people don't have."
Top video: St. George Ironman by Fisher and Dixie State College student.
×
Photos
Related Links
Related Stories