Estimated read time: 2-3 minutes
This archived news story is available only for your personal, non-commercial use. Information in the story may be outdated or superseded by additional information. Reading or replaying the story in its archived form does not constitute a republication of the story.
SALT LAKE CITY — In an eclectic Glendale neighborhood inhabited by working-class families, polygamists, and roosters, Jeffrey White is adding something new to the mix. Something unexpectedly stylish. Shipping containers.
The Sarah House Project is a mostly one-man effort to build a small home out of two 8 by 40-foot shipping containers.
"People are asking for less," White, 56, who makes his living selling real estate, said. "They don't want the big mortgage. They don't want the big heating bills, the big cooling costs. We're just getting by with less and less."
White got the idea while visiting a San Francisco artist, Sara Putnam, and borrowed her (misspelled) name for the project. (A "Sarah House" banner had already been printed by the time someone informed White of the extra 'h'.)
Putnam was a sculptor without much income and, White says, had a hard time staying in one place. Before her death from cancer a few weeks ago, she was living at an artists' colony at the Hunter Point Naval Shipyards— where she wasn't supposed to be sleeping.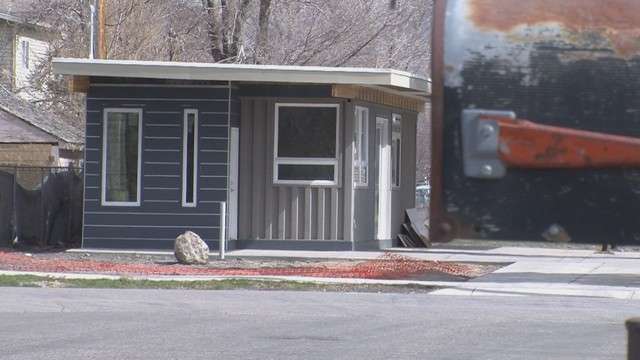 While visiting the shipyards one night, White noticed dock workers unloading containers and thought about turning the big metal boxes into homes.
He put a 40-foot container on his driveway and started converting it into a house, but ran into trouble with city officials.
Eventually, under the umbrella of the nonprofit Crossroads Urban Center, he secured a small parcel of land in Glendale and started building the Sarah House.
The project is funded with a federal Home grant, donations and money White earns handcrafting wooden funeral urns.
"I know it sounds odd but it does the trick," White said. "I make something that's a little more personal, a little smaller, doesn't take up as much ground," White said. "Kind of like our houses."
There's been renewed interest in recent years in smaller— a lot smaller—homes. Some call it the "tiny house movement." Those houses are typically 500 square feet or less.
White's house is 672 square feet.
Related:
"This is somewhere just a little bit bigger," White said. "But it's the same methodology. People are wanting to live small."
White points to the shrinking US household size and simple economics.
"We find that people are living a more minimalist life," White said.
The Sarah House includes a combination living room-dining room-kitchen, a bedroom, bathroom, and day room.
White estimates the cost of the project, including the land, at $108,000 - $115,000. This, he says, is close to the cost of a conventional home and is higher than he expected, but White hopes he'll be able to bring those numbers down in future.
"I would love this house to come somewhere in the $60,000 - $75,000 range," White said.
The Crossroads Urban Center will eventually sell the home to a low-income single or couple.
White dreams about building small communities of these small homes.
"We're all trying to help something along," White said. "And this is just my little plan."
×
Photos
Related links
Most recent Utah stories