This archived news story is available only for your personal, non-commercial use. Information in the story may be outdated or superseded by additional information. Reading or replaying the story in its archived form does not constitute a republication of the story.
A stone fortress standing sentinel on a misty moor. The thatched roof of a snug cottage enveloped by climbing vines and lush grass. A secret hideaway carved into an ancient stone wall.
The once-upon-a-time places where fairy tales unfold don't only belong to legend. Imposing castles, romantic cottages and mystical retreats can be found all across the modern world — places that, although they look torn from the pages of a storybook, actually exist today.
Here's a peek at five such magical homes that transport visitors to another world and can make us all believers in "happily ever after."
Hobbit House, Wales
The first home on our tour does not simply evoke fairy tale life — it is actually named after one of the greatest fantasy stories of all time. The Hobbit House was built literally into the Welsh countryside and does indeed look as though Bilbo Baggins might come strolling out the tiny, wooden front door. The house was built by a family looking to live in a home that's "in harmony with the natural landscape, ecologically sound and a pleasure to live in."
Related
Using as many found materials as possible and built with little else but a chain saw, hammer and chisel for tools, this cottage is nestled halfway into the ground with a sloping roof covered in grass that grows right over the top. Rough-hewn logs comprise the frame, giving it an ancient, weathered look, and though it's less than a decade old, a forest garden surrounding the home makes it seem as though it has been tucked away for centuries.
Stone Village, Iran
Thousands of miles away lies a settlement that actually is centuries old — roughly 700 years, in fact. At the foot of Mount Sahand in Kandovan, Iraq, sits a stony village carved into volcanic rock. Stacked side by side in dome-shaped formations, some homes are three and four stories high, connected by meandering paths and stone-fortified roads. It's easy to imagine these hideaways being home to a fairy tale colony of goblins or witches, conjuring spells in the shadow of stone.
In the modern world, however, and despite its remote location, Kandovan has become a prime tourist attraction. Though many of the homes are still occupied by residents, the region boasts a five-star hotel, likewise carved from the very same rough and ragged rocks.
Victorian Retreat, New York State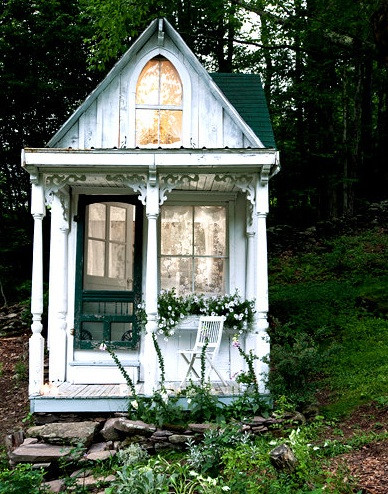 In the Catskills of New York, a real-life fairy tale is playing out. It began more than 25 years ago, when Sandra Foster's family lost their Long Island home. Since then, at the age of 15, she began dreaming of a Victorian-style house all her own. Now, at age 42, she has created that home — though not exactly on the scale she once imagined. It doesn't have a bathroom or a kitchen, nor plumbing or heating, for that matter. Yet this romantic retreat that she painstakingly renovated out of a 9-foot-by-14-foot hunting cabin holds more beauty and charm than any grand home.
Foster lives with her husband nearby in a mobile home, but the tiny, white Victorian cottage is her refuge, complete with a library, a wood-burning fireplace, a feather-soft sofa and loft bed, and china cabinet with delicate painted floral motifs.
The exterior itself is a sight to behold with its intricate scroll work Foster created by hand, antique leaded glass windows, and whitewashed paint, all a stark contrast to the deep woods that surround it. It's the kind of delicate sanctuary a princess might escape to; for Foster, it's a retreat worth waiting half a lifetime for.
Cabin on the Rock, Serbia
The town of Baska is said to be a "magically beautiful" city in Serbia. Situated along the banks of the Drina River, much of its allure comes from its wild, untamed surroundings. Adding to the city's intrigue is a curious sight: a small wooden cabin perched atop a rock in the middle of the river, conjuring images of a fable come to life.
The true story of its origin is almost as intriguing. In 1969, a group of teenage boys who spent their summers swimming in the river came together to build a retreat. Floating boards and materials down the river, or carrying them by boat or kayak, they painstakingly built a tiny, one-bedroom cabin that became their private escape.
Since then, the cabin has done its best to withstand not only the tests of time but the rough winds and raging floodwaters of the river. But respect for this cabin has never dimmed; it has been lovingly rebuilt time and again and remains a charming beacon of idealistic youth.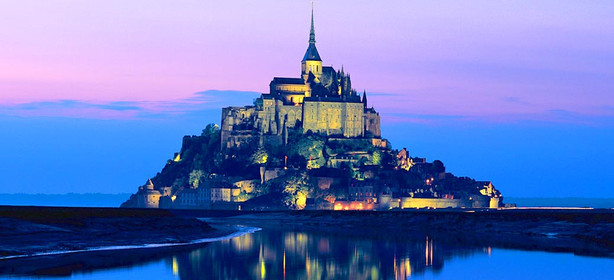 Mont Saint-Michel, FranceNo fairy tale tour would be complete without a visit to a castle — or, in this case, what appears to be the very same castle-topped island village where Disney's Rapunzel finally returned home. The village was inspired by real-life Mont Saint-Michel, but looks can be deceiving: What seems to be a regal castle spire atop a mountainous palace is actually a cathedral, built at the peak of a tidal island in Normandy, France.
The Benedictine abbey was built and rebuilt between the 11th and 16th centuries, and for nearly 1,000 years the island has served as a strategic outpost against such foes as the Vikings and the Franks. It's not exactly a residence; in fact, Mont Saint-Michel is home to fewer than 50 full-time residents today, but it draws more than 3 million visitors each year.
Through the centuries, buildings have seemingly sprouted out of the rock, resulting in the appearance of a Gothic fortress that imposingly towers above the waters below.
×
Photos
Related Links
Related Stories