Estimated read time: 4-5 minutes
This archived news story is available only for your personal, non-commercial use. Information in the story may be outdated or superseded by additional information. Reading or replaying the story in its archived form does not constitute a republication of the story.
SALT LAKE CITY — Last week we gave you a glimpse of five mysterious and ethereal yet very real places that look like they're straight out of a sci-fi or fantasy movie. It seems readers couldn't get enough, so we're giving you five more out-of-this-world locations that actually are found on this planet.
Tunnel of Love, Ukraine
The romance of the rails has never been more evident in this remote spot in the Ukraine. Near the small town of Kleven sits what locals call the Tunnel of Love, an old railway track that winds through a leafy forest. What's so enchanting about this tunnel is that the trees have formed a perfect canopy, creating an arch above and leaf-covered tracks below that completely envelop those who pass. Despite the overgrown appearance the tracks are still in use by a local fiberboard factory, and a small train carrying lumber chugs along three times a day. Still, it doesn't stop couples from visiting the Tunnel of Love in search of a romantic moment in a quiet, fairytale setting.
Socotra, Republic of Yemen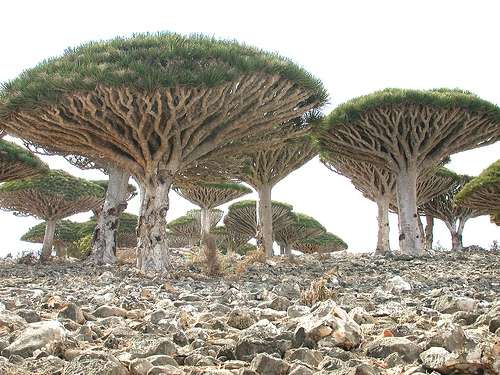 Socotra has been called the most alien place on earth, largely due to the strange wildlife found only on this tiny island off the Horn of Africa in the Indian Ocean. In fact, a third of its plantlife is found nowhere else on earth, and scientists have counted nearly 700 endemic species of flora and fauna. One such species is the dragon's blood tree, an umbrella-shaped tree with gnarled limbs below and a thick green canopy above. Though it resembles something that might be found in the Hobbits' shire, it grows straight out of the rocks below. Also blooming in the stone is the desert rose, a strange plant with a long, bulbous trunk tapering to thin stems bearing tiny pink blossoms, which grows straight out of the Maalah cliffs. In addition to the striking wildlife are sunny beaches, tropical weather and a slew of exotic birds, bringing tourists as well as a host of interdisciplinary scientists to explore the island and its unusual inhabitants.
Stone Forest, China
The Yunnan Province in China boasts an impressive first: The Stone Forest, the "First Wonder of the World." It covers more than 96,000 acres and features several smaller forests and even a subterranean cave forest, all with strange and stark rock formations as tall as 90 feet. The Stone Forest boasts natural stone labyrinths as well as underground rivers, lakes, ponds and waterfalls, all contributing to the area's lush plants and flowers that surround the stark formations. The rocks have also generated local legends, such as the story of Ashima, a beautiful girl who was forbidden to marry her true love and so turned herself into stone.
Port Royal, Jamaica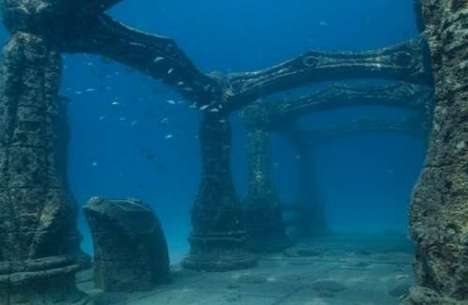 Fans of the "Pirates of the Caribbean" movies will likely be familiar with the Jamaican city of Port Royal. What they may not realize is that it was an actual city, but today, most of it is under water. Once referred to as "the wickedest city on earth," the movie's images of marauding pirates were part of the reality of life in Port Royal, in addition to more unseemly goings-on. On June 7, 1692, a devastating earthquake sent two-thirds of the city plummeting into the sea. A series of hurricanes, floods and fires continued to destroy the city, and although it survived as a small fishing village, it never returned to its former glory. Today, the ruins of Port Royal encompass 13 acres below Kingston Harbor and draw underwater archaeologists from all over the world.
Rotorua, New ZealandOn the North Island of New Zealand lies the Bay of Plenty, though its name may be slightly misleading. In the bay region is the city of Rotorua, which is marked by the unpleasant aroma of rotten eggs. Geothermal activity is high in the area, causing the sulphurous smell and unusual sights, such as geysers and boiling mud pools. But the smell doesn't keep tourists away; Rotorua is a top adventure destination in New Zealand. Tourists come not only for the geological wonders but the Buried Village, a partial excavation of the town that was destroyed by the eruption of nearby volcano Mt. Tarawera in 1886, and for the Maori cultural experience.
×
Photos
Related links
Related stories
Most recent Lifestyle stories