Estimated read time: 3-4 minutes
This archived news story is available only for your personal, non-commercial use. Information in the story may be outdated or superseded by additional information. Reading or replaying the story in its archived form does not constitute a republication of the story.
SALT LAKE CITY — While Valentine's Day is arguably more a of "greeting card holiday" than a genuine opportunity for romance, lovers looking for an intimate escape can find their ideal destination in exotic locations across the globe. These five destinations have something for anyone hoping to create a romantic getaway they'll never forget.
Hide away in a Celtic castle
Few things evoke romance like the splendor of a luxurious castle retreat. Combining rich history and all the lavish trimmings of stately wealth, the well-preserved castles of the Celtic isles of Scotland, Ireland, England and Wales offer visitors a unique retreat into bygone eras. While most of these castles, mansions and sprawling estates are run as hotels with individual guest rooms, others are available in their entirety for a weekend or longer, setting the stage for a private romantic hideaway and a love story for the ages.
Escape to a tropical paradise
Related
Home to what has been described as the "world's most beautiful lagoon" is the island of Bora Bora, one of the Society Islands of French Polynesia in the Pacific Ocean. Because of its remote location, the number of visitors to this tropical paradise remains relatively low, ensuring a private getaway for lovers looking for an escape. The island's luxurious resorts are also simple and tranquil, including the famed overwater thatched-roof bungalows where breakfast can be delivered by canoe. Thanks to the island's lush climate, "magical scenery and scents, ... remote tropical Bora Bora exudes a rare romance and tranquility" for couples, according to Bora Bora Island Guide. "Everything about this tropical island paradise will heighten your senses and increase your appreciation of each other."
Snuggle in the snow
If snow speaks more romance than sand, then cozy up with your sweetheart beneath the Northern Lights. North of the Arctic Circle in "eerily beautiful, snow-covered Lapland," Finland's Hotel Kakslauttanen is the perfect place to do just that, according to Travel and Leisure. Reindeer pull guests to remote domed igloos of thermal glass by way of open sleigh. Rustic wood cabins or authentic ice igloos — complete with wool socks sleeping bags — are also available for lovers looking to spend the night in arctic splendor.
Put it all on black in Monte-Carlo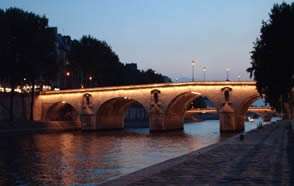 The glamorous principality of Monaco was not only home to an American actress-turned-princess, it is the site of the resplendent Monte-Carlo Casino, replete with frescoes, sculptures and a stunning atrium of marble and gold. For lovers with deep pocketbooks, there are few locations that offer as much glamor and romance as this European gem. "Steeped in 700 years of Grimaldi royal history, Monte-Carlo's location is stunning, tucked between French medieval villages and the Alps," according to Trip Advisor. Beyond the casino there's something for men and women alike: Enjoy a world-class performance at the The Opéra de Monte-Carlo, soak up the sun on the white sands of Larvotto Beach or experience the rush of the Formula 1 Grand Prix. After all, it's hard to go wrong at one of James Bond's favorite haunts.
Be dazzled in the City of Lights
You can't speak of romance and Europe without including Paris, home to some of the most romantic destinations on the continent. From the dazzling lights of the Eiffel Tower and the lush Trocadéro Gardens below, to the "Bridge of Lovers" over the Seine and the hundreds of shimmering fountains, there are countless places to be swept up by the beauty of Paris — and by love itself. The many four- and five-star hotels of Paris keep visitors in luxury while the quaint cafes and eateries of the cobbled streets of historic France take lovers on a journey through the past.
×
Photos
Related links
Related stories
Most recent Lifestyle stories