This archived news story is available only for your personal, non-commercial use. Information in the story may be outdated or superseded by additional information. Reading or replaying the story in its archived form does not constitute a republication of the story.
SALT LAKE CITY — As a school counselor, Dale Sheffer has spent his life trying to keep teens out of trouble. Now, the helpline he nurtured for decades leads teens to an X-rated hotline.
"It's borderline pornography," Sheffer said. "It just sends chills up my spine. It makes me furiously angry."
Sheffer joined the Davis Teen Line as an advisor in the 1990s. He helped teenagers help their peers with issues like parents, relationships and suicide.
"It breaks my heart, just because we put so much time into Teen Line; and it was such a great thing, and it's going to end with a blemish," Sheffer said.
What Teen Line was
He couldn't help but smile when he talked about Teen Line. He remembers the hundreds of kids who worked there, and the hundreds more they helped.
"If you worked at Teen Line, you know the calls we got. They were always really emotional, kids who needed to talk, needed somebody to help them," he said. "I could push a button and it identified 911 immediately; and then they'd send an ambulance and police car to wherever that call was coming from. They were hooked right into our lines."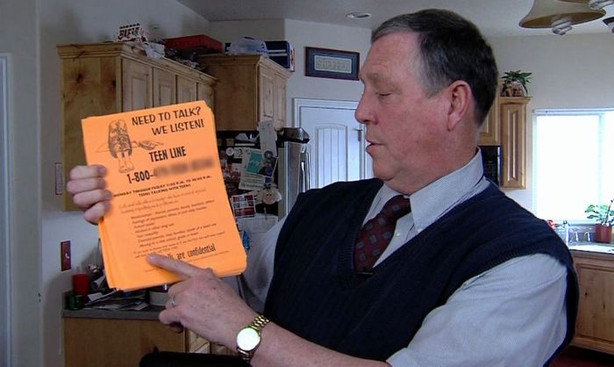 Sheffer said the service was so popular it expanded across the entire state and added a 1-800 number to accommodate all the calls.
"We had so many calls coming in we couldn't handle them all," he said.
But as the years went on, and 21st century technology took over, the phone calls stopped coming and Teen Line cut the cord.
The surprising problem uncovered
However, remnants of the old phone line remained: posters still hung in schools, Sheffer still wore Teen Line shirts, and then there were the pencils with the phone number painted on.
"If the kids turn in a homework log every night, I give them a Teen Line pencil," Sheffer said. "I use the pencils at school for testing, you know, because why go buy pencils when you've got No. 2 ones?"
In fact, Sheffer had thousands of Teen Line pencils leftover. Each one had the Teen Line 1-800 number printed on the side.
"Then imagine my surprise when a girl comes up and says, 'The pencil you gave me has an adult, was an adult phone line,'" Sheffer said. "And I said, 'No, no it wasn't. You dialed it wrong.' She said, 'No it was. I dialed it twice.'"
A few weeks later, another boy approached Sheffer and said the same thing.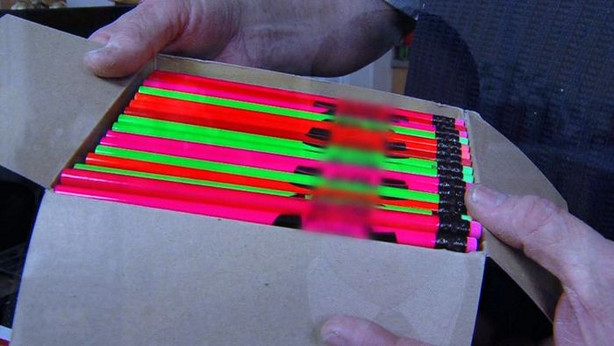 "So I came home and called it and couldn't believe it," he said. "I listened to it once, and my wife slammed down the phone."
What he heard on the other end was intimate music and a breathy woman's voice inviting callers to talk with "barely legal babes" for $1.99 or $3.99 a minute.
"Imagine my concern, because I'm handing out these pencils and putting up posters and telling kids to call and talk to somebody if they have a problem, and that's where they end up. That's a tragedy," Sheffer said.
He looked in the phone book and found Teen Line's 1-800 number advertised under Teen Talk. The address listed led to an empty parking lot behind a courthouse in Tooele.
Sheffer said he called Dex One to get the number removed but was told it was still an active listing so there wasn't much the company could do. He then called KSL for help.
KSL investigation shows bigger problem
An investigation into the source of that listing first led to the Internet, where it was discovered Teen Talk and that 1-800 number were listed on all sorts of websites like Yahoo, Salespider, Yelp and Facebook. It was even found on the Utah Attorney General's Office website on a teen dating violence pamphlet.
KSL then contacted CenturyLink, the phone company that provides listings for directories. As soon as the company learned what was going on, it activated employees in four departments in Colorado and two in Utah to figure out the mystery. A month later, there were results.
CenturyLink said the Teen Line 1-800 number was "owned by Davis Behavioral Health in Layton," but for some reason the State of Utah was paying to list that number in Tooele County.
Sometime in 2010, Davis Behavioral Health disconnected the line. CenturyLink said the phone listing continued for two years after that, apparently the result of miscommunication.
---
It was apparent that the owner of the 800 number had not notified CenturyLink or the state that the listing was no longer required, and therefore the listing continued.
–CenturyLink statement
---
"It was apparent that the owner of the 800 number had not notified CenturyLink or the state that the listing was no longer required, and therefore the listing continued," CenturyLink said in a statement.
After the 1-800 number hit the open market, CenturyLink said it was acquired by a Philadelphia company called Coore, Inc. The number was later reissued to another company and became Erotic Innocence.
Teen Line is not the first hotline that's number ended up as an erotic chat line, either.
In 2011, the Associated Press found it had happened to hotlines in Chicago, New York City and Missouri. The report said the numbers were purchased en masse by a Philadelphia telecommunications firm with close ties to an erotic chat line business.
The Philadelphia business licensing division told KSL the executive for both of those companies was also once listed as a contact for Coore, Inc.
Calls to Coore, Inc. and the the billing company that represents Erotic Innocence were not returned, so it is unclear whether the Teen Line number was chosen on purpose or if it was a coincidence.
"I just would not want my children, for sure, to call that number and get that message. And if I was a parent of a student I gave a pencil, to I'd be furious with me," Sheffer said. "And I don't want that to happen."
Sheffer said he's stopped handing out Teen Line pencils and stopped wearing his Teen Line shirts.
Because of KSL's investigation, the Utah Attorney General's Office took down the pamphlet listing the line, and CenturyLink took measures to prevent future listings. The phone company also cancelled the state's Teen Talk listing in Tooele, so it will never be printed again; and then removed the line from Directory Assistance, multiple Chamber of Commerce websites and at least 15 Internet directories.
CenturyLink said this case is very uncommon — that in most situations, when a phone number is canceled the listing is too. However, if — like in this case — the phone number is billed to one account and the listing to another, the company said it's very important that both account holders know to cancel the line.
Email: liwilliams@ksl.com
×
Related Links