Estimated read time: 4-5 minutes
This archived news story is available only for your personal, non-commercial use. Information in the story may be outdated or superseded by additional information. Reading or replaying the story in its archived form does not constitute a republication of the story.
SPANISH FORK — A Utah gun sport association has been put in a difficult position after the former president and treasurer were accused of stealing some $30,000 from the organization.
Criminal charges have been filed against Heath and Vivian Sabey, respectively the former president and treasurer of the Utah State TrapShooting Association. Charging documents claim the couple used USTA checks and a debit card connected to the organization's accounts to pay for personal expenses.
The organization, with roughly 1500 members, puts on competitions throughout the year, with small events occurring nearly every weekend.
Some members of the USTA were floored by the accusations and the breech of trust that came with them.
"While he was doing this, he was right there shooting with everybody he was stealing from," said member Steve Show. "That's what kind of upsets everybody."
The details of the situation came to light in August of 2012 after a large state-wide shoot, the biggest competition of the year. A president is elected during that event.
Related:
Heath Sabey ran for re-election, but lost to current president Chad Sorensen. That forced him to turn over the books to the incoming administrators, who quickly saw that something was wrong, according to USTA minutes posted to the association's website. Sabey dragged his feet in turning over the records to the association's new officers.
Sorensen said that he had refused to turn over specific financial information for some time before the election, and his suspicions about the real financial state of the organization are what led him to run against Sabey. He won by only four votes.
Eventually, an audit showed that there were dozens of problems, including checks written out to the Sabeys directly and even one check for $200 written out to cash. Many checks have only one signature on them, while the association's bylaws require two.
Records show that at one point nine ATM withdrawals were made on a single day, each for $50. There were several checks written in amounts over $1000. Over the year, almost $30,000 was not accounted for, including money that was given to the USTA but never deposited.
There were also charges on the debit card at stores like gas stations and Walmart.
Sorensen said that money began going missing during the administration prior to Sabey's in 2011, while his wife Vivian was treasurer, though the president at the time had no idea. Later, after Sabey became president, he released the treasurer at the time from duty before she had seen any of the books. He later made his wife secretary of the organization, Sorensen said.
It wasn't until October of 2012 that the full details of the accusations and questionable transactions were released to the general public. Charges were filed against the Sabeys in February.
Karl Barton, the former director of the Springville Junior Rifle Club has also claimed that Sabey took money from them when Sabey was put in charge of that club. Barton said that Sabey took money from the club's account and put it into his personal account, all while checks from the club were bouncing.
The SJRC took Sabey to small claims court, though he never showed up to a hearing. They even went so far as to change all the locks on the club's doors and safes in order to prevent Sabey from having any access.
Most don't seem at all sure as to what would motivate someone to take from the association. Some members described the Sabeys as friends who were very nice and helped them with their shooting.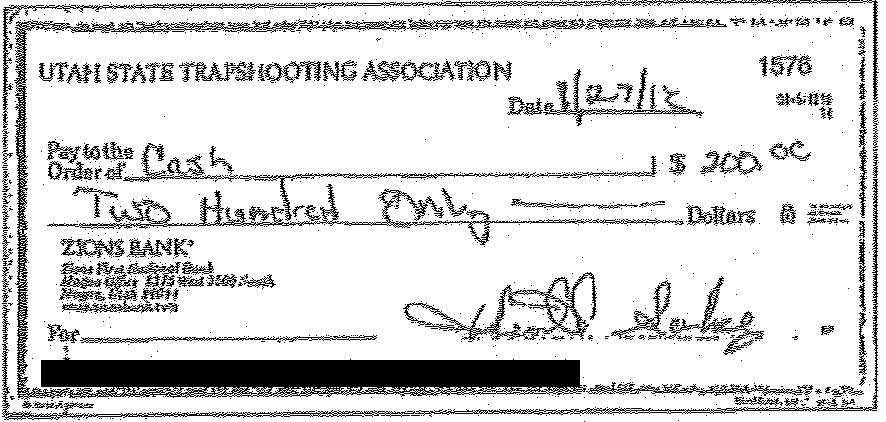 "They didn't come across as the type of people who would do that," said one member who did not want to be named.
"It was just kind of heartbreaking to see that someone did that," he said.
Not everyone was quite as surprised. Snow knew Sabey while he was president of the Spanish Fork Gun Club, and said Sabey sometimes said things that he didn't believe.
"I kinda wondered a while before I knew because I just think he's a shady character myself," Snow said.
Nevertheless, the reasons for the alleged crimes remain a mystery.
The Sabeys have since dropped out of trap shooting, and several people said they have not heard from them since the allegations came out.
The USTA has taken steps to make sure fraud is unlikely, including switching banks to guarantee only checks with two signatures are honored. They also hope to put a requirement in place for any treasurer to have some accounting experience.
The USTA has come out of the situation largely unharmed financially. Insurance has covered most of what was allegedly stolen, according to Sorensen. Additionally, he said that a donor from Vernal has given $100,000 to the USTA, all of which will be paid back to shooters at competitions over the next two years. He hopes this, as well as an aggressive advertising campaign, will attract new shooters.
×
Related stories
Most recent Utah stories