Estimated read time: 2-3 minutes
This archived news story is available only for your personal, non-commercial use. Information in the story may be outdated or superseded by additional information. Reading or replaying the story in its archived form does not constitute a republication of the story.
SALT LAKE CITY — A new nationwide report found that the majority of emergency room visits related to the synthetic drug known as spice are made by males younger than 30.
Of the 11,406 spice-related ER visits made in 2010, three-quarters involved patients aged 12 to 29. Of those, 78 percent were male.
Synthetic cannabinoids, more commonly known as synthetic marijuana or spice, was banned nationwide beginning in July 2012. Multiple states had banned the drug or its active ingredients prior to that date, but the drug was already popular among younger users due to its accessibility and price: it could be found in many smoke shops and convenience stores for less than $30.
The accessibility of the drug has not led to it overtaking marijuana in drug-related ER visits, according to the Substance Abuse and Mental Health Services Administration. In 2010, marijuana-related visits outnumbered those related to spice 40 to one, with the average patient age for marijuana-related visits being 30 years old, versus 24 years old for spice.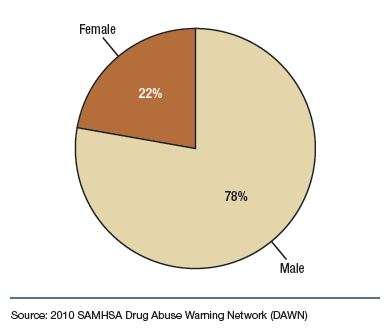 Research has shown synthetic marijuana can be more damaging than the real thing — and some younger people are choosing to use the synthetic drug in the hopes of "flying under the radar," according to Alan Cochrane, a family therapist with Salt Lake County Youth Services. He said when spice was in its heyday a few years ago, there had been no test developed for the drug.
"When the test was developed about a year and a half ago, there was no longer an advantage to using spice instead of marijuana," Cochrane said. "As a general rule, kids would prefer marijuana over spice 10 to one."
Nationwide, spice use among young people is on the rise, although it remains to be seen whether the recent legalization of marijuana in Washington and Colorado will have any effect on the popularity of the synthetic variety in those states.
In Utah, a vote on marijuana use is not likely to come in the near future, and a ban on spice has been in place since February 2011, although certain of the drug's ingredients had been banned in various counties before that point. Cochrane said despite it being made illegal, the kids who want it are still finding ways to obtain it, although marijuana is easier to obtain than spice.
"Some of them tell me it's easier to get marijuana at their school than it is cigarettes," he said.
Cochrane said with both drugs, those using them are younger than ever.
"The trend we're seeing is they're starting younger and younger," he said. "By the time they're 13, 14, they're addicted."
×
Related stories
Most recent Utah stories