Estimated read time: 2-3 minutes
This archived news story is available only for your personal, non-commercial use. Information in the story may be outdated or superseded by additional information. Reading or replaying the story in its archived form does not constitute a republication of the story.
SALT LAKE CITY -- Manufacturers of spice - a type of synthetic marijuana -- are getting around a new state law that bans the substance. Eight months after the law was passed, spice is once again being sold legally in places like Davis County.
Last February lawmakers passed and Gov. Herbert signed into law the bill that banned a list of common components used to make spice. According to the Standard-Examiner, makers of the products now are using other components that aren't banned under the current law.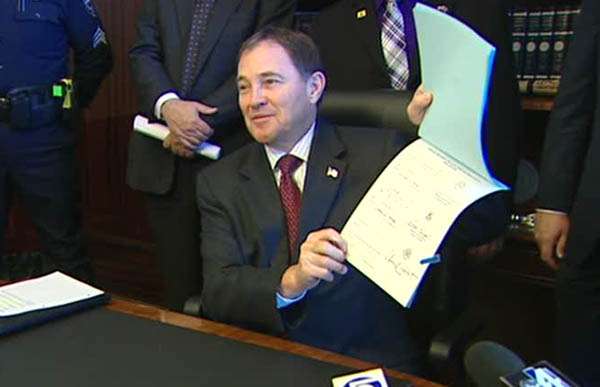 Lawmakers and health officials are concerned. The director of the Davis County Health Department, Lewis Garrett, is calling on the county and the state to take action. He told the Standard-Examiner there's not a lot of history with the synthetics, so doctors don't know what exact negative health effects they may generate.
Garrett also worries about how accessible spice is, once again, to teens.
Rep. Paul Ray, R-Clinton, is looking at ways to toughen up the current law. He told the paper he will propose making it illegal for anyone under the age of 19 to walk into a smoke shop, where spice is often sold. Ray also wants to prosecute adults who are caught distributing spice to a minor.
About Spice
The herbs that make up spice are relatively mild. THC, or tetrahydrocannabinol, is the main psychoactive ingredient in the cannabis plant and the substance that gives marijuana its potency. Because THC is illegal, spice manufacturers lace their herbs with THC analogs. These man-made chemicals mimic the effects of THC.
Lawmakers are crafting a proposal to give a legislative drug advisory board the power to ban substances without waiting for legislative approval. They are considering the constitutionality of such a move.
This spring, Rep. Gage Froerer, R-Huntsville, suggested adding to the list of banned components, ultimately making it unprofitable for manufacturers to sell the substance. It's unclear how many additions would be needed.
According to the Standard-Examiner, the Ogden Fire Department reported it dealt with about 20 calls of overdoses related to spice in the past month.
×
Related stories
Most recent Utah stories