Estimated read time: 4-5 minutes
This archived news story is available only for your personal, non-commercial use. Information in the story may be outdated or superseded by additional information. Reading or replaying the story in its archived form does not constitute a republication of the story.
SALT LAKE CITY — On Wednesday night, the road more closely resembled a river, but the people of the Haitian village Timo are used to unlivable conditions.
The village, nestled at the end of a road at the bottom of a hill with cliffs on either side, is a study in the solidarity of the human spirit. The people who live there have made lives for themselves where no one in the developed world would look twice, and where even its own residents describe as "uninhabitable."
For close to a week before the flooding, the residents of Timo, as well as those of surrounding areas, had lined up at daybreak for the chance to have dental work done by American dentists. In many cases, hundreds of dollars' worth of work was done — an impossible expense in a country where the annual household income is less than one-third of what the average American makes in a month.
Some waited in line from morning to night for days at a time until it was finally their turn to see one of the two dentists there with the Haiti Health Initiative, a Utah organization aimed at bettering the lives of Haitians one community at a time.
All told, 321 patients were seen by the group between their arrival on Saturday and the storm's arrival on Wednesday. More than 200 teeth were pulled, on top of more than 200 fillings and at least three times as many sealants. The group was planning to continue their work on Thursday, but the storm had other plans.
About the Haiti Health Initiative:
"Haiti Health Initiative (HHI) is a nonprofit organization focused on serving the public health needs of the rural Haitian people.
"HHI's goal is to first uncover the root causes that contribute to reduced health in Haiti. HHI will then use that knowledge to work alongside the Haitian community and implement sustainable water treatment projects, improve nutritional opportunities through agricultural expansion and train local medical and dental providers to provide sustainable care for those in their communities.
"HHI's philosophy in working with the Haitians is best summarized by this saying: "Bring all the good that you have and let us add to it." -Gordon B. Hinckley."
"You had to cross a river to get to our station, and it was going really fast. We had to use a rope to get everyone across so people wouldn't slip," said one of the HHI's founders and a native Haitian, Marc-Aurel Martial.
The elements were too much for the team's portable workstation, which was little more than a pair of tarps between two homes. The storm also "knocked out our education tents and shook the wooden houses we were staying in," Martial said.
They found themselves counting their blessings, though, that the area was not hit as hard as other parts of Haiti. Dozens of inhabitants of the impoverished nation have died in the past week as Hurricane Sandy spins its way through the Caribbean and toward the east coast of the U.S.
Before the hurricane, the team had planned to stay two more days, doing dental check-ups, cleanings, fillings and extractions, as well as providing oral hygiene education. Instead, they found themselves on a flight back to Salt Lake City, imagining what more could have been done with two more days and two more dentists.
Martial recalled the story of a woman who had waited in line for three full days before being seen. She told him she "would have been ashamed" to return home without having seen a dentist, because she had traveled from so far away. "We could have seen so many more people," Martial said.
Some of the people who had work done lived on the hill overlooking Timo, about a half hour's hike away. Martial said the "people at the top of the hill look down on the people at the bottom of the hill. They say Timo doesn't deserve a group like this because they live in a hole."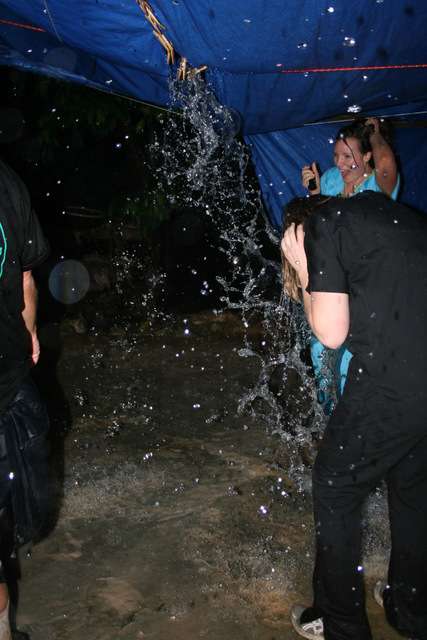 The group's presence, though, lifted Timo out of obscurity, according to Martial. For a time, at least, it was a more desirable place to be than the top of the hill.
"The community leaders told us we had lifted them in the eyes of their peers," Martial said. "So what we do not only improves the health and well-being of the people, but also lifts the entire community, and that's what we're all about."
To the team, the week had started as a way to take care of the physical needs of those who have it much worse than they, by Western standards. But Martial said they had no idea what an impact those few days would have. Gusteve Etienne, one of the community's leaders, told Martial "If we give all of our lives (in thanks), it would not have been in vain. It would be an honor for us. You are lifting our community in the eyes of our peers."
Those who live there are so grateful, Martial said, "they would give their lives for us, in service."
"These are not just numbers — these are people, and these are people I know, and I am very passionate about those people," Martial said. "We have a choice: we can do something, or we can do nothing. We have to start somewhere, and we started in Timo."
×
Photos
Related links
Related stories