Estimated read time: 2-3 minutes
This archived news story is available only for your personal, non-commercial use. Information in the story may be outdated or superseded by additional information. Reading or replaying the story in its archived form does not constitute a republication of the story.
HUNTINGTON BEACH, Calif. — A California snowboarding company has created a way for a paralyzed former professional snowboarder to ride the slopes again.
Tim Ostler, of Murray, was snowboarding in Park City in 2000 when he was tossed off balance and broke his neck on his last run of the night. The professional snowboarder was paralyzed from the chest down and has been confined to a wheelchair ever since.
Dave Lee and Marc Wierenga of Signal Snowboards had met Ostler previously when he worked as a buyer for Backcountry. When he walked into their store last month, Lee's idea to create an adaptive snowboard solidified.
The idea came when Lee was moving his child's stroller and put it on top of a snowboard — a rough prototype for what would come.
"We were all looking at all the different parts like, 'OK, how are we going to build this?'" Wierenga said.
A month later, the snowboard was designed and tested with the help of nearby Crankbrothers and presented to Ostler, who was visibly moved by the project.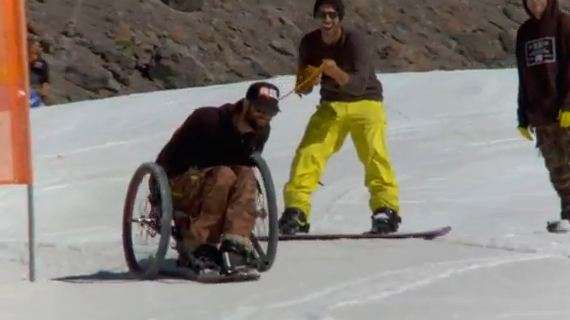 "Tim was just completely blown away; he really loved it," Wierenga said. "He was really excited for this project to move forward. He'd love to actually have something like this to ride."
The snowboard was created as a part of the shop's "Every Third Thursday" project, which Lee and Wierenga started to encourage employees to be creative. Sometimes their projects receive great feedback, but are not exciting enough to merit creating, like an iPod built into a board.
"This is definitely a project we've created that we really want to bring to market," Wierenga said. "Other projects have been fun, but this is something we want to build."
Wierenga said although adaptive riders can use a Sitski, the adaptive snowboard is "like inventing a new sport, in a way."
"When you've been snowboarding your entire life, getting on a ski is just not the same feeling," he said. "It's that feeling … hearing Tim tighten the bindings, you know he hasn't heard that sound in a long time. It's a feeling for snowboarders that hits you at home."
×
Photos
Related links
Most recent Utah stories