Estimated read time: 9-10 minutes
This archived news story is available only for your personal, non-commercial use. Information in the story may be outdated or superseded by additional information. Reading or replaying the story in its archived form does not constitute a republication of the story.
TACOMA, Wash. — In the end, the sister of missing Utah mother Susan Cox Powell believes Steven Powell "got what he deserved."
Powell, 62, was convicted Wednesday on all 14 counts of voyeurism for which he was charged. A six-man, six-woman jury took about 6½ hours to deliberate over the course of two days before reaching its decision.
Susan Powell's family, including her sister Denise Cox and parents Chuck and Judy Cox, were relieved when they heard the verdict. Even though Susan's name was all but removed from the trial through pretrial motions and the charges against Steven Powell had nothing to do with her, Susan's family attended each day of the trial hoping to hear some bit of information about their daughter.
Now there are questions about whether any deal will be struck for any information Powell might have about his missing daughter-in-law, in exchange for a more lenient sentence.
But Pierce County prosecutor Grant Blinn said a more lenient sentence in exchange for information is not something being considered.
"That's never been discussed and I don't expect it will be discussed," he said outside the courtroom. "We have no plans to offer him any type of reduction in exchange for information."
Powell is scheduled to be sentenced June 15. The average penalty range for his type of crime is 43 to 57 months in prison. Blinn said, however, he will request a stronger sentence. Each voyeurism count carries a maximum penalty of up to five years in prison.
Powell will receive a sentence for each of the 14 charges. The judge could order that they all run concurrently. But Blinn said because of the multiple offenses, which is an aggravating circumstance in this case, he will ask the judge to run some of the sentences consecutively, meaning Powell wouldn't begin serving time on one charge until he completes serving time on the other charge first.
"I am so relieved, so relieved," Powell's estranged daughter Jennifer Graves said of the verdict. "So much tension was building during this last week."
She said she hopes her father receives a harsh sentence for the crimes.
"I hope it (time behind bars) goes higher than lower. I'd like to see him off the streets for quite a while. For my peace of mind and other people's safety," she said from her West Jordan home.
While many congratulatory hugs were exchanged in the hallway of the courthouse, Graves' sister, Alina Powell, stayed in the courtroom for more than an hour after the verdicts were read, crying for much of that time. She attended every day of her father's trial, sitting in the back by herself taking notes.
"My family was automatically convicted 2½ years ago and ever since then I've lost a sister-in-law, a sister, a brother, two darling nephews and a great father to an unimaginably complicated, difficult situation that even I have a hard time understanding sometimes," she said in a soft voice with tears still in her eyes after emerging from the courtroom.
Alina Powell did not want to answer questions about the merits of the state's case or whether she believed her father received a fair trial.
Steven Powell was expressionless as each of the guilty verdicts were announced. After the first seven guilty verdicts were read by Pierce County Superior Court Judge Ronald Culpepper, Powell seemed to look away and blankly stare off at the courtroom to the judge's right.
After the verdict was read, Chuck Cox said he was relieved but not surprised.
"We had some concerns when the first question of the jury was asked. … It was kind of confusing that it took as long as it did, but in reality, I guess, everyone's been very careful in this case and we got the right verdict," he said. "It would have been beyond belief for us if it had been (not guilty)."
Similarly, a smiling Denise Cox — who wore a purple blouse and buttons Wednesday with the faces of her sister Susan and her slain nephews Charlie and Braden — called the trial a "sweet victory" and believes Powell "got what he deserved."
"In the end, it was him who actually, accusing the accused, was finally found guilty of what he accused my sister of. I'm proud that the truth has finally been revealed, and he's put away," she said.
Before he was arrested, Powell suggested that his daughter-in-law was flirtatious with him. After police searched his home and seized thousands of photographs of women and girls, Powell claimed he had developed a relationship with Susan that evolved into an "obsession," which he wrote about in his journal.
"There are definitely some things that were inappropriate for a married woman and her father-in-law," he said in August.
Friends and family of Susan insist it was Steven Powell who made the unwanted advances. Susan and her family moved from Washington to Utah to get away from her father-in-law, whom she called "evil," according to a neighbor.
Graves said Wednesday she believes her father knows what happened to Susan, but doesn't know if he will ever reveal that information.
"It depends on what he's going to get out of it, I suppose," she said.
---
It still, in my mind, leaves things open to negotiate for that information. It takes another crutch away from him. The main question now is, 'Where is Susan?' and now perhaps he'll answer it.
–Chuck Cox
---
Despite prosecutors saying it was unlikely they would bargain with Powell's sentence for information about Susan Powell, the Cox family still hopes the verdict might lead to new information being revealed.
"It still, in my mind, leaves things open to negotiate for that information," Chuck Cox said. "It takes another crutch away from him. The main question now is, 'Where is Susan?' and now perhaps he'll answer it."
Denise Cox said she hopes additional searches for her sister's body will resume.
"I won't stop looking. I won't stop searching for her and I'm not going to stop thinking about her and making sure that she stays in the media," she said. "I'm not going to give up hope on finding her until I die, I'm going to keep looking until she's found. (Steven Powell) may hold the key and I know he does know where she is, but if he doesn't want to tell, I'm not going to let him walk for telling (investigators) where she is. I'd rather keep him behind bars and keep everybody safe."
More reaction came from Susan Powell's best friend in Utah.
"I was just shaking and crying and kind of stunned because I was afraid that they were going to say 'not guilty' at least on some of the counts because they took so long," Kiirsi Hellewell said. "But (then) I just felt this huge, overwhelming relief and a release of tension. Finally!"
Pierce County Sheriff's Sgt. Ed Troyer said his department was also pleased with the verdict.
"It's good to see a payoff in the end, and justice was done, and all the right decisions legally were made and hopefully we can move forward now maybe on getting some more answers," he said.
When asked whether additional charges would be brought against Powell, Troyer said probably not.
"We have a lot more pictures and we have a ton more evidence and what we're doing with that is sharing it with West Valley (police) working the Susan case. We've done what we needed to do here. And we've got as much as we're going to get so far," he said. "But if something new were to come forward that was drastically different, oh absolutely, we'd bring it to the prosecutor again."
Blinn agreed.
"I don't expect that there will be any further charges of voyeurism against Steven Powell in Pierce County," he said.
That includes any potential charges in relation to videos and photographs Steven Powell allegedly took of his daughter-in-law. Although he was not charged in connection with those images, attorneys presented evidence outside the presence of the jury of Steven Powell's obsession with his daughter-in-law, including voyeuristic images.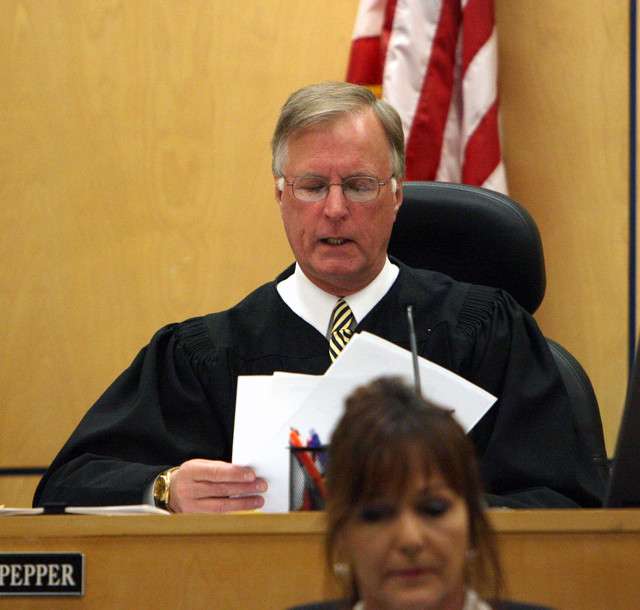 Blinn said, however, that it would be too difficult to prosecute such a case, mainly because of the statute of limitations. The statute is three years, he said, and the clock starts ticking once the victim finds out about the alleged photographs or movies.
"We wouldn't be able to demonstrate that she was never made aware that she was filmed or viewed by Steven Powell," Blinn said. "We can't prove that she didn't know because she's not here."
Powell's defense attorneys left the courthouse without comment.
Before the verdicts were announced, the judged thanked jurors for their service. Each juror was only paid $10 a day for jury duty.
Jury foreman Dodd Tremaine admitted it was a difficult case because it was so high-profile. At the beginning of each day, Culpepper would quiz the jurors to make sure they hadn't seen or heard any news reports of the trial.
Any problems in the jury room were over differences of opinion, he said.
"The hang-ups were basically … if they met the criteria for voyeurism," Tremaine said. "Everybody has a different opinion of what they see and how they view photos."
Tremaine, who has granddaughters and nieces, said he and other jurors were disturbed by the images. "It affected a lot of us," he said.
The foreman also noted that Susan Powell was never mentioned during the deliberations.
"Susan and Josh and all that, we never even discussed it," he said.
The jury convicted Powell of videotaping two young neighbor sisters, ages 8 and 10, in their home bathroom and then downloading images from that video onto a disk. Prosecutors say the images were filmed from Powell's bedroom.
Attorney Anne Bremner, who represents the Cox family, said Wednesday she'll continue to fight a decision from West Valley police not to release investigative records related to Susan's disappearance. If the reports are not released through a series of appeals, Chuck and Judy Cox have given their OK to file a lawsuit.
"At some point, you say that's enough," Bremner said. "They've been patient and then they keep learning this new information and things weren't done, and they've sat through this trial. At some point you say, 'You know, I'm done.'"
Bremner has maintained that victim rights laws in Utah grant victims the same rights as defendants, and defendants are able to review police reports and records related to their cases.
The Pierce County Sheriff's Office agreed to hand over its investigative records once the trial was completed, Bremner said.
×
Photos
Related stories
Most recent Utah stories