This archived news story is available only for your personal, non-commercial use. Information in the story may be outdated or superseded by additional information. Reading or replaying the story in its archived form does not constitute a republication of the story.
SYRACUSE — For Mike Thayne, the dream began nearly 25 years ago.
He was waterskiing at Bell Aqua, just north of Sacramento, and admiring the homes along the shore — a community of waterskiers with a private lake in their backyards.
"I said, 'You know what? Someday I would love to live on one of these,'" Thayne recalled. "I never thought it would happen, but it looks like the opportunity may come."
Standing in the middle of the hayfield his family has owned for more than 50 years, Thayne points out the location where he plans to build a pair of private ski lakes, divided by 24 to 28 homes, each with a private dock.
Thayne envisions Still Water Lake Estates as an upscale, gated community where like-minded water sports enthusiasts can live on the water and ski whenever the weather allows.
"If all goes well, we'll be skiing next summer," he said.
---
Preliminary plans call for parallel lakes to run east-west on 50 acres on the north side of Gentile Street, about a half-mile south of the Jensen Nature Park. Each lake will be 2,400 feet long, 230 feet wide and about 8 feet deep.
---
Preliminary plans call for parallel lakes to run east-west on 50 acres on the north side of Gentile Street, about a half-mile south of the Jensen Nature Park. Each lake will be 2,400 feet long, 230 feet wide and about 8 feet deep, Thayne said.
Docks with covered boat slips and hydraulic lifts will keep boats out of the water when they're not in use, he said.
"You'll essentially keep your boat there the entire summer," Thayne said. "There's no need to trailer your boat in and out of the lake."
Living at Still Water Lake Estates will be pricey, with the lots alone topping $300,000 — a cost that Thayne says covers the expense of the land and excavating the lakes.
The project has been working its way through the approval process at the city, county and state levels. Because the development will require construction of a dam, the state Water Rights Division must sign off on the project, said Bob Rice, Syracuse city manager.
"It's still in the planning and preliminary work process," he said. "They have some work to do. … But they have a good concept, and they're marketing it right now."
Similar projects have been constructed in recent years in Tooele and Box Elder counties. Residents at Last Chance Lakes near Vernon christened the lakes with their first runs in 2008, and Bear Hollow Lakes opened for private skiing in 2009.
Rice said city officials are excited about the prospect of having a private ski lake in Syracuse.
"It would be very unique," he said. "We think it's a one-of-a-kind development to bring to Syracuse."
Construction of the project could begin as soon as this summer, Thayne said, and it's expected to take about a year to complete.
Still Water Lake Estates is the first project of Irben Development, a company organized by Thayne and his siblings and named after their late father, longtime Syracuse resident Irben Thayne, who went by his middle name, John.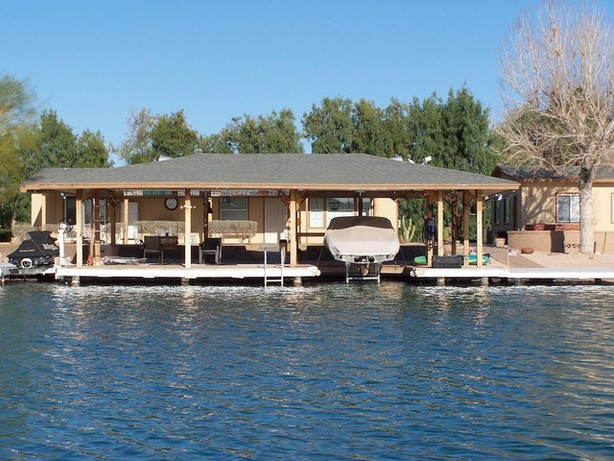 John and LaVell Thayne left 20 acres of farmland to their children, who at the urging of oldest child Mike, decided to build the private ski community there. Irben Development recently acquired another 60 acres from Syracuse for roughly $1.9 million, including 30 that will be used for the Still Water Lake Estates.
The Thayne family always had a boat, Mike Thayne said, and spent a lot of time together on lakes in Utah and surrounding states.
"Boating was kind of in our blood," he said.
Over the years, Thayne became a big fan of competitive skiing, specifically on slalom courses. On a six-ball slalom course like those envisioned for Still Water Lake Estates, skiers are pulled behind boats traveling down the middle of the course at a constant speed of about 35 mph, Thayne said.
The skier's challenge is to cut from side to side around all six buoys in succession over a distance of 850 feet. If skiers make it around all six buoys, the rope is shortened and they go again, he said.
Lakes like those planned for Syracuse are engineered to dissipate the boat wake after each pass.
"So every time a boat goes down the lake, it can turn around and come right back on smooth water again," Thayne said. "You can go back and forth as many times as you want. The lake does not get rough."
Only one boat per lake will be allowed to run at a time. If more than two groups are on the water at the same time, they will rotate through the course. A system set up with flags on the docks "make it very easy to know who's skiing and who's next," Thayne said.
"With 14 lots per lake, we don't anticipate being crowded at all," he said.
Of course Thayne intends to build a home on one of those lots. After all, it's his dream.
×
Photos