Estimated read time: 3-4 minutes
This archived news story is available only for your personal, non-commercial use. Information in the story may be outdated or superseded by additional information. Reading or replaying the story in its archived form does not constitute a republication of the story.
OGDEN — Before lunch Tuesday, Jennae Cameron's sixth grade class split into groups, practicing skits.
One group practiced a skit with a talking jar, and another set up a pretend TV news desk.
"I fight for Abby, do you?" asked Valerie Frazer, 11, at the end of her group's skit.
The students' presentations will be filmed and shown during morning announcements at Taylor Canyon Elementary to raise awareness and money for their classmate, Abby Wardell, who needs a heart transplant.
Abby has had health problems all her life, forcing her to miss class and undergo several surgeries. Despite her problems, her classmates have often rallied for her and she remains upbeat.
"I just try and be happy because it helps to have a positive attitude," Abby said. "I definitely have some bad days, but I always have so much love and support."
She was born with Tetralogy of Fallot, a congenital heart disease that has required two open-heart surgeries so far. Her mother, Nicole Wardell — who is a mother of six, including 11-month-old twins — said she's grateful for the love and support of friends and neighbors, and is proud of how Abby handles her health problems.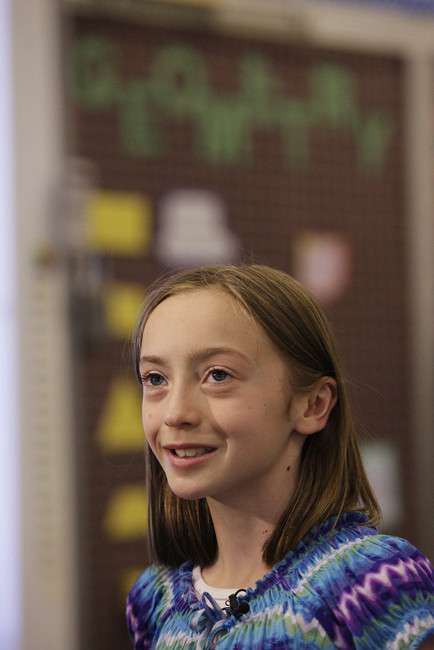 "Abby is just full of life," she said. "I don't know why. She just kind of came that way. She packs a powerful punch in that tiny little body."
Abby is enrolled in the Ogden School District's Accelerated Learning Academy. She's known many of the students in her class since third grade.
"They've been through surgery with her," Jennae Cameron, Abby's teacher, said. "It's kind of like brothers and sisters really. They always care about each other. Especially with Abby."
Cameron begins to tear up talking about the concern her class has for Abby.
"When one of them hurts, they're all hurting," she said.
In October, Abby underwent scoliosis surgery, and following a routine heart checkup, doctors diagnosed her with heart failure. On Monday, she was placed on a transplant list, a procedure that could cost as much as $450,000.
When the class found out about it, they were "all in tears," Cameron said.
"It was very emotional," Nicole Wardell, her mother, said. "At any moment, we could get a call that she could get a heart."
The class wanted to help Abby by raising money for the expensive procedure. The skits they're filming will encourage students to donate to a coin drive, and they're planning a benefit and silent auction April 21 at the Ogden High School auditorium.
"There's just so many people who are willing to open up and help," said classmate Emily Dabb, 11.
The class hopes to fill every seat in the auditorium, raising $13,000. People from across the community have also donated to the auction, which includes an entry to the Ogden Marathon and a Lasik procedure worth $4,800 from Mount Ogden Eyecare. The a cappella group Tminus5 will perform at the benefit, and the class asked Taylor Swift, Abby's favorite singer, if she would show up, too.
Abby said her class feels like a "second family," and they have "gone above and beyond what you'd expect them to."
A counselor at the school who wished to remain anonymous donated $1,000 to the fund for Abby, saying she felt that the kids at the school were her own kids. The Ogden Eagle Riders said they will also help, going on a ride for Abby and presenting a check for her at the benefit.
"We really want to involve the community," Cameron said. "The big goal is to fill that auditorium. We're hoping people will come with their pocketbooks open."
Tickets for the benefit are $10 and are available at www.tminus5.com. People can also donate through a PayPal account set up on Nicole Wardell's blog.
Contributing: Nkoyo Iyamba
×
Photos
Related links
Related stories
Most recent Utah stories