Estimated read time: 6-7 minutes
This archived news story is available only for your personal, non-commercial use. Information in the story may be outdated or superseded by additional information. Reading or replaying the story in its archived form does not constitute a republication of the story.
SALT LAKE CITY — After years of anticipation, downtown Salt Lake City's newest crown jewel of shopping and economic development opened to much fanfare Thursday.
Hundreds of would-be shoppers and sightseers — some waiting overnight — lined up along streets throughout the central business district to get a glimpse of the only regional shopping center opening this year in North America — and the first enclosed center built in the U.S. since 2006.
In the minutes leading up to the official grand opening, throngs of people lined the upstairs walkways and plaza level common areas listening to music and snapping photos of the many dignitaries assembled on the main stage, including President Thomas S. Monson of The Church of Jesus Christ of Latter-day Saints, Gov. Gary Herbert and Salt Lake City Mayor Ralph Becker.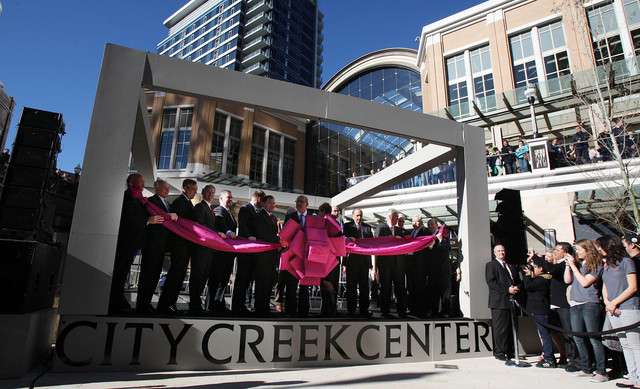 As the clock approached 10 a.m., the time had come to pull the ceremonial ribbon. On the count of "one, two, three," Taubman Inc. president, chairman and chief executive officer Robert Taubman led the cheer of, "Let's go shopping!" At long last, City Creek Center was officially a reality.
Taubman Inc. — the owner of the retail portion of the project — will oversee the operations for nearly 100 stores and restaurants in the estimated $1.5 billion mixed-use development. Currently, there are 92 stores occupying the center with three more retailers recently under contract and slated to open later this year.
"We are just thrilled to open our first shopping center in the great state of Utah in Salt Lake City," Taubman said. "We are very proud of the shopping environment we've created."
He commented how the project could not have been completed without the partnership of City Creek Reserve Inc., the for-profit development arm of the LDS Church.
Church and City leaders praise new shopping center
Speaking on behalf of the church, President Henry B. Eyring, First Counselor in the First Presidency of the LDS Church, said City Creek is now open to invite the world to come to downtown Salt Lake City.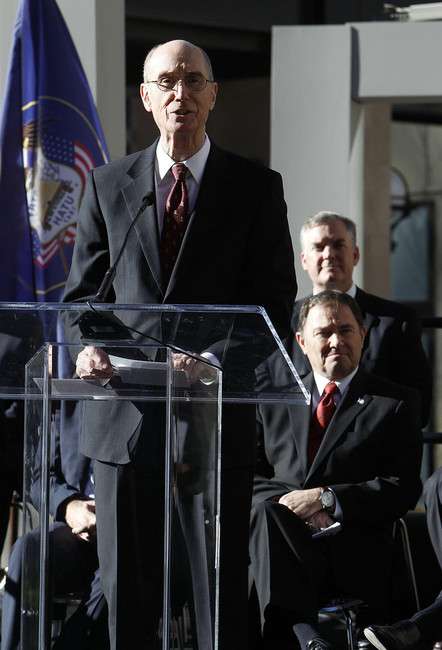 "Everything that we see around us is evidence of the long-standing commitment of The Church of Jesus Christ of Latter-day Saints to Salt Lake City," he said. "Downtown, thanks to so many, is indeed rising."
Salt Lake City Mayor Ralph Becker said the quality of the City Creek development exceeds anything previously seen in downtown and rivals most any other similar project in the world.
"This is a momentous day and a momentous time in Salt Lake City," said Mayor Ralph Becker. "This development is unique in America. It is a place where people can live, can work, can shop, can entertain, be entertained and gather."
"We have much to be proud of associated with this development," Becker said. "We hope everyone will come out and enjoy it … throughout the region and help us celebrate downtown rising and the incredible experience and renaissance we're going through in Salt Lake City."
Gov. Gary Herbert said the project would aid in transforming and revitalizing Utah's capital city.
"This is going to be an asset to our entire state … throughout the Intermountain West and throughout the country," Herbert said. "This is a milestone and part of a new beginning for our downtown rising in Salt Lake City."
He said the project denoted the kind of economic progress that is occurring in Utah.
"This project represents the best of Utah," he said. "People working together creating great and wonderful outcomes."
Shoppers, residents are ecstatic
Taubman said the development of the City Creek project would serve as a economic driver for downtown for years to come.
"This is the beginning of a rebirth, a redevelopment and a reinvestment in the city," he said. "This decision (to build City Creek Center) will really enhance and pay dividends for many generations for all the people of Salt Lake City and the state of Utah."
---
This is awesome for Salt Lake. It's going to bring a big city feel. It's good.
–Daniel Joseph, SLC resident
---
For City Creek general manager Linda Wardell, getting to this point has been a long but fruitful journey.
"The energy of the shoppers has transformed City Creek Center in a way I never imagined," she said. "We are so excited to celebrate the transformation of the city!"
Angelica Rojas, from West Valley City, lined up outside H&M at 9:30 p.m. Wednesday and stayed all night. "(City Creek) will draw a lot of people to Utah and bring more money to the state," she said.
Salt Lake City residents were equally enthusiastic.
"It's a smart thing to have because a lot of travelers that go to Temple Square can come over here. It has a lot of the high-end stores that Utah doesn't have that will be a big draw for a lot of people," said Dustin Mack, who was also waiting for stores to open early today. "This is new age. This is cool."
"This is awesome for Salt Lake," said Daniel Joseph, who also lives in the city. "It's going to bring a big-city feel. It's good."
Traffic and parking
The retail and dining portion of City Creek Center features outdoor walkways, retractable roofs, a pedestrian bridge over Main Street and a creek that winds through the property.
Related:
Getting in and around the area will likely be challenging Thursday as thousands of people are already headed to the center. Transportation officials are on scene to implement various strategies to keep the flow of traffic moving and prevent gridlock that could otherwise cast a pall over today's grand opening.
"We've been regularly meeting to create a traffic plan that would make it easy and convenient for guests of City Creek to arrive," said Wardell. "There will be greeters in the garage who will be assisting people in addition to the signage."
Dale Bills, spokesman for City Creek Reserve Inc. — the property developer owned by The Church of Jesus Christ of Latter-day Saints — said extra customer service personnel will help patrons find their way around the parking structure and "make sure everything goes as smooth as possible and people are comfortable getting in and out."
Garage Parking
1st hour - Free
Up to 2 hours - $1
Up to 3 hours - $2
Every additional hour after that - $3
$20 daily maximum
There are six entrances to the parking garage — two on South Temple and 100 South, and one each on West Temple and State Street, including middle-of-the-street entrances on all but State Street.
Parking in the garage is free for the first hour, $1 for up to two hours and $2 for up to three hours with every additional hour after that running $3 — with a $20 daily maximum.
Bills also noted that the parking facility is equipped with state-of-the-art, sophisticated security systems to provide safety for visitors day and night.
"We're making every effort to make sure that traffic flows smoothly and consistently in and out of the garage," Bills said. "(We) have measures in place to facilitate 'easy in, easy out' and we're working hard to minimize waits."
Additional cars have been added to TRAX light rail to bring people into the city center.
Contributing: Carole Mikita
×
Photos
Related links
Related stories
Most recent Utah stories