Estimated read time: 2-3 minutes
This archived news story is available only for your personal, non-commercial use. Information in the story may be outdated or superseded by additional information. Reading or replaying the story in its archived form does not constitute a republication of the story.
SALT LAKE CITY — More than 50,000 people per day are expected to flock to downtown March 22-24 for the grand opening of City Creek Center, and many will do so by car.
And downtown will be ready for them, officials said Tuesday.
"We've been thinking about this a lot," said Jason Mathis, executive director of the Downtown Alliance. "We've been spending time and energy preparing for it and planning for it. We are ready to welcome people from across the region to our community with the opening of City Creek Center."
City Creek Center, the retail portion of the $1.5 billion mixed-use development in the heart of downtown, is set to open March 22 with a ribbon- cutting at 9:30 a.m.
City and state transportation officials are teaming up with City Creek to help the influx of visitors make their way to the region's soon-to-be newest shopping and dining attraction without too much difficulty.
Robin Hutcheson, Salt Lake City's transportation director, suggests that people consider using transit — TRAX, FrontRunner and buses — or bicycles, if possible. The Utah Transit Authority will be able to carry approximately 4,000 passengers per hour into downtown, she said.
"If you drive, we are taking extraordinary measures to be sure it's a good experience when you get here," Hutcheson said.
City officials will be monitoring how traffic is flowing through downtown signals near City Creek Center and will be working with the Utah Department of Transportation to make adjustments in real time as needed.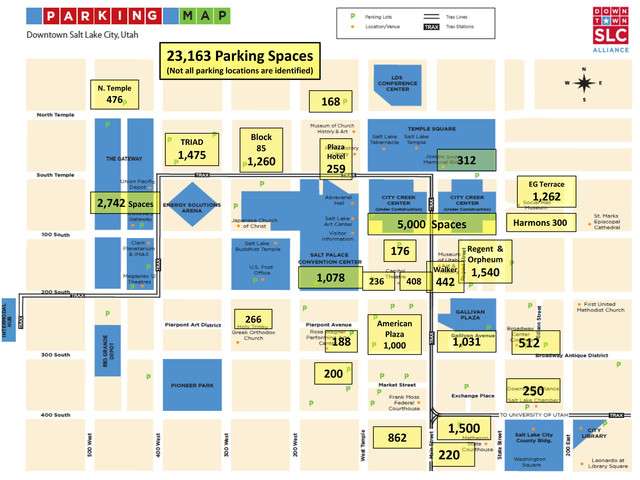 Police officers also will be on hand to direct traffic in the area, Hutcheson said.
"We are expecting a very full downtown, and we'll be doing everything we can to keep traffic moving efficiently," she said.
Hutcheson said on-street parking downtown has been made easier by the city's new solar-powered pay stations that have replaced traditional meters, allowing motorists to use credit cards as well as coins.
City Creek Center already has opened its underground parking garage, with 5,000 parking stalls. The garage was designed with Utah in mind, said Linda Wardell, the center's general manager.
"City Creek Center parking is engineered to comfortably accommodate a Ford Expedition with ski racks," she said.
There are six entrances to the parking garage — two on South Temple and 100 South, and one each on West Temple and State, including middle-of-the-street entrances on all but State Street.
Parking in the garage is free for the first hour, $1 for up to two hours and $2 for up to three hours. Every additional hour after that costs $3, with a $20 daily maximum.
"We want people to be prepared, but they should also be excited," Mathis said. "It's going to be vibrant, dynamic and exciting. It's going to be a great time downtown."
Email:jpage@ksl.com
×
Photos
Related stories
Most recent Utah stories