Estimated read time: 2-3 minutes
This archived news story is available only for your personal, non-commercial use. Information in the story may be outdated or superseded by additional information. Reading or replaying the story in its archived form does not constitute a republication of the story.
PROVO — A student at BYU is getting a lot of attention for a picture and an anonymous note she posted on Twitter.
Brittany Molina was at school studying Tuesday when a man walked by and handed her a note, and then walked away.
"I don't even know who it was, to be honest," Molina said Wednesday. "He gave me the note and he walked away in a second."
She thought for a second it could be a love note, so she opened it. "Then I read it, and I was like, 'Oh, I guess it's not a love note,'" she said.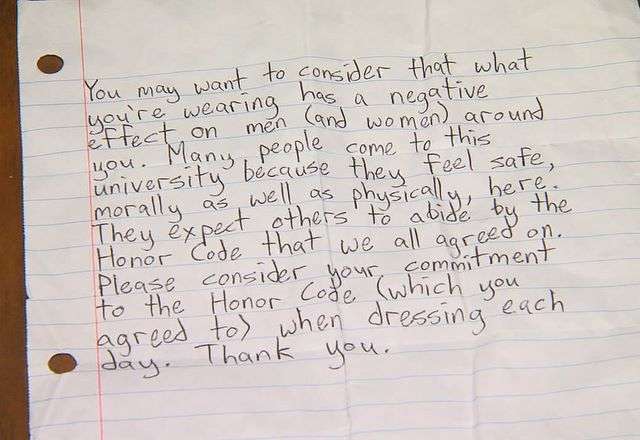 In the note, the man told Molina she needed to consider that what she was wearing had a negative effect on men and women around her and to please consider her commitment to the Honor Code.
"At first I was a little upset, and I … felt bad about myself. I didn't mean to offend anyone. That isn't what I was trying to do at all," Molina said.
BYU's Honor Code requires students to dress modestly, but Molina thinks the man may have taken it a little too far by giving her the note. "I really don't think it was the best thing he could have done," she said.
Molina posted a photo of her dress and the anonymous note on her Twitter account. For now, she's getting plenty of laughs and support, and she has no plans to change her dress. KSL News viewers weighed in on the topic, and an overwhelming amount responded on the KSL 5 TV Facebook Page.
Dilon Osterland wrote: "completely out of line, when I think of the Honor Code, I think that if you can wear it to church, it should be okay. Her outfit is totally fine, his reaction is not."
Kristen Yates Wender said: "according to the university rules, her outfit is not Honor Code appropriate. It looks like it is a couple of inches above her knee. It doesn't matter if she's wearing leggings or tights."
KSL called the BYU Honor Code enforcement office to get a comment, but representatives there have not returned our phone calls.
×
Related links
Most recent Utah stories