Estimated read time: 2-3 minutes
This archived news story is available only for your personal, non-commercial use. Information in the story may be outdated or superseded by additional information. Reading or replaying the story in its archived form does not constitute a republication of the story.
John Daley ReportingA bright future for renewable energy, that's what Utahns see, according to an exclusive new Dan Jones poll for KSL-TV and the Deseret Morning News. John Daley sat down with the governor yesterday to discuss the numbers, which show strong support for investment and incentives to encourage renewables.
In the Governor's Mansion, Jon Huntsman shows off a hat rack given a century ago to Senator Thomas Kearns, then owner of the building, by President Teddy Roosevelt. Roosevelt, of course, was a reformer and a conservationist; and today, Huntsman echoes that famous Republican when he talks about an emerging green, clean-power revolution.
Gov. Huntsman says, "We either can be at the forefront of what I think is going to be one of the more important revolutions and transformations that our country has made in the last 100 years, or we can be at the back end, in which case it does our state no good at all."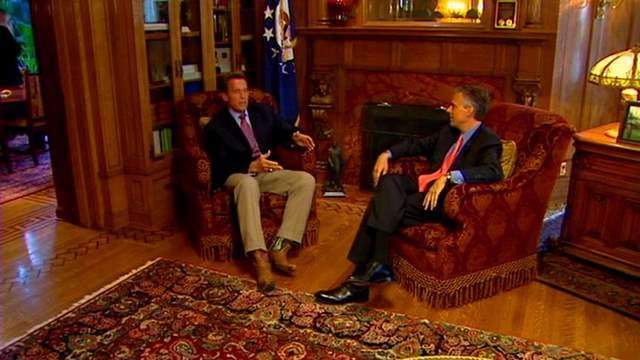 This is not a new idea. In 1903, when President Roosevelt visited Utah, he gave a speech. The theme was the importance of conservation.
A new KSL-TV/Deseret Morning News poll by Dan Jones of 410 Utahns statewide, shares a bright view of government investment and incentives to encourage renewables. Ninety-four percent of those polled support energy efficiency and conservation; 92 percent support investment in solar power; backing for wind generates 90 percent support; there's 80 percent approval for power from inside the earth, geothermal; and 63 percent back nuclear power.
Utah now gets the vast majority of its electricity from coal-fired power plants. Power producers warn that when it comes to costs and reliability, renewables simply aren't ready to replace coal.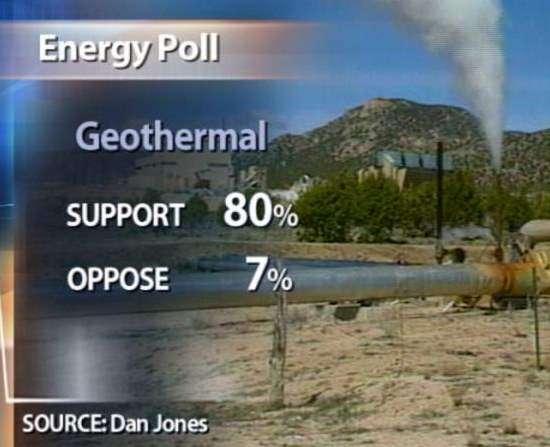 Dave Eskelsen, the spokesman for Rocky Mountain Power, said, "The costs of development of widespread blocks of renewable energy tends to be more expensive than conventional sources."
At least one lawmaker believes the state needs clean coal technology, perhaps a nuclear plant. Sen. Mike Dmitrich, D-Carbon County, says, "The demand is there and it'll be there, and renewables will not supply all of it."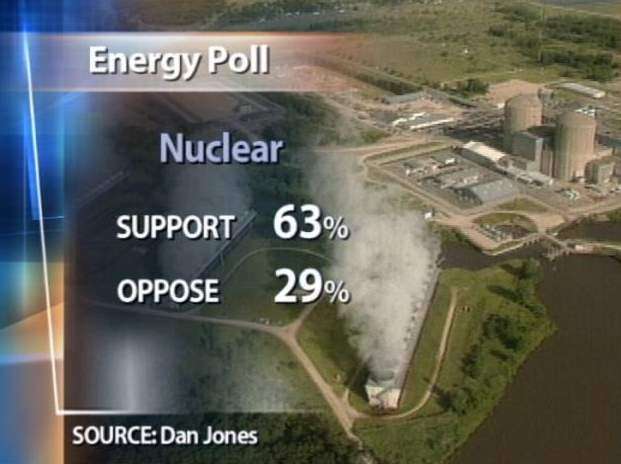 By some estimates, a switch to more renewables could create thousands of new jobs. Our poll finds most Utahns, 85 percent, believe switching to renewable technologies will be good for our economy, while 6 percent say it'll be bad.
Gov. Huntsman says, "For those who are saying that it's going to put us out of business or that it's going to cost us jobs, I argue just the opposite. I think the greatest days for American competitiveness are ahead."
To that end he supports a goal for Utah to produce 20-plus percent of its power from renewables in the next two decades, which could spur the state's next big energy fight.
Support for renewables and for the Governor's climate deal appears to be across the board - with Democrats, Independents and Republicans, urban and rural Utahns all in support. The numbers vary but majorities of each of those groups support more investment in renewables.
×
Most recent Utah stories