Estimated read time: 4-5 minutes
This archived news story is available only for your personal, non-commercial use. Information in the story may be outdated or superseded by additional information. Reading or replaying the story in its archived form does not constitute a republication of the story.
SALT LAKE CITY -- The much-anticipated blizzard blew into northern Utah and made its way down the I-15 corridor.
Reports of blizzard conditions in Cache County came in around 3:45 p.m. Tuesday. Residents began seeing evidence of the storm in Layton about an hour later. The storm then moved into Salt Lake and Utah counties.
The Utah Department of Transportation reports roads in the Salt Lake Valley are "extremely hazardous" and urge people to stay home if possible. Road conditions also are particularly challenging in Ogden and areas north.
Shortly after the storm rolled into Northern Utah, northbound I-15 was shut down at the I-84 split in Tremonton due to two jackknifed semi trucks. The freeways have reopened but visibility is very poor.
According to the Department of Public Safety, there were at least 88 car accidents with property damage and 116 cases of cars sliding off the road or requiring assistance from UHP troopers. Seven people were hurt in the accidents, but they were all minor injuries.
Single-axle trucks that are light or empty are being held at the Perry port. Eastbound empty semis are being held at the Wendover port due to high winds across the salt flats.
The fast-moving storm dropped 5 inches of snow in two hours in the Brigham City area. At the Salt Lake International Airport, temperatures dropped 12 degrees in only 20 minutes. Visibility there was well below one mile.
The combination of snow and strong winds comes during the peak of holiday travel, creating such a buzz that most schools and businesses in Utah closed early. Several evening events have been canceled as well, because the goal is to keep as many people off the roads as possible.
Flight cancellations
At the Salt Lake International Airport, 288 flights were scheduled between 4:30 p.m. and midnight Tuesday. Nine of them were canceled before the storm hit Salt Lake. Those cancellations may or may not have been weather related.
As of 6:45 p.m., 17 incoming and eight outgoing flights had been canceled and dozens of other flights were delayed.
Passengers and those meeting them are encouraged to check with their airline for current flight status.
UDOT monitoring storm
UDOT's Traffic Operation Center kept an eye on the storm as it approached. Workers there use 700 cameras to monitor changing conditions and pass information along to commuters as quickly as possible.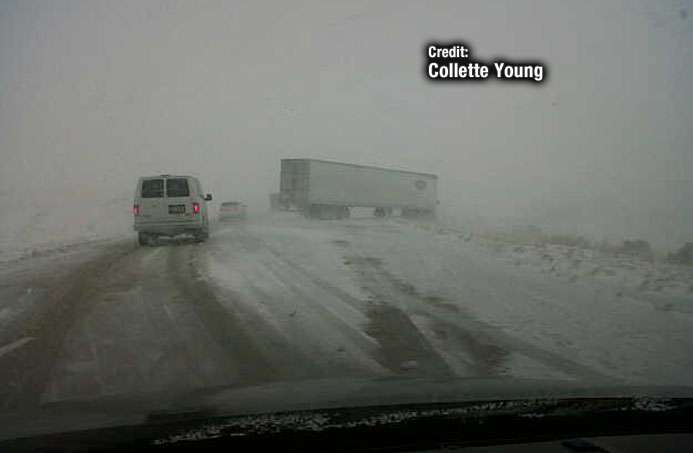 Glenn Blackwelder, the operation center engineer, said, "We're keeping an eye, it's just trying to monitor all the information and then pushing that information out to the public."
UDOT's snowplow-salt trucks were ready to go hours before a snowflake hit the road. It's likely all 500 of the state's trucks will be out Tuesday night, but because of the cold and potential for blowing snow, it could be difficult for them to keep up.
Ryan Ellsworth, UDOT's roadway operations manager said, "It's going to be a challenge keeping the roads clean. We're going to go around, filling up, getting back on the road as soon as possible. But it's going to be hard to keep the roads clean, for sure."
UDOT spokesman Nile Easton warned motorists to be prepared, even if their commute is normally 20 minutes. "You're going to want to make sure you bring some water. You may be stuck out there two to three times longer than you're use to. So, dress appropriately."
Utah County prepared for snow
Point of the Mountain is notorious as a difficult and dangerous part of I-15 during snowstorms. The biggest problem usually is strong wind blowing the snow, reducing visibility and creating snow drifts.
UDOT posted warning signs there early Tuesday afternoon, warning motorists to expect difficult conditions. Construction crews on the I-15 CORE project worked quickly to complete as much work as possible then button down their equipment.
Crews tried to put down some asphalt at the 500 East exit in an attempt to get that reopened after a closure that has been in place for the past three weeks.
Another problem area is State Road 92 between I-15 and Alpine. A storm two and a half years ago trapped dozens of drivers in their cars, requiring search and rescue crews to respond. By morning those cars were buried in snowdrifts.
Tuesday's storm is expected to conclude by noon Wednesday.
------
Story written with contributions from Richard Piatt, Sam Penrod, Sarah Dallof, Marc Giauque and Paul Nelson.
×
Related links
Related stories
Most recent Utah stories