Estimated read time: 3-4 minutes
This archived news story is available only for your personal, non-commercial use. Information in the story may be outdated or superseded by additional information. Reading or replaying the story in its archived form does not constitute a republication of the story.
MOAB -- Authorities have scaled back the search for a man accused of shooting and critically wounding a park ranger in Moab.
Twenty officers will stay in a rugged canyon adjacent to the Colorado River to monitor the situation overnight. There is concern that bad weather could hamper the search.
Saturday evening, Grand County Sheriff Jim Nyland said searchers "ran out of daylight," forcing them to scale back the effort earlier than they had hoped. But Nyland said authorities may have the suspect, whose name has not been released, cornered.
State Parks and Recreation Law Enforcement officer Brody Young, 34, was shot at three times, in the arm, leg and stomach area, after he stopped a vehicle at the Poison Spider Mesa trail head Friday night. Though he was wearing a bullet-proof vest at the time, he was critically injured.
"He's injured pretty serious," said Nyland. "We're hoping he's going to pull through and so far everything looks in a positive way."
Nyland confirmed that Young exchanged gunfire with the driver, who sped away from the scene and remains on the loose somewhere in the canyon. Nyland said the suspect may have been injured as well.
Related:
Young was able to radio for help and nearly 100 officers from more than 20 state and federal agencies worked Saturday to locate the shooter. Some were in boats, others worked from the sky -- all heavily armed in case of an encounter.
"They're going up and down and around and over rocks," said Nyland. "Everybody's trying to be careful so we don't get any of our people hurt, and of course we consider this guy armed and dangerous."
Saturday afternoon, Nyland said he was optimistic that they'd find the shooter, and although they had recovered a backpack and a rifle from the canyon, they had at least 60 searchers on the ground, including canines and were tracking the man's scent. A bloody T-shirt found by searchers was helping to lead them through the rugged terrain.
Nyland said that T-shirt may have been used by the suspect as a tourniquet to stop some bleeding.
"Ever since we got the call, we've been looking for this guy," Nyland said. With three SWAT teams, all of the county detail, air support from the Utah Department of Public Safety and the Weber County Crime Scene.
The area is very rugged. "It's where the Colorado River goes into the canyon, so there are steep cliffs on both sides and other than walking up the river, he doesn't have anywhere else to go," Nyland said, adding that they've contained the entire area.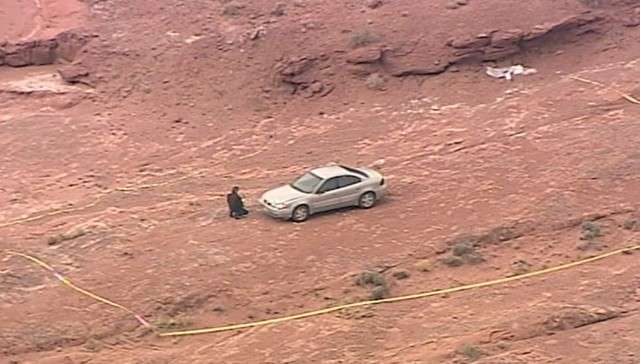 It remains unknown whether the shooter was alone at the time of the incident, but officers located the silver Pontiac Grand Am he was driving. The vehicle, registered to an owner in the Salt Lake area, was found about 12 miles from where the shooting occurred and footprints were located leading from the car into the canyon.
The trail, located south of Moab, is among Utah's best-known biking runs with enthusiasts calling it an especially challenging but scenic loop that rises more than 1,000 feet into the surrounding countryside. It is popular to campers and hikers alike, yet no access was being granted to the canyon during the search for the suspect.
A ranger being shot is rare, but a parks official says increasingly the job involves dealing with dangerous people. "We see those things periodically and we try and avoid those and teach our individuals how to deal with those kinds of circumstances," said Sid Groll with the DNR. "But sometimes, it happens."
The full-scale search will resume Sunday. Nyland said he was confident they would track down the shooter.
"I'm gonna catch him," he said. "We know he's still there and there's not any way out for him."
------
Story compiled with contributions from Wendy Leonard and John Daley.
×
Photos
Related stories
Most recent Utah stories