Estimated read time: 2-3 minutes
This archived news story is available only for your personal, non-commercial use. Information in the story may be outdated or superseded by additional information. Reading or replaying the story in its archived form does not constitute a republication of the story.
WEST JORDAN — The trial of a former Eastmont Middle School lunch manager accused of sexually abusing a teenage boy has been put on hold while prosecutors fight the woman's request to forgo a jury trial.
Jamie Lynn Greenwood, 42, asked that a judge and not a jury hear her case, in part because of the amount of publicity the case had received, said defense attorney Mark Arrington.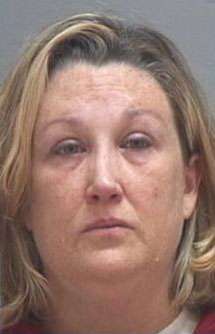 Third District Judge Robert Adkins originally granted Greenwood's request despite an objection from state prosecutors. The state then filed an appeal, and the Utah Supreme Court granted a provisional stay Wednesday evening, the night before the trial was to begin.
"She thought she could get a more objective case from the bench, who obviously has a legal mind," Arrington said.
Assistant attorney general Laura Dupaix said the rule for a defendant looking to waive a jury trial in a felony case is clear: The defendant must waive her right to a jury trial, the court must approve, and the prosecution must consent.
Dupaix said she did not believe a fear of being unable to seat an impartial jury was an "extraordinary circumstance" that warranted a waiver despite the state's objection. Story continues below
"The case law on the rule is pretty clear," she said. "We clearly felt like the decision was wrong given that. This isn't the first judge to make a similar ruling despite the plain language of the rule. We kind of felt like it's been a problem that's been sort of percolating and this was the time to take it up."
Dupaix added, "The worst thing that happens is that the defendant gets a jury trial, which is what the Constitution guarantees."
During a hearing Monday, Adkins said he was confused about the scope of the stay. "I'm not sure I can move forward on anything," he said. "I have never had this situation before."
Greenwood is being held on $250,000 bail. Arrington said he worried his client might be forced to stay in custody during a lengthy appellate process.
"We're talking a year, two years, possibly longer," he said.
Greenwood faces two first-degree felony counts apiece of rape and forcible sodomy and one second-degree felony charge of forcible sexual abuse.
Police say from March 2009 to January 2010, Greenwood was sexually involved with a boy, now 16. The alleged victim was a friend of Greenwood's son, and police have said her position at the middle school "did not aid in the relationship."
E-mail: afalk@desnews.com
×
Related stories
Most recent Utah stories