Estimated read time: 2-3 minutes
This archived news story is available only for your personal, non-commercial use. Information in the story may be outdated or superseded by additional information. Reading or replaying the story in its archived form does not constitute a republication of the story.
Sam Penrod Reporting High gasoline prices are fueling a new crime wave: Stealing gas.
Thefts, like the one today in the Salt Lake Valley, are changing the way we fill up.
In all reality, not a lot of people are stealing gas. But there are enough people out there ripping off gas stations, that many pumps now require you pay in advance.
From a situation today, you can see why.
It started with a simple gas theft, but by the time this crime spree was over, it also included a high-speed chase and a car crash.
The chase occured late Wednesday afternoon. Police spiked the mans tires and he kept driving until another officer rammed his car, then he got out and ran.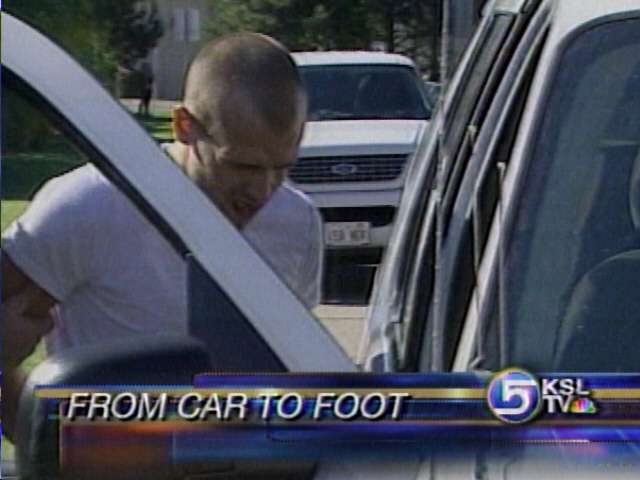 The man was arrested in the neighborhood just a few blocks from where he left his car. Now he is on his way to jail. It all started just after 3:00 when an undercover officer saw the suspect at a Conoco gas station at 4500 South changing the license plate on his SUV. The officer then saw the man fill up with gas and drive off.
The undercover detective called for marked cars to pursue the suspect, but when they tried to pull him over, he sped away. He got several blocks before being stopped. He then took off on foot. The suspect was then arrested, and according to officers, seems to be high on drugs.
Police are still investigating, but say the man will face numerous charges.
No one was hurt, but one of the patrol officer's vehicles did suffer some minor damage when it was used to ram the suspect's car.
The arrest illustrates how common gas skips are becoming, and how potentially dangerous they can be.
It prompted a company with 35 gas stations in the Salt Lake Valley to implement pay at the pump this week.
Mike Wagstaff, President Holiday Oil: "At most of our gas stations you are able to obviously use credit cards right at the pump, and that's how probably 80 percent of our customers are using that option.."
But for the other twenty percent who are used to filling up and then paying, they will now have to pre-pay for a specific amount before the gas pump will turn on.
Mike Wagstaff, President Holiday Oil: "As it becomes the norm, it is not going to be a huge situation, that it just becomes a normal practice of how we do business,and hopefully it will be a better practice so we can keep our prices as low as possible
So far in just a week, the pre pay and pay at the pump has almost eliminated gas skips at Holiday Oil. This seems to be the way it is going to be from now on when and wherever we fill up.
×
Most recent Utah stories