Estimated read time: 2-3 minutes
This archived news story is available only for your personal, non-commercial use. Information in the story may be outdated or superseded by additional information. Reading or replaying the story in its archived form does not constitute a republication of the story.
DAVIS COUNTY -- Police found a missing 6-year-old boy safe and unharmed after the Davis County Sheriff's Office issued an Amber Alert for him early Tuesday morning.
Amber Alert Criteria:
There is reasonable belief by law enforcement that an abduction has occurred.
The law enforcement agency believes that the child is in imminent danger of serious bodily injury or death.
There is enough descriptive information about the victim and the abduction for law enforcement to issue an AMBER Alert to assist in the recovery of the child.
The abduction is of a child aged 17 years or younger.
The child's name and other critical data elements, including the Child Abduction flag, have been entered into the National Crime Information Center (NCIC) system.
Officers found the boy, Deangelo Valerio, with 39-year-old Yvette Newton in West Valley City around 8:00 Tuesday morning. Newton left the scene and is considered a person of interest in the case. Police are still looking for her.
"She was with the child when police officers arrived at a location in West Valley. She fled on foot, the boy was left there," said Lt. Brad Wilcox with the Davis County Sheriff's Office. "The boy was safe and taken into custody, transported to South Salt Lake Police Department. Hopefully this whole thing can get sorted out."
Wilcox said Newton has a long criminal history. An Amber Alert was issued because deputies believed the boy was in danger while he was with her. They say this case met all the criteria of an Amber Alert.
The boy's mother lives in South Salt Lake, and that's why police there helped with the investigation.
Chris Snyder with the South Salt Lake Police Department said, "We responded out there and were able to recover the child and the vehicle, and about a half hour later, reunite the child with the mother back here at the police department."
They say this incident began with a traffic stop around 9 p.m. Monday on Park Lane near I-15 in Farmington. Deputies arrested a 16-year-old on drug charges and took him into custody.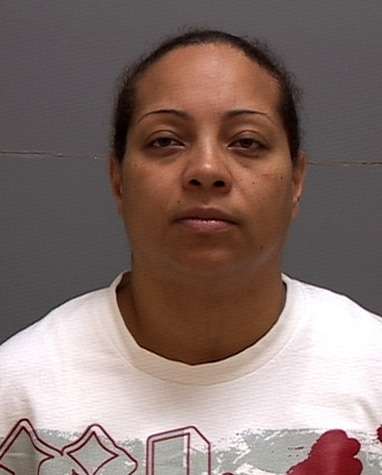 Associates in a second vehicle were called to pick up passengers in the first car, who were not under arrest.
Inside that car -- a white 1996 Infiniti four-door sedan that was later listed in the Amber Alert -- was Kelly Valerio, her son Deangelo and Yvette Newton. Valerio was arrested for outstanding warrants and gave permission to a friend to take her son home.
Deputies say Newton convinced the friend to let her take the boy home without Valerio's knowledge and against the boy's will, but they aren't sure why.
At a news conference Tuesday morning, Wilcox called the case "extremely convoluted." (To hear the news conference, play the audio on this page.)
"There are a lot of questions that are still unanswered, and sometimes it's best to just know that the child's safe now," Wilcox said.
The investigation isn't over.
Deputies don't know where Newton is and they are looking for her to ask her questions about this case. She is 5 feet 4 inches tall weighing 130 pounds with brown hair and hazel eyes.
When authorities find Newton, they want to talk to her to try and sort out what really happened.
------
Story compiled with contributions from Anne Forester, Sandra Yi and Randall Jeppesen.
×
Photos
Related links
Most recent Utah stories