Estimated read time: 2-3 minutes
This archived news story is available only for your personal, non-commercial use. Information in the story may be outdated or superseded by additional information. Reading or replaying the story in its archived form does not constitute a republication of the story.
Sam Penrod ReportingWarren Jeffs denouncing himself as a prophet. Is that what a note written by the polygamist leader of the fundamentalist church really says? Photographs of the note taken last week in court seem to show Jeffs wanted to tell the judge, and possibly everyone in the courtroom, he is not a prophet.
Today the Deseret Morning News publishes an article on the contents of the note, made through expert analysis. The note was presumably written by Warren Jeffs himself. He tried to either give it or read it to the judge last Tuesday, but the judge wouldn't let him. The note may give insight about what Jeffs wanted to say in court, as he faces criminal charges that could send him to prison for life.
It happened in a St. George courtroom last Tuesday, at the end of a day-long court hearing for Warren Jeffs. When Judge Shumate asked if there was anything else that needed to be addressed, Jeffs asked to approach the bench. The judge told him he could not and that his lawyers could take care of any unfinished matters.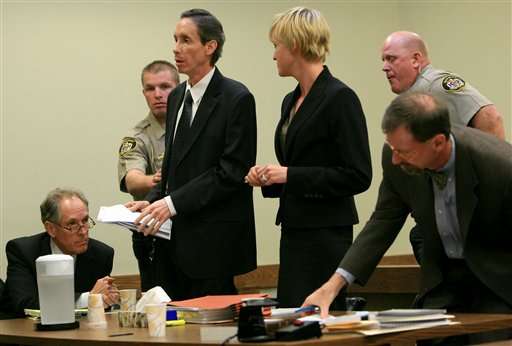 Photos taken by a Deseret Morning News staffer acting as a pool photographer captured what appears to have been on the mind of Warren Jeffs. The newspaper had photographs of the note analyzed by a digital enhancement expert, a forensic handwriting analyst and a genealogist. According to the newspaper, the note visibly reads, "I have not been a prophet and am not the prophet." Another line partially reads, "failed (to) lead the people of the Fundamentalist Church."
Courtroom observers last Tuesday noted that Jeffs looked weak and frail compared to previous court hearings. He has been incarcerated since his arrest in August, after evading police for nearly a year.
Jeffs faces charges of rape as an accomplice, after an underage girl went to police, accusing Jeffs of performing her marriage to an older man in his capacity as the prophet of the FLDS church.
The note certainly raises several questions about Jeffs and his FLDS church, questions that may be answered when Jeffs returns to court in three weeks. You'll find much more on this story in Thursday's Deseret Morning News.
×
Related links
Most recent Utah stories