Estimated read time: 2-3 minutes
This archived news story is available only for your personal, non-commercial use. Information in the story may be outdated or superseded by additional information. Reading or replaying the story in its archived form does not constitute a republication of the story.
SALT LAKE CITY -- A motorist is hospitalized in critical condition after her vehicle slammed into the side of a warehouse in Salt Lake City and caught fire.
Investigators say they're still not sure exactly how the woman crashed, but they believe she had some kind of traffic accident. Her van traveled about 20 feet down an embankment before hitting the building.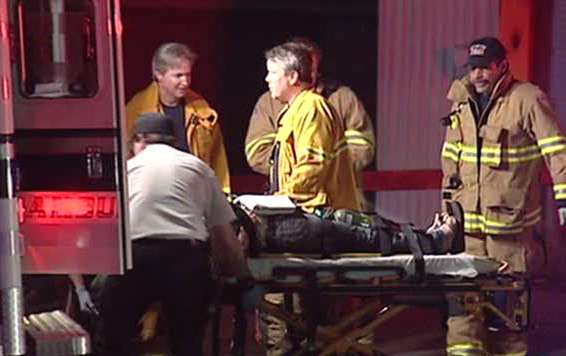 A passer-by called 911 after they spotted the Dodge Caravan heavily engulfed in flames up against a building near 1800 North Beck Street shortly after 10:30 p.m. Monday.
When firefighters arrived a few minutes later, the building also was burning. Firefighters rushed to the vehicle to put out the flames and found the woman lying unconscious next to it.
Mark Bednarik with the Salt Lake City Fire Department said, "She doesn't appear to be burned, but she is unconscious, so she has been transported with traumatic injuries."
As the woman was taken from the scene, firefighters extinguished the fire burning in the warehouse.
"Right now, the damage to the building is mostly the fire damage we can see on the exterior," Bednarik said. "It did spread a little bit to the inside where there was insulation lining the walls. Our crews had to tear out some of that insulation, and there was smoke damage throughout."
Investigators say overall it caused about $30,000 in damage to the structure, mostly to the exterior of the building; however, there was some smoke damage inside.
The fire department says the vehicle caught fire because the battery dislodged when it crashed. It was a complete loss.
Firefighters say it's amazing the woman was able to crawl out of the van given the crash she had just been in. They say she is lucky to be alive.
Investigators are now waiting to talk to the driver. They hope when she regains consciousness she'll remember what caused her to crash.
E-mail: spark@ksl.com
×
Photos
Most recent Utah stories