Estimated read time: 2-3 minutes
This archived news story is available only for your personal, non-commercial use. Information in the story may be outdated or superseded by additional information. Reading or replaying the story in its archived form does not constitute a republication of the story.
OREM -- A Utah Highway Patrol trooper found much more than he was looking for when he responded to a report of a car broken down on the side of the freeway.
Not only did the trooper find a marijuana pipe in the car, it turns out the car was stolen. And worst of all, the trooper had interrupted a 17-year-old boy and a 34-year-old woman, who were trying to put their clothes back on.
Cameron Roden of the Utah Highway Patrol said, "[The trooper] walked up, he noticed the windows were a little fogged up and as he looked in the vehicle, he noticed there was a male and female in different stages of dress. He made contact with them and found there was something more going on in the vehicle."
The car was along the shoulder of I-15 in Orem when the trooper responded.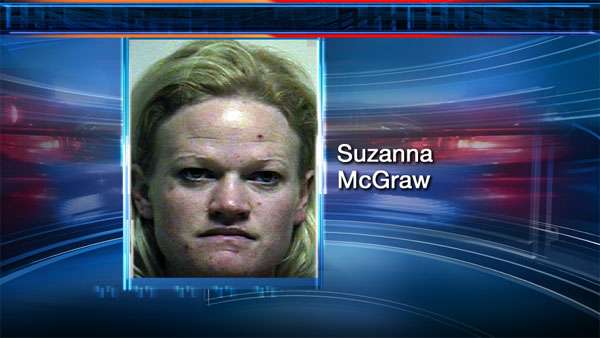 He found the driver, 34-year-old Suzanna McGraw, was adjusting her clothing and a 17-year-old boy in the car was only in his underwear.
The boy told the officer the car had run out of gas, but the only thing the trooper found wrong with the car was that it was stolen.
In the end, McGraw was arrested on charges of unlawful sexual activity with a minor, possession of a stolen vehicle and possession of drug paraphernalia.
"You don't expect to run into that right in the middle of the city area with something like that going on on the side of the freeway. But we do run into it from time to time, and so we have to be prepared for some of the things we come upon," Roden said.
McGraw does have a criminal history of several arrests and was arrested just last month in Orem for possessing a stolen car.
Troopers say they released the teenager to a responsible adult, and he could also face charges.
Some stolen stereo equipment was also found inside the car.
McGraw is still being held in the Utah County jail. Her bail has been set at $5,000.
E-mail: spenrod@ksl.com
×
Most recent Utah stories