Estimated read time: 3-4 minutes
This archived news story is available only for your personal, non-commercial use. Information in the story may be outdated or superseded by additional information. Reading or replaying the story in its archived form does not constitute a republication of the story.
ROCKVILLE -- People in Rockville are keeping a close eye on a really big rock that could come barreling down at any moment. Residents are especially concerned after a similar rock crashed through a yard Thursday, nearly hitting a woman's home.
To avoid another near-disaster, the rock needs to be be stabilized or blown apart. But the big question is how much can Rockville afford? And how much time does the town have?
When the first boulder broke loose from the cliff face Thursday morning, it was about to hit Michelle Reese's home, until it hit the big rock in her yard and broke apart.
Leon Lewis, who lives across the street, heard the rumbling and saw the crash.
"Everything seemed to explode, and dust came up," Lewis said. "We noticed this big rock here. It's the one that saved the house."
Even still, one piece hit this shed and moved it off its foundation; another ended up on the roof, and some went through the roof. A third rock piece tumbled right past Reese and her roommate, through their mudroom.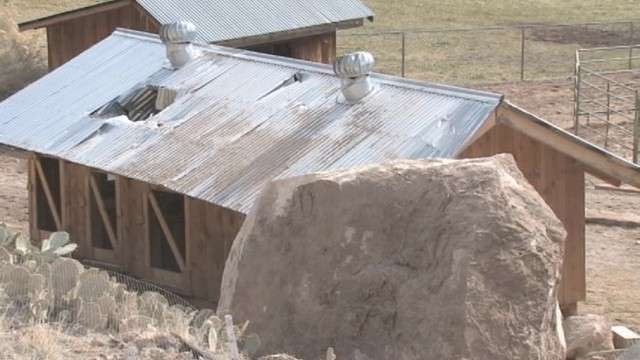 "It was just like a falsh, and then we saw it take out this wall on this side," Reese said.
With all that, though, the big concern is the second rock. It's the same size, and is now sitting right next to where the first rock came down.
Tyler Knudsen is a geologist with the state of Utah. He studied the second rock Thursday.
"It's a big risk," Knudsen said. "There are areas where it looks like water is starting to erode underneath it, which, every time it rains, it's probably de-stabilizing that rock a little bit more."
That makes Rockville Mayor Allen Brown nervous.
"What we need is a geo-technical study by an expert," Brown said.
He isn't sure how much it's going to cost to remove the rock, but he does know, as small as Rockville is, they can't afford it on their own. He is asking the state and the five-county association of governments for help.
Of course, Brown is hoping the help comes before the next rock fall -- something Knudsen says will happen.
"It could be tomorrow, could be a week from now, maybe another seven or 10 years from now. It's impossible to know," Knudsen said.
"It's still sitting up there," Reese said, "and were just praying for the best."
Rockville has a history of rocks tumbling down that slope; it's happened a few times in the past decade or so. Some have hit homes and cars, but no one has ever been hurt. The mayor says, so far, they've been lucky.
E-mail: acabrero@ksl.com
×
Photos
Related stories
Most recent Utah stories