Estimated read time: 2-3 minutes
This archived news story is available only for your personal, non-commercial use. Information in the story may be outdated or superseded by additional information. Reading or replaying the story in its archived form does not constitute a republication of the story.
John Daley Reporting Legislation favoring the billboard industry has breezed through the Utah House. The legislation will make it harder for cities to regulate outdoor signs.
However, the bill is NOT popular with all billboard companies.
Its sponsors in the legislature say this bill is a matter of private property rights and too much government regulation. But opponents say the law does happen to favor one company, and it's a company that has donated lots of money to legislators in order to make sure its point is heard.
The billboard industry is a lucrative business on the rise. Last night, the House passed House Bill 352 which makes it much harder for cities to move or remove a billboard.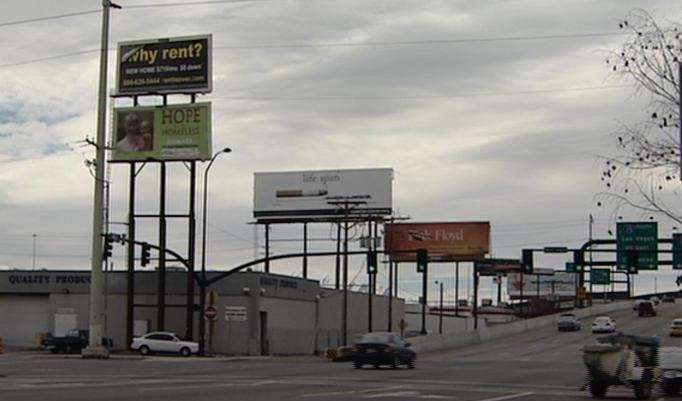 One billboard businessman, Ed Rogers, says one company, one of his competitors, deserves credit for systematically undermining laws governing billboards.
Ed Rogers, Utah Outdoor Advertising: "They're destroying the rules and regulations of the state, and they're in violation of many federal highway rules."
Reagan Outdoor Advertising is Utah's third largest campaign donor, giving to more lawmakers than any other. In fact, they gave over $60,000.
We found 89 out 104 lawmakers accepted campaign money from Reagan. That's 86% of the members. In the House, the percentage getting Reagan campaign cash was even higher at 89%.
Of the 'YES' votes in favor of the latest billboard bill, 42 of 44 received Reagan contributions last fall. Sixteen of the 20, or 80%, of lawmakers voting 'NO' for the bill also got Reagan money.
One lawmaker who voted for the bill and got a free campaign billboard from the company told us it's irresponsible for us to link campaign contributions and votes.
Rep. Sylvia Andersen (R), Sandy: "It's an offensive question. And it's founded in absolutely no truth. I don't care. I mean a thousand-dollar billboard. If I can be bought for a thousand dollars, I shouldn't be here."
We tried to contact Dewey Reagan, Regan Outdoor Advertising CEO, but our calls were not returned. However, he did make a statement to us back in 2005 about this issue.
Dewey Reagan, Reagan Outdoor Advertising, June 2005: "We do make those political contributions. What I believe is you have the ability to tell your story. It doesn't influence the outcome of the legislation."
Rep. Ralph Becker (D), House Minority Leader: "Certainly the amount of money that they dump into the process has an influence. I don't think there's any question in my mind that that's the case."
Ed Rogers, Utah Outdoor Advertising: "Why would any billboard company make a contribution to a legislator other than to want favors? I think that's the way I would read it. I know that's a fact."
Numerous calls to Reagan's CEO were not returned today. We also tried to get a comment from the sponsor of the bill, Representative Mel Brown from Summit County, but he also declined to talk to us about House Bill 352.
×
Most recent Utah stories