Estimated read time: 3-4 minutes
This archived news story is available only for your personal, non-commercial use. Information in the story may be outdated or superseded by additional information. Reading or replaying the story in its archived form does not constitute a republication of the story.
SALT LAKE CITY -- Researchers in Utah and elsewhere continue to make significant progress in the battle against the terrible killer known as Lou Gherig's disease, or ALS. For one Utah man, it's a race against time -- but it's time that he is not facing alone.
Neighbors and former co-workers are remodeling Steve Davis' house in Sandy, knowing he soon may be bedridden and isolated to only one room downstairs.
---
Most commonly, ALS strikes people between the ages of 40 and 70. -ALS Association
---
"I had no idea that in four months I could go from, you know, a functioning person to being confined to a wheelchair and struggling to breathe," Steve said.
While some with this devastating neurological disease live five to 10 years, doctors call Steve's case catastrophic. He's spiraling downward at a rapid rate.
"It's frightening, really frightening, knowing that he walked into the clinic in August and he was still working full time," said Steve's wife, Cookie Davis.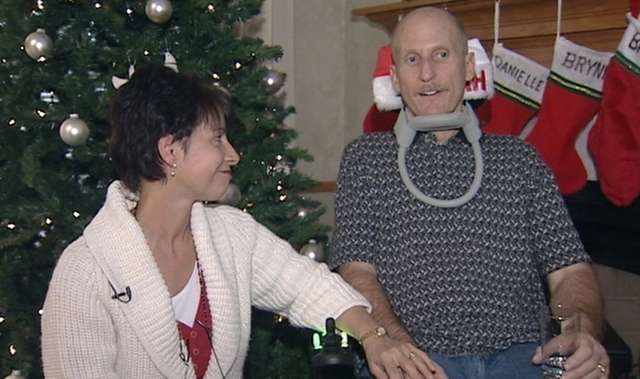 Though ALS is rare, and there's no evidence more are being diagnosed with the disease, the Davis family can't help but wonder.
"They have told me at the clinic that the incidence has seemed to have gone up, and there are actually three people in our neighborhood who have had it," Steve said. "I know what the ultimate outcome is going to be. I just don't know when."
There's no effective treatment, no cure, and the end is often cruel for both patients and their families. That's why the FDA is desperately waiting for any data that might offer hope not only for ALS, but other diseases like it.
---
ALS affects two per 100,000 people. It is estimated that as many as 30,000 Americans may have the disease at any given time. -ALS Association
---
At the University of Utah Cell Therapy Facility, researchers are already one year into making preparations for human clinical trials to treat ALS. The lab is preparing adult stem cells that might produce support cells that would re-grow neurons, hopefully stopping the progression of ALS.

"Now what we're doing is providing those cells to collaborators so they can test them in animals; so, there is an animal model of ALS," said Dr. Linda Kelley, director of the University of Utah Stem Cell Lab.

Other research groups around the country are also testing embryonic stem cells on animal models.

"If other studies show that embryonic stem cells have more efficacy than what we're using, then we would certainly consider that as an option for future clinical trials," Kelley said.

**What is… ALS?**

Amyotrophic lateral sclerosis (ALS), often referred to as "Lou Gehrig's Disease," is a progressive neurodegenerative disease that affects nerve cells in the brain and the spinal cord. When the motor neurons die, the ability of the brain to initiate and control muscle movement is lost. Typical symptoms: • muscle weakness in hands, arms, legs, the muscles of speech, swallowing and/or breathing • twitching and cramping of muscles, especially those in the hands and feet • impairment of the use of the arms and legs • "thick speech" and difficulty in projecting the voice • in more advanced stages, shortness of breath, difficulty in breathing and swallowing

It gives patients stronger hope, but still no promises. For now, Steve Davis simply plans to savor every hour, every moment with his wife and family. "We've had a series of small miracles in our life in the last couple of months," Steve said. "This time of year, yeah, it's been a beautiful thing."

Twelve jars filled with money were left anonymously on the Davis' front porch, and all the while volunteers continue rebuilding things to make it a little easier on Steve, whatever time he has left.

While researchers are optimistic about animal experiments so far, human stem cell clinical trials probably won't happen for at least another three years.

E-mail: eyeates@ksl.com

×
Related links
Most recent Utah stories