Estimated read time: 2-3 minutes
This archived news story is available only for your personal, non-commercial use. Information in the story may be outdated or superseded by additional information. Reading or replaying the story in its archived form does not constitute a republication of the story.
OGDEN -- A dangerous chemical reaction sent eight workers at an Ogden business to the hospital Friday morning.
Pro Pac Lab, located at 3804 South Airport Road, makes vitamins and mineral supplements. That process leaves powdered chemical residue on the machines. As the workers went through a routine clean up around 7:15 a.m. bleach mixed with one of those chemicals to create ammonia gas.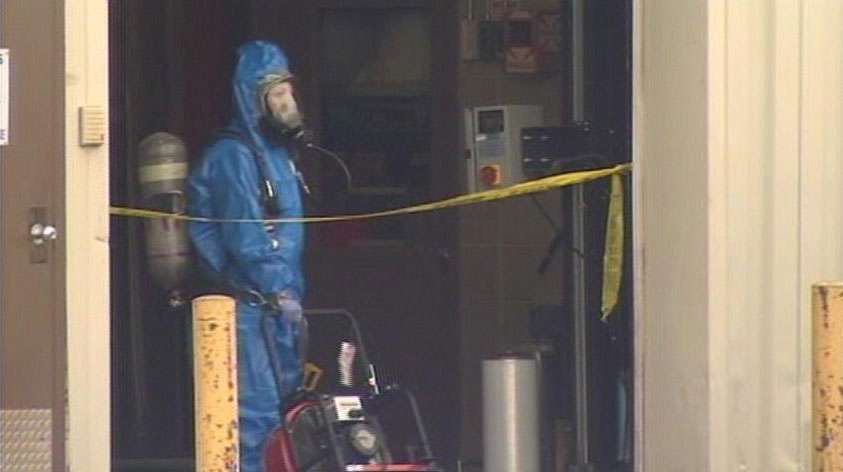 Employees evacuated the building to escape a dangerous cloud of ammonia gas. At least one woman came out staggering, held steady by a co-worker.
Fire officials said the employees were cleaning machines with a bleach solution. They now believe the bleach came in contact with nitrogen dust to create ammonia gas.
"That ammonia gas is what caused people to get a burning sensation in their mouths, nose, in their eyes, or lungs depending on how much they breathed in during that process," said Chad Tucker, deputy chief of the Ogden City Fire Department.
Tucker described the area in the building where the accident occurred as an enclosed room. While employees came out wearing paper masks, hazmat crews went in with full respirators to clear the building.
Once the workers got out of that environment and into fresh air, the symptoms cleared up quickly. Walt Murray, director for Quality and Regulatory Affairs at Pro Pac Laboratories, said they wanted to make sure all workers recovered quickly so they could return for the company Christmas party later in the day.
He said the hazardous gas was quickly cleared from the building.
"You can enter the plant now and enter the areas where the cleaning was taking place," Murray said.
Pro Pac said it has chemists on staff. The company said it was very aware of its products and had the proper chemicals for cleaning.
Fire officials said they were comfortable the company knew how to proceed after this kind of accident.
"They're also going to look at their manufacturing process and cleaning processes, and see what they can do to prevent this in the future," Tucker said.
The company said it will figure out what went wrong.
"This was a unique circumstance," Murray said, "so it will be taken care of through our normal processes."
The Weber-Morgan Health Department also cleared the building and will help in the review process.
E-mail: jboal@ksl.com
×
Most recent Utah stories