Estimated read time: 2-3 minutes
This archived news story is available only for your personal, non-commercial use. Information in the story may be outdated or superseded by additional information. Reading or replaying the story in its archived form does not constitute a republication of the story.
SALT LAKE CITY -- Critics want Gov. Gary Herbert to stop a train that's loaded with depleted uranium. It began rolling toward Utah Tuesday night, even though the governor sent a letter to Washington to try to stop it.
The critics called on the governor Wednesday to take even stronger action, but his aides believe he doesn't have the legal authority to block the train.
EnergySolutions, the company that will take the depleted uranium, insists it is safe and no more radioactive than waste it's been putting in its Tooele County landfill for many years. But the governor's office said the state is only part way through a study of that issue.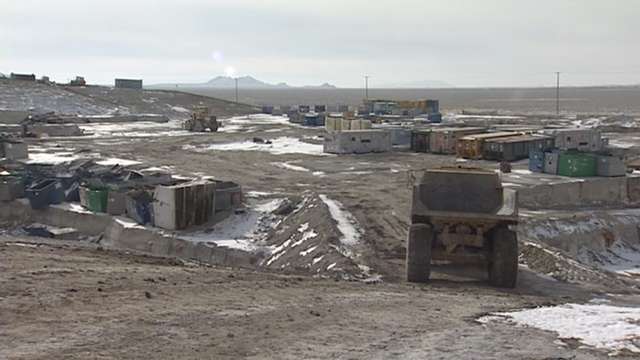 "The fact that it gets hotter over time, that's what's concerning, I think, to all of us in Utah; that we know where we stand now, but where will we be 40,000 or 50,000 years down the line?" said Angie Welling, spokeswoman for Gov. Herbert's office.
The depleted uranium is in South Carolina, where the federal Department of Energy is cleaning up an old nuclear site. On Tuesday night, the first of three trainloads headed toward Utah, in spite of a letter Herbert sent earlier in the day asking for more time for studies.
An environmental group says the governor waited too long to take a stand.
"We had hoped to see that letter issued weeks ago. At the same time, we are very pleased that he did send that letter," said Christopher Thomas, with Heal Utah.
Thomas' organization is considering a lawsuit. It says the governor has legal authority to stop the first train himself.
"We would hope the governor would use every tool at his disposal to make sure the stuff doesn't come here," Thomas said.
But the governor's office said he can stop it only if there's an "emergency" and a "clear and present danger." No Utah governor has ever used that power, and his staff says it's not an emergency. More dangerous materials travel through Utah regularly, they said.
In addition, EnergySolutions already has depleted uranium. The governor's aides said there's already 50,000 tons of depleted uranium in Tooele County, so stopping one trainload is not critical. But the governor hopes the feds will allow more time to study long-term hazards.
"Perhaps [we can] work out a way that we can come to a compromise to stop any future shipments of that 14,000 tons from coming to Utah until the state has a chance to continue its processes," Welling said.
The governor's letter Tuesday did prompt one response: The federal Department of Energy agreed to a "sit down" with the governor.
E-mail: jhollenhorst@ksl.com
×
Related stories
Most recent Utah stories