Estimated read time: 5-6 minutes
This archived news story is available only for your personal, non-commercial use. Information in the story may be outdated or superseded by additional information. Reading or replaying the story in its archived form does not constitute a republication of the story.
SALT LAKE CITY -- Snow and frigid temperatures combined to raise havoc for drivers and emergency workers Tuesday across the Wasatch Front.
It was day two of a storm that has crippled traffic along the Wasatch Front and throughout the state. But now that it's passed, Utahns are wondering what's up for Wednesday?
Forecasters say the worry for Tuesday night into Wednesday is all about foggy conditions and black ice -- which are problems in places like on- and off-ramps and overpasses.
But no matter how many times troopers issue the warnings to leave more room between cars, and leave more time to get to your destination, it seems they're never heeded by all.
Storm keeps UHP troopers busy during morning commute
It took several hours for many drivers to get where they were going Tuesday morning, and Utah Highway Patrol troopers were called to accident after accident.
Snow Totals (as of 11:40 am)
Location
Snow
Heber City
10"
Springville
10"
North Salt Lake Bench
9"
Bountiful Bench
8"
Delta
8"
Kanab
8"
Provo
5"
Salt Lake City
4"
In Salt Lake and Utah counties, there were 155 accidents, 20 slide-offs and 11 injuries -- including a trooper who was hit by a car while investigating an accident; his ankle was broken.

Troopers were able to stay on top of the calls for help, but they said they were frustrated by drivers speeding past them.

To top it off, those involved in accidents sometimes weren't wearing their seat belts, resulting in injuries. Every time someone is injured, a trooper has to go with them to the hospital, pulling them away from the roads.

"We only have so much manpower out here to cover crashes and respond to them in a timely manner," said UHP Sgt. Jeff Nigbur.

Slick roads contribute to more accidents

One accident UHP responded to Tuesday morning was at the Point of the Mountain. A semitrailer slid onto the barrier, causing its trailer to overturn and shutting down traffic in both directions.

"The good news is that it's an empty semi, so we should be able to pull that up and get it out of the way," Nigbur said.

At one point, five accidents were reported between 12300 South and the south interchange.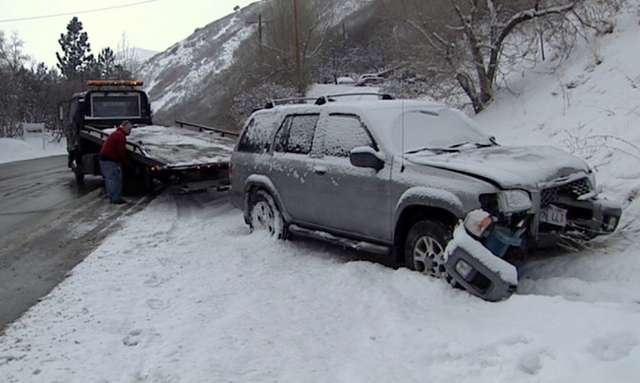 One motorist told KSL Newsradio it took nearly an hour to travel on Bangerter Highway from 6200 South to 3500 South.
A man driving a fuel tanker said it was a crazy morning for him.
"The other people are not slowing down, passing us and losing control. We have to anticipate where they are going to end up," he said.
When KSL News asked if transporting fuel ever concerns him, he replied, "No, if you think about it that way, you shouldn't be doing the job."
UHP agrees that speed was a major problem for them as well.
"Probably one of the biggest problems we saw today was not slowing down and moving over when troopers and emergency personnel are on the side of the road," said UHP Sgt. Jeff Nigbur.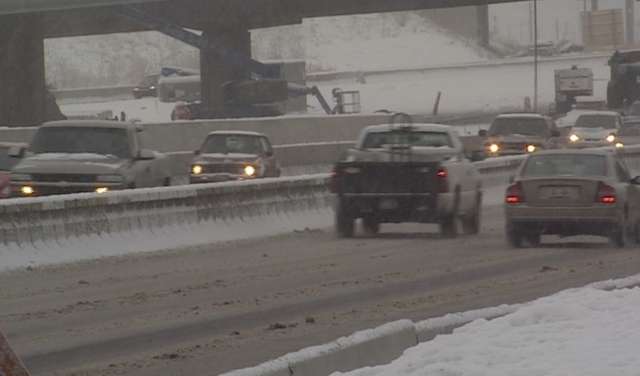 And while there are numerous causes for the accidents, there are some common factors.
said of an accident he was called to.
Goodyear Utah Valley Tires had full bays Tuesday and jam-packed schedules.
"Everybody kind of procrastinated and waited until the last minute, and now they're trying to get snow tires put on today," said Mike Yeagar, with Utah Valley Tires.
Yeager said the right snow tires can really help on Utah's snowy roads.
"They're the biting edges and as the tire flexes; these open up and give you more traction on snow and ice," he explained.
Snow slows emergency responders
Related:
Commuters weren't the only ones having problems with the snow. Emergency responders were having a tough time, as well. It took firefighters in West Valley City longer than anticipated to get to an apartment fire.
West Valley City Battalion Chief Jeff Fox said, "Any call we get on a day like today, our response time is going to be a lot slower. We don't want to cause more accidents going to a call, so we take a lot of time and we go very slow."
UDOT says it is trying to ease the traffic delays by putting all of its plows on the roads. By 9 a.m. there were 280 plows along the Wasatch Front, and by mid-afternoon it was closer to 450.
No more snow, just cold
If you think the worst on the roads is over, troopers warn: think again.
"As you know, the temperatures are going to drop tonight during the commute and everything is going to ice over," Nigbur said.
They want everyone to just slow down and take their time.
It's also not a bad idea to take Yeagar's advice and make sure your vehicle is in good working order before you go out. Besides checking to make sure your tires are in good condition, you'll want to make sure they're at the correct pressure and that you have plenty of washer fluid and an emergency kit.
For the latest weather updates, visit the KSL weather page.
------
Story compiled with contributions from Sarah Dallof, Jennifer Stagg, Shara Park, and Andrew Adams.
×
Photos
Related links
Most recent Utah stories