Estimated read time: 3-4 minutes
This archived news story is available only for your personal, non-commercial use. Information in the story may be outdated or superseded by additional information. Reading or replaying the story in its archived form does not constitute a republication of the story.
SALT LAKE CITY -- A fast-moving, winter-like storm left behind dozens of wrecks Sunday and Monday and knocked out power to thousands of people.
The storm hit like a blizzard before 6 p.m. Sunday. High winds blew snow horizontally and froze roads. Utah Highway Patrol reported at least 32 crashes from Davis County to Utah County by 10 p.m. Sunday. Slick roads Monday morning caused more crashes.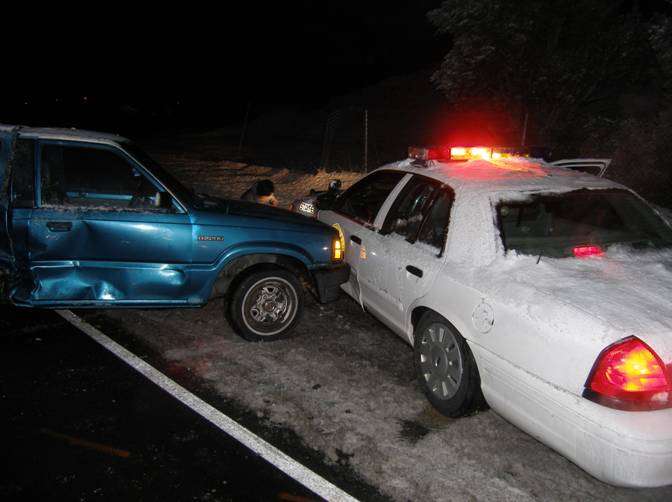 In Davis County, the vehicle of a UHP trooper responding to two slide-offs was hit in a separate accident. A pickup truck slid off the road and pulled back into traffic, where it was hit by another vehicle. That accident pushed the pickup off the road again and into the trooper's vehicle.
The trooper was not in his car at the time and did not suffer any injuries.
At about 6 a.m. at the ramp from northbound Interstate 215 to westbound S.R. 201, an SUV hit black ice, slid off the road and into a pond. UHP troopers said the driver had to stand on top of the vehicle and wait to be rescued.
"It looks like the road is wet from here, and you never can tell if it's wet or if it's dry," Trooper Mary Kaye Lucas said. "The road has little grooves in it, and the water will get in between those grooves and make the road a lot more treacherous than it initially appears."
Lucas said a fire truck extended a ladder to the bumper of the SUV and the man crawled across to safety. The SUV was submerged in 3 to 4 feet of water.
"Pretty dangerous in the cold water. He's actually lucky he didn't get any deeper in there," Lucas said.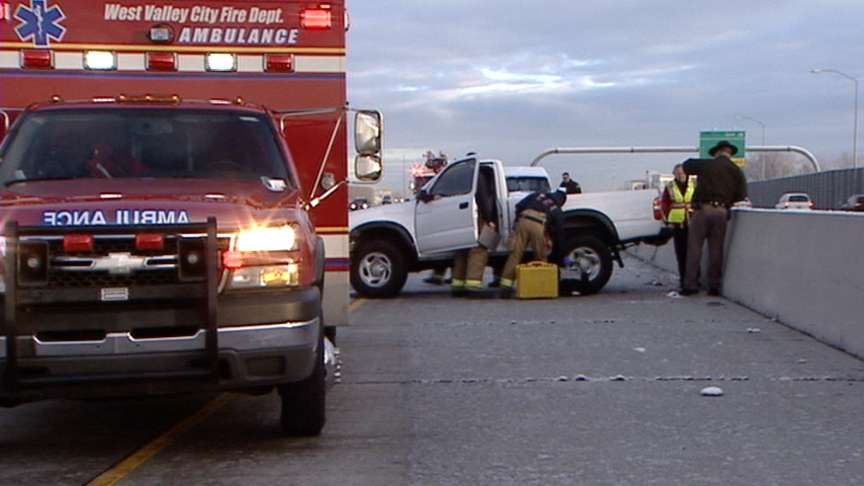 Several of the reported accidents were slide-offs, including one near 700 North. The driver of an SUV hit a patch of ice and slid into the barrier. A second car crashed while watching that accident.
Farther down the road near 4500 South it was a similar story. Troopers say a driver there was lucky to walk away unharmed after sliding across all lanes of traffic.
Sgt. Robert Breck said, "The roads look like they're clear, but they're really not. If the temp is down below the 40s, you should be prepared for icy conditions no matter what weather -- if it snowed, it rains, it doesn't really matter you, ought to be prepared and slow down."
"Our plows have been out all night trying to clear the roads, but you still need to be conscious and cognizant of the fact that there is still a lot of ice on the roads, especially on the shoulders and the outside lanes," Breck added.
The storm also cut power to 5,000 Rocky Mountain Power customers for an hour Sunday night. Residents from Salt Lake City to West Valley City reported no lights.
Most valley locations saw 2 to 6 inches of snow. The Bountiful bench got about half a foot of powder. Cottonwood Heights reported 5 inches. Alta saw 8 inches.
------
Compiled with information from Andrew Adams and Shara Park.
×
Photos
Related links
Most recent Utah stories