Estimated read time: 2-3 minutes
This archived news story is available only for your personal, non-commercial use. Information in the story may be outdated or superseded by additional information. Reading or replaying the story in its archived form does not constitute a republication of the story.
Ed Yeates Reporting This year, for the first time, Utah high school athletes are making a dramatic move to combat obesity and weight fluctuations that traditionally have been so much a part of the game.
High school wrestlers: independent, as always, in competition, but for the first time unified as one in a new lifestyle.
So on this day, this year, at this state tournament, we're looking at a new generation athlete.
Competitors like Springville High School senior Logan Wilson, who along with the rest of his teammates began this season not only in a training room, but a computer lab.
Lisa Walker, Certified Athletic Trainer, Springville High School: "It's very mathematically based. Each athlete in the state this year has their own password and login ID."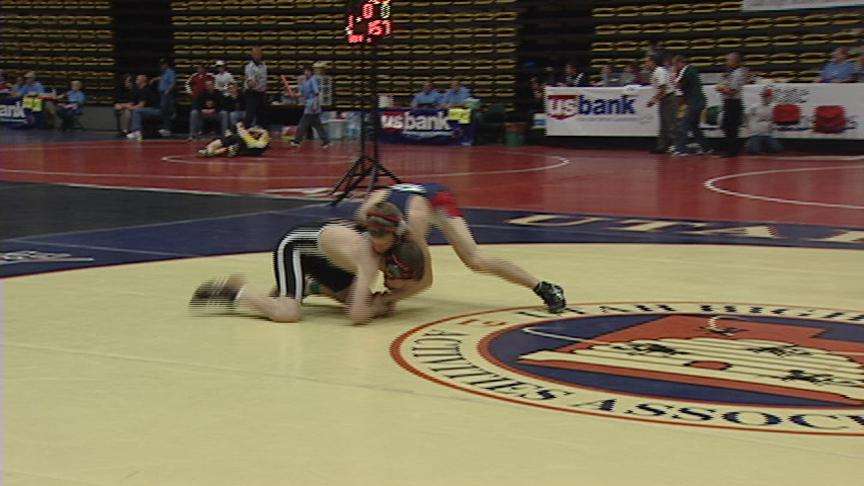 The programs are individual for each wrestler. What he should be eating, the calories, the value each food is worth, the amounts -- all are all based on each athlete's profile and activity level.
Jerry Bovee, Assistant Director, Utah High School Activities Association: "We're seeing healthier and more fit athletes who are leaner with body fat, and so the huge amount of fat with athletes. It's more muscle mass."
No more starvation to lose weight to meet their weight class. No more rash eating to put it back on -- and then too much back on. The yo-yo approach is simply passe.
Lisa Walker, Certified Athletic Trainer, Springville High School: "We're hoping to get rid of the old mind set and educate these kids on what they need to do, so that it becomes a lifetime change for them. Just do the best we can to make obesity a thing of the past."
The experiment for Logan paid off today on the mat, and it's not just all physical rewards.
Logan Wilson, Springville High School Wrestler: "I feel a lot more confident, more athletic, like I have a lot more energy that I usually do."
Hands up for the victory, in more ways than winning a match.
The new state-wide program is designed not just for wrestling, but also football and basketball, and even general physical education classes that apply to all students.
×
Most recent Utah stories