Estimated read time: 1-2 minutes
This archived news story is available only for your personal, non-commercial use. Information in the story may be outdated or superseded by additional information. Reading or replaying the story in its archived form does not constitute a republication of the story.
SALT LAKE CITY -- Jury selection began Monday in the trial of a man accused of kidnapping. David James Bell is accused of kidnapping the neighbor's 2-year-old daughter and her 4-year-old cousin during a 4th of July celebration a year ago. He's accused of taking the kids to his home.
During jury selection, protesters gathered on the steps of the Matheson courthouse. They said Bell was a victim of a hate crime.
In 2008, two neighbor children disappeared during their parent's 4th of July party. The family found the kids next door, inside Bell's home. Before police arrived someone beat up Bell and his partner, Dan Fair.
Bell told investigators the children wandered over. He said it was the children's family that beat up him and his partner. No charges were ever filed.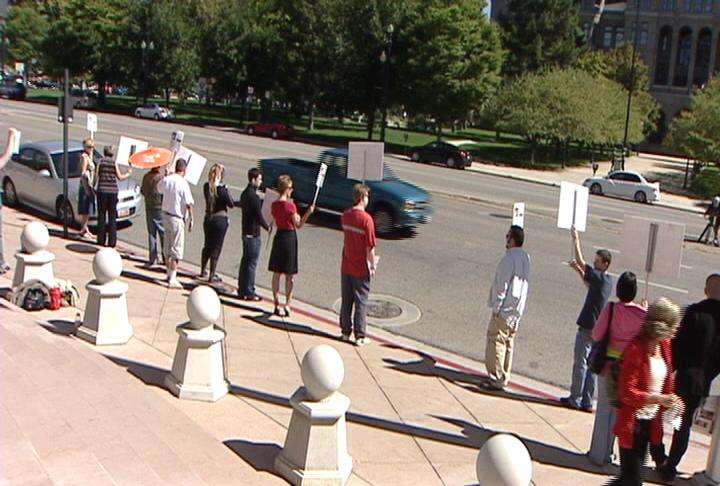 On Monday, protesters held up signs and pictures of Bell's partner after the beating. They said they wanted justice to be served and said the truth would come out during trial.
Bell protester Megan Pedersen said, "What we would want is the investigation to show that DJ didn't do anything wrong and that Dan was asleep in his bed, and people broke into his home and nearly killed him, and the people who did this to him were never charged".
Monday, the prosecution and the defense hashed it out in the courtroom over a potential witness. That matter has yet to be resolved.
The jury selection process is still underway. There are nearly 50 potential jurors.
Opening arguments will be Tuesday morning.
E-Mail: aforester@ksl.com
×
Photos
Related stories
Most recent Utah stories